Confused?  Catch up with the BTBS Primer.
We now take a look at a team that, talent-wise, seems to be most well-established for making a North title run in 2009.  At least, a team well-established at skill positions and in the secondary, with some pretty good-sized question marks in some units.

2008
Record: 8-5 (4-4 in the Big 12)
S&P+: 230.0 (20th in the country, 6th in the Big 12)
Scoring Margin: 434-375 (+59)
Conference Scoring Margin: 251-293 (-42)
Wins (S&P+ Ranking in parentheses): #10 Missouri (dammit), #63 Minnesota, #82 Colorado, #79 Kansas State, #86 Louisiana Tech, #93 Florida International, #104 Iowa State, 1-AA Sam Houston State
Losses: #3 Oklahoma, #5 Texas, #15 Texas Tech, #21 Nebraska, #23 South Florida
Two atrocious quarters of offense from Missouri prevented me from being able to cleanly say that KU was 0-6 versus Top 60 teams and 7-0 versus everybody else, but alas...the 40-37 win over Mizzou at Arrowhead was KU's single crowning win in 2008.  And yet...they managed to rank 20th in the country anyway.  It all depends on how you frame it, I guess.  You could also say that they were 1-5 versus the Top 25 and 7-0 versus everybody else, which makes #20 sound about right.  Regardless of how you frame 2008, in 2009 KU returns all of their skill position talent and some key cogs in the secondary, but faces major holes on the O-line and at linebacker.
Coaching
Head Coach: Mark Mangino
Record at Kansas: 45-41 (conference: 22-34)
Career Pythagorean Record: -1.15 wins (-0.1/year)
Mark Mangino enters his eighth season in Lawrence having brought Kansas pretty steady, if a little two-steps-forward-one-back, success.  He has yet to finish ahead of Gary Pinkel in the Big 12 North standings, yet he is consistently ranked ahead of GP when Big 12 coaches are ranked.  At some point, actually, you'd think KU fans would become rather offended by this, as it pretty much suggests that KU was such a bad job that he's done an amazing job just to win some games while never finishing ahead of PInkel.
Mangino's moving average of wins shows just how methodically he has brought success to Lawrence:
2002-04: 4.0
2003-05: 5.7
2004-06: 5.7
2005-07: 8.3
2006-08: 8.7
And while we're at it, let's look at "Adjusted Win %."  If you remember this from previous use, this is where we adjust a team's record for quality of opponent, equally weighting the record against teams based on win %.
Mark Mangino's Adj. Win %

vs .000-.250
vs .251-.500
vs .501-.750
vs .751-1.000
Adj. Win %
Year 1-4
7-1
(0.875)
6-10
(0.375)
6-12
(0.333)
0-5
(0.000)
19-28
(0.396)
Year 5-7
9-0
(1.000)
8-2
(0.800)
8-6
(0.571)
1-4
(0.200)
26-12
(0.643)
Total
16-1
(0.941)
14-12
(0.538)
14-18
(0.438)
1-9
(0.100)
45-40
(0.504)

Just as a means of comparison, here's Gary Pinkel's Adjusted Win %, broken out the same way:
Gary Pinkel's Adj. Win %

vs .000-.250
vs .251-.500
vs .501-.750
vs .751-1.000
Adj. Win %
Year 1-4
6-0
(1.000)
12-8
(0.600)
3-10
(0.231)
1-7
(0.125)
22-25
(0.468)
Year 5-8
7-0
(1.000)
15-2
(0.882)
14-8
(0.636)
1-6
(0.143)
37-16
(0.665)
Total
13-0
(1.000)
27-10
(0.730)
17-18
(0.486)
2-13
(0.133)
59-41
(0.583)

So Gary Pinkel has performed slightly better across the board, but clearly both have done wonderful jobs turning iffy programs into winners.  And as with Gary PInkel, Mangino will lose quite a few impact players after his eighth season, so he'll be starting Year #9 with a somewhat fresh slate just the same.
Looking at Pythagorean wins suggests that KU should have actually done a bit better overall, but the improvement has been easily measurable, and Mangino clearly is a pretty good coach.  He's just not better than Pinkel.
Offense
Overall Stats

S&P+: 118.1 (#19)
Success Rate+: 115.8 (#16)
PPP+: 121.5 (#28)

Standard Downs S&P+: 110.0 (#33)
Passing Downs S&P+: 128.0 (#16)

Redzone S&P+: 125.1 (#12)

Q1 S&P+: 126.7 (#18)
Q2 S&P+: 108.6 (#44)
Q3 S&P+: 105.2 (#53)
Q4 S&P+: 126.6 (#10)

1st Down S&P+: 114.5 (#26)
2nd Down S&P+: 110.9 (#42)
3rd Down S&P+: 124.0 (#21)

Rushing Stats

Rushing S&P+: 118.8 (#21)
Rushing SR+: 120.9 (#7)
Rushing PPP+: 116.4 (#42)

Standard Downs: 106.3 (#48)
Passing Downs: 130.3 (#24)

Redzone: 120.0 (#30)

Line Yards+: 115.0 (#19)

Passing Stats

Passing S&P+: 115.2 (#25)
Passing SR+: 111.6 (#24)
Passing PPP+: 119.7 (#27)

Standard Downs: 113.0 (#24)
Passing Downs: 122.5 (#24)

Redzone: 131.3 (#13)

Sack Rate+: 103.3 (#61)

Kansas stepped backwards by four games from their 12-1 season in 2007 to 8-5 in 2008.  A lot of that dropoff was schedule-based (as mentioned above, they didn't actually lose to a team ranked below 23rd in S&P+), but was it measurable in the numbers too?  Not really.
2007 vs 2008
S&P+: 39th in 2007, 19th in 2008
Success Rate+: 40th in 2007, 16th in 2008
PPP+: 41st in 2007, 28th in 2008
Rushing S&P+: 35th in 2007, 21st in 2008
Passing S&P+: 41st in 2007, 25th in 2008
Standard Downs S&P+: 30th in 2007, 33rd in 2008 (regression!)
Passing Downs S&P+: 54th in 2007, 16th in 2008 (a-ha!)

That they actually improved offensively in 2008 despite the regression in record says two things: 1) they could be pretty damn good in 2009, and 2) not to beat a dead horse, but...their schedule was so freaking weak in 2007!!
While the 2009 KU offense really could improve a bit more in 2009, it's a red flag to me that all of their improvement in 2008 came on Passing Downs.  They were actually worse on Standard Downs but overachieved in passing situations (which, if you watched last year's MU-KU game, shouldn't surprise you).  As I've mentioned before, disproportionate achievement on Passing Downs doesn't seem totally sustainable from year to year, and while a lot of that Passing Downs success was due to both Todd Reesing and the chemistry that Reesing has with Kerry Meier and Dezmon Briscoe, they still may have been a little too successful, unsustainably so.
Lord knows that with their schedule, they better be at least as good in those situations because...well, they're going to face a lot of those situations.
Quarterback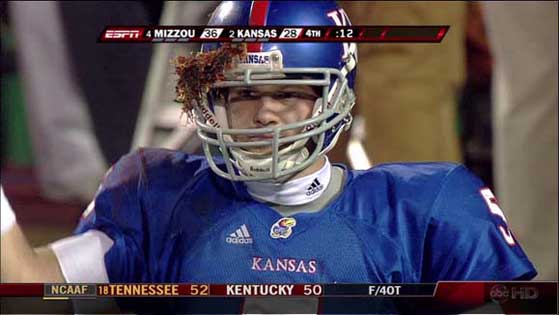 Forever and ever.
2008 Unit Ranking: #27 in the nation (#7 in the Big 12)

Projected Depth Chart
Todd Reesing (5'11, 200, Sr.)
Kale Pick (6'2, 200, RSFr.)
Chase Knighton (6'1, 195, So.)
If this team is relying on Passing Downs success to win their first North title, then they're going as far as Todd Reesing can take them.  He was at his improvisational best against Oklahoma and Missouri, scrambling and seemingly inventing routes on the fly on his way to a combined 717 passing yards and 6 TDs (and, to be fair, 4 INTs).  The Brett Favre comparison gets overused these days, and while Reesing doesn't quite see the Favre-esque extremes that someone like Matt Grothe does (he's only thrown more than 2 picks in a game twice), it's definitely in him, much moreso than with Chase Daniel, who was also given that "gunslinger" label (even though Chase was, in the end, about as robotic as a QB can be).
While he completed 66% of his passes at 7.8 yards per pass against OU and Mizzou, Reesing proved his all-or-nothing tendencies by completing just 54% at 5.4 yards per pass against Texas and Texas Tech (with a 3-3 TD-INT ratio) at home.  In the end, most would love to have a "gamer" like Reesing leading your team, but his confidence in his abilities to make plays ends up being, at times, his biggest flaw.  He posted a QB rating right at 149 each of the last two years, but he also took 56 sacks in that time, and his interceptions rose to 13 in 2008, not a bad figure per say, but not as in control as the seven he threw in 2007.  That's why Kansas only finished 25th in Passing S&P+ and not higher--we remember the great plays, but we forget the sacks he's taken and the occasional atrocious throws he's made.
Which, in the end, is about as Favre-esque as you can get.
Running Backs
2008 Unit Ranking: #69 in the nation (#8 in the Big 12)

Projected Depth Chart
Jake Sharp (5'10, 195, Sr.)
Reil Lewis (5'10, 201, So.)
Deshaun Sands? (5'9, 182, Fr.)
Toben Opurum? (6'2, 239, Fr.)
Jake Sharp is the least-scary good running back in the country.  He was the main cog in a rushing attack that was 7th in the country in Success Rate+, he's scored 19 touchdowns, caught 44 passes, and put up a combined 1,143 yards from scrimmage the last two seasons, yet his lack of explosiveness got him ranked 198th among 269 eligible running backs in POE, the rushing performance measure I created for Football Outsiders.  He's good for a couple of huge games a year, usually against bad defenses (he destroyed Kansas State for 181 yards and 4 TDs last year and went for 118 and 3 TDs against an OU defense adapting to the loss of Ryan Reynolds), but in all he's a steady but so-so runner.  You could do worse than starting Jake Sharp, but you could certainly do better.
For better or worse, Sharp is the horse of this unit.  Their two other POE-eligible running backs, Angus Quigley (165th) and Jocques Crawford (153rd), are either no longer playing running back (Quigley moved to LB) or no longer on the team (Crawford left Lawrence after, uhh, some drama).  What remain are Reil Lewis and a couple of brank, spanking new options in Deshaun Sands and big Toben Opurum.  Expect either or both of the freshmen to play this year, though you never want to rely too much on freshmen.  Barring injury, Sharp will still carry a majority of the load.
One more thing: if Sands, brother son of the one and only Tony Sands, sees the field at Arrowhead this November, somebody should take precautionary measures and break his freaking kneecaps.  Nothing personal, ahem.
Wide Receivers / Tight Ends
2008 Unit Ranking: #23 in the nation (#4 in the Big 12)

Projected WR Depth Chart
Dezmon Briscoe (6'3, 200, Jr.)
Kerry Meier (6'3, 220, Sr.)
Johnathan Wilson (6'3, 189, Jr.)
Raimond Pendleton (5'11, 192, Sr.)
Tertavian Ingram (6'0, 200, Jr.)
Isiah Barfield (6'0, 184, So.)
Reece Petty (6'2, 195, Jr.)
Willie O'Quinn (6'0, 190, So.)
Projected TE Depth Chart
Tim Biere (6'4, 246, So.)
Bradley Dedeaux (6'3, 252, Jr.)
Nick Plato (6'6, 242, RSFr.)
I'll be the first to admit that I need to figure out a better method of ranking WR/TE units.  Both Kansas and Missouri ranked in the 20s in this category, but...well, until I figure out a better way, this is what we've got.  KU definitely has the scariest 1-2 punch in the North.  Briscoe and Meier combined for 189 catches, 2,452 yards, and 23 TDs in 2008, simply insane numbers.  Johnathan Wilson (43 for 573, 3 TDs) is a solid third option, but...well, talking about anybody but Briscoe and Meier as the headliners is like saying Wilt Chamberlain and I have combined to sleep with over 10,000 women...it's very impressive, but it completely takes away from the real accomplishment.
KU executed a risky but perfect gameplan against Mizzou in 2008.  They continued to dink and dunk, stretching the field horizontally with Meier and Briscoe, relying on the KU defense to fend Mizzou's offense off for as long as possible.  If Mizzou sustains some drives in the first half, then the Mizzou defense doesn't completely wear out in the fourth quarter, but alas, that's what happened.  When all was said and done, Briscoe and Meier combined for 23 catches, 221 yards, and 3 TDs (two of which came in Q4), and an exhausted Mizzou secondary saw its communication fall apart down the stretch.  Again, dink-and-dunk is always risky because it takes a lot of plays to sustain a drive and opens up more opportunities for mistakes.  But if you can pull it off, it works brilliantly, and it worked against Mizzou in 2008.
I am working on the assumption that 2009 will be Briscoe's last season in Lawrence--he's got good NFL size and speed, plus grades appear to be an issue, which sometimes pulls people toward the pros a little sooner than otherwise--meaning the KU receiving corps will take on a completely different look in 2010.  But we'll talk about that in 2010.  For now, this is the best WR unit in the North, and any production they get from the tight end position (which, last year, was almost nonexistant--Tim Biere and Bradley Dedeaux combined for all of 8 catches and 74 yards) is just icing.
Offensive Line
2008 Unit Ranking: #32 in the nation (#6 in the Big 12)

Projected Depth Chart
C Jeremiah Hatch (6'3, 311, So.)
T Jeff Spikes (6'6, 314, So.)
G Sal Capra (6'3, 292, Jr.)
G Carl Wilson (6'4, 292, Jr.)
T Tanner Hawkinson (6'6, 260, RSFr.)
G John Williams (6'4, 338, RSFr.)
G Trevor Marrongelli (6'4, 285, RSFr.)
C Brad Thorson (6'3, 290, Jr.)
T Ian Wolfe (6'5, 295, Jr.)
T Darius Parish (6'4, 341, So.)
Consider the offensive line Major Kansas Question Mark #1 (the second will come when we talk about the defense).  They have the fewest returning career starts in the conference (lower than even OU), and of the ten names I was able to dig up for a depth chart (question for KU fans: is senior Jose Rodriguez still with the team?  He's not on the 2009 KU roster, but I saw him mentioned at RCT), there are no seniors and only four juniors.  This bodes well for 2010, when a solid, experienced line is trying to set the table for an almost 100% new set of skill position players, but for now it's a giant red flag for this offense.  Todd Reesing is one of the best when it comes to improvising and creating on the fly, but that doesn't mean you want him doing it every play.  For KU to win the North (which means either taking a game against Texas, Oklahoma, or Texas Tech, or running the table in the North), converted tight end Tanner Hawkinson will likely need to quickly become the real deal at left tackle, and Jeff Spikes (or whoever wins the RT job) will need to become pretty stable, pretty quickly.  The ends in this conference are more athletic and experienced than in recent years, and...again, this team needs Reesing healthy and upright.
Summary
Todd Reesing's interesting offseason workout plan was introduced to the country recently...and well, I just needed a place to reference that, so here you go.  Now to the real summary:
It cannot be emphasized enough just how much this team relies on Reesing for success.  They have an efficient but average running game and the greenest offensive line in the conference.  Reesing has two explosive and heady options in Briscoe and Meier, but the Jayhawks will need things to click better than they did last year to navigate through the most brutal schedule in the North and win their first North title (no, 2007 does not count).  The more Reesing has to rely on his great improvisational skills, the more likely KU is to fail, not because Reesing's talent will fall off or anything, but because you're simply setting yourself up for failure with the more Passing Downs you encounter.
The running game must click at least as well as it did last year, when a seemingly raw O-line produced very respectable line yardage totals, and KU must avoid relying on Passing Downs success because they will likely fall off in that regard in 2009.  Missouri did from 2007 to 2008, and I think with the more data I get, the more common I will find these occurrences to be.  I still think that, talent- and experience-wise, KU is the most proven overall team in the North, but they will need to be better than they were in 2008, and with that offensive line and their '08 over-reliance on Passing Downs success, it's far from a given that they actually will be better.