The Greatest Win in Mizzou History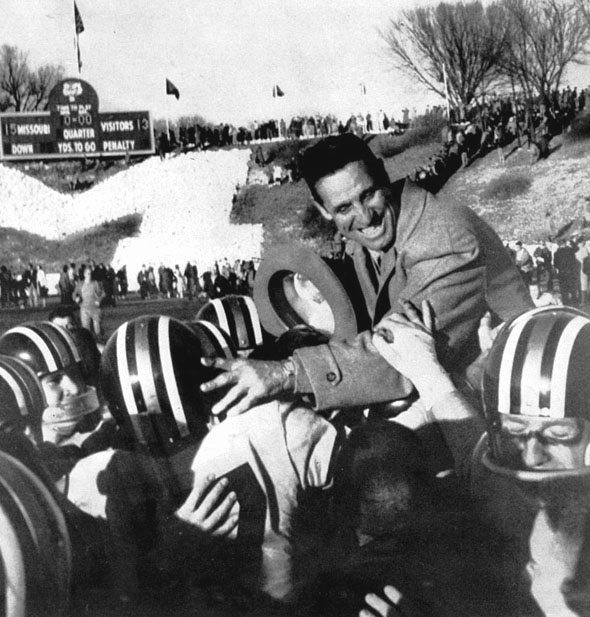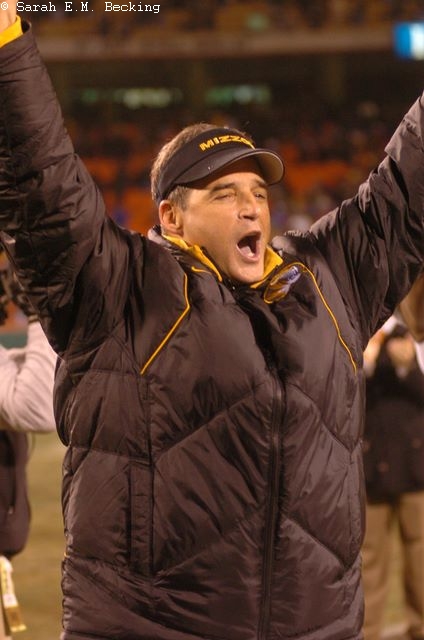 Greatest Win in Mizzou History Bracket

THE FINAL FOUR
Semifinal #1:
Mizzou 36, Kansas 28
November 24, 2007
vs
Mizzou 21, Navy 14
January 1, 1961
Semifinal #2:
Mizzou 35, Nebraska 31
November 18, 1978
vs
Mizzou 35, Alabama 10
December 28, 1968
Regional Finals

Two great wins from possibly Mizzou's two greatest seasons. What's greater, the biggest of big rivalry wins, or a big statement for bowl victory #1?
Mizzou 35, Nebraska 31

Mizzou 35, Alabama 10

November 18, 1978
Lincoln, NE
Memorial Stadium

December 28, 1968
Jacksonville, FL
Gator Bowl


Significance: After years of working in the shadows of both predecessor Bob Devaney and OU coach Barry Switzer, Nebraska's Tom Osborne has positioned his Huskers for a shot at the national title in 1978, having knocked off Oklahoma and needing only a win over Missouri to play for the national title. But Warren Powers' Tigers would pull off an upset in one of the most well-played, exciting games in Mizzou history. With wind chill near zero, in front of 75,000+, both teams threw haymakers all game long.

On the first play of the game, NU's speedy Rick Berns raced 82 yards for a touchdown. Mizzou responded with a 9-yarder by James Wilder. Led by Berns again, NU struck right back to go up 14-7 and quickly added a field goal to take what looked to be a double-digit lead into halftime. But as they would all game, Mizzou responded. On their last first-half drive, Wilder was dominant, accounting for half the drive's yardage. Phil Bradley found a tiptoeing Kellen Winslow in the front corner of the endzone, and the score was a much more manageable 17-14 at intermission.

NU bumped the lead back to ten on a 2-yard run by Berns, but they couldn't shake the Tigers. A powerful, long Mizzou drive led to another Wilder touchdown. 24-21. Then linebacker Chris Garlich, playing the game of his life, picked off a pass at the NU 31. A long run by Phil Bradley set up a short Wilder touchdown, and Mizzou led, but not for long. A long drive by NU put them back on top, 31-28, heading into the fourth quarter.

What followed was one of Mizzou's greatest drives:

James Wilder 2-yard run

Gerry Ellis pounds up the gut for 11
Option pitch to Wilder, who is hit and fumbles...the ball rolls forward and out of bounds
Wilder straight ahead for six yards and a first down
Kellen Winslow seam route for 33 yards

Wilder straight ahead for 8

Wilder literally shoves a tackler aside, pounds ahead into the endzone (Mizzou's color commentator: "DID YOU SEE THAT?? DID YOU SEE HIM?? DID YOU SEE HIM TAKE THAT MAN AND THROW HIM DOWN??)

Wilder's vicious touchdown gave Mizzou a four-point lead, and with 3:40 left, it was up to Mizzou's defense to hold on. They did just that. NU advanced into Mizzou territory but failed to convert on fourth down from the Mizzou 33.

When all was said and done, Mizzou had knocked off #2 Nebraska in Lincoln, ruined NU's title hopes, and locked down a bowl bid to boot--they would beat LSU in the Liberty Bowl.

Significance: Despite good to great records every season, Mizzou didn't always accept bowl bids. Dan Devine let the players decide whether they wanted to attend a bowl or not, and often they decided not to. It was apparently a different time. That said, when presented with the opportunity to play 12th-ranked Alabama in the Gator Bowl to finish the 1968 season, Mizzou accepted. They would not regret the decision.

In describing the 1975 Mizzou win over Alabama the other day, I mentioned that teams just did not do to Bear Bryant's Alabama teams what Mizzou did to them that day. But that was only a 13-point win. What they did to Alabama in the 1968 Gator Bowl was staggering. And that they did it without actually completing a pass is just plain mind-blowing.

During bowl practices, Dan Devine got sneaky--he installed a completely new formation for Mizzou, the Power-I. Alabama's defensive stalwarts never knew what hit them--Mizzou would rush for 404 yards. Meanwhile, the Mizzou defense thrashed the Tide, giving up just 45 rushing yards and 68 passing yards. Tide QB Scott Hunter went just 7-for-25 passing and was sacked for a loss of 61 yards.

Regardless of the statistical domination, it was a game early. A first-quarter TD run by Terry McMillan gave Mizzou, a slight underdog, a 7-0 lead, but McMillan then completed a pass to the wrong team--Donnie Sutton picked McMillan off and returned it 38 yards for a 7-7 tie. Mizzou would put together another nice drive, however, and another McMillan touchdown gave Mizzou a 14-7 halftime lead.

There was no scoring in the third quarter, and when another McMillan INT gave Alabama the ball deep in Mizzou territory, it looked like Alabama could not only keep this more competitive than the stats indicated, but maybe even straight up steal a win.

But the Mizzou defense would hold Alabama to a field goal, cutting the lead to 14-10 but maintaining a Mizzou lead, and then Roger Wehrli, playing in his final game as a Tiger, intercepted a pass that set up McMillan's third rushing touchdown. Mizzou was up 21-10 and then poured it on. Greg Cook capped a 179-yard rushing day with a 37-yard touchdown run, then Dennis Poppe stepped in front of a Hunter pass and took it 47 yards for a touchdown and a 35-10 lead.

The 25-point loss was Alabama's worst bowl loss ever, which was saying something since they had already played in 22 bowl games by 1968. It gave 'Bama their first three-loss season since Bryant's first year in Tuscaloosa (1958), and most importantly, it gave Mizzou a major shot in the arm for 1969.

Aftermath: This was the high point in the Warren Powers tenure. Mizzou would field a competitive program for a few more years, winning more than they lost, but there was never another moment like this one. This game was memorable not only because it was a win over a top NU team in Lincoln, but because it was so unbelievably well-played. Gripping from start to finish. (This game would take on added significance when Mizzou decided to go 25 more years before beating Nebraska again.)

Aftermath: The win sparked a Mizzou rise in the rankings--they would finish 9th in the AP Poll to end 1968 and start 1969 ranked 10th. Most of the offense that had dominated the Crimson Tide would return for the 1969, and as we see with today's other Greatest Win competitor, it would become one of Mizzou's most explosive offenses ever.