The Greatest Win in Mizzou History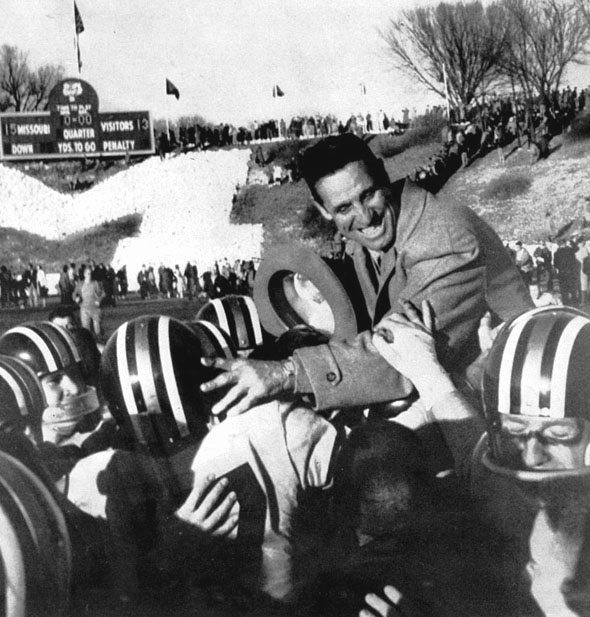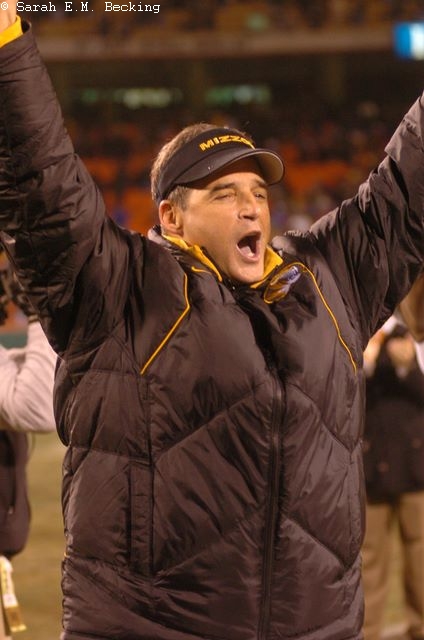 In anticipation of Friday's Greatest Win finals (that's right, I flipped the schedule around yet again...ain't I a stinker?), let's take a longer look at Finalist #1, 2007 Mizzou-Kansas.  Fitting that it comes during Kansas Week, eh?  Let's start with an expanded version of the game description you've been reading for the last month.

After decades of producing bad, to mediocre, to good, to occasionally very good results, Missouri and Kansas had simultaneously thrown together potentially their greatest seasons ever in 2007.  Missouri was 10-1 and ranked #3 in the country.  Kansas was 11-0 and ranked #2.  Both programs were riding sudden and shocking momentum late into November.  And did I mention, they were meeting at Arrowhead?  And that ESPN's Gameday crew was in attendance?  And that #1 LSU had lost the day before, meaning the MU-KU winner would move to #1 a week before the BCS Championship pairing was determined?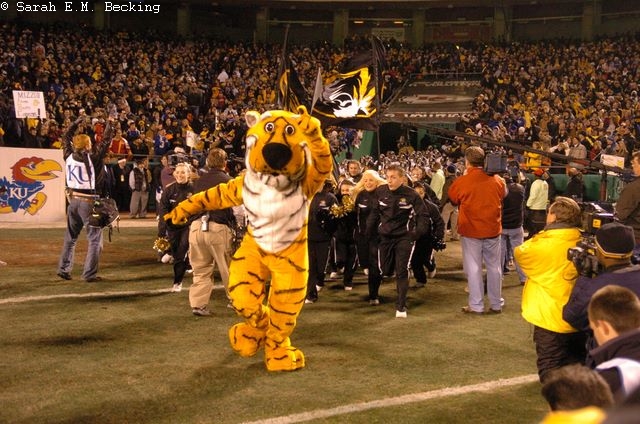 All photos here come from the lovely and missed Sarah Becking's epic gallery.
This was the biggest game in history for both schools, and they played like it early.  Two untouchable offenses were out of sync, trading three-and-outs at the start.  Midway through the first quarter, neither team had managed a first down, but when Jeremy Maclin struck with a long punt return to KU's 32, Mizzou was in prime position.  But after a personal foul on William Franklin, Mizzou had to settle for a 39-yard field goal attempt.  They faked it, with Tommy Saunders throwing a quick out to Franklin, but he was stopped by Chris Harris and Justin Thornton short of the first down, and the game remained scoreless.
After another KU punt, Mizzou finally got rolling.  An 11-play, 78-yard drive, assisted by a 20-yard pass to Danario Alexander and a 13-yarder to Saunders set Mizzou up with first-and-goal.  On fourth down from the 1, on the game's first huge play, Chase Daniel found Martin on a quick inside screen for the game's first touchdown.  With under a minute left in the first quarter, Mizzou led 7-0.
Kansas started the second quarter with their first good offensive play, a 39-yard pass to Kerry Meier, but going for the jugular on the next play, Todd Reesing underestimated William Moore, who stepped in front of a bomb to the endzone.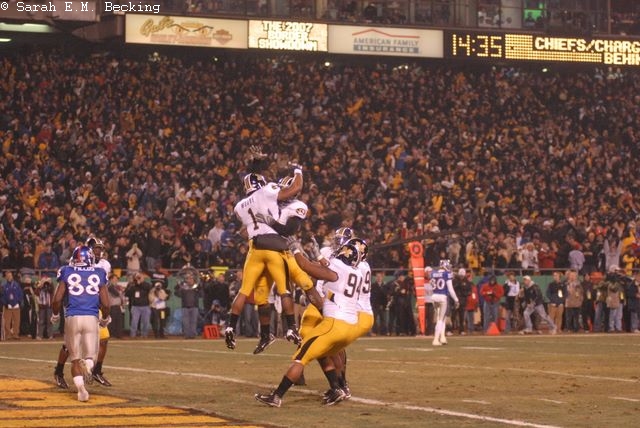 Thirteen plays (including some great runs by an on-his-game Tony Temple) and 98 yards later, Daniel had his Heisman moment, scrambling for seemingly minutes before finding Alexander for an 11-yard TD and a 14-0 lead.  Things were looking up for Missouri, and that didn't change when two potential KU drives ended in missed field goals.  What was supposed to be an offensive shootout was actually a bit of a grind, and Mizzou went to halftime up 14-0, just 30 minutes from their first #1 ranking in 47 years.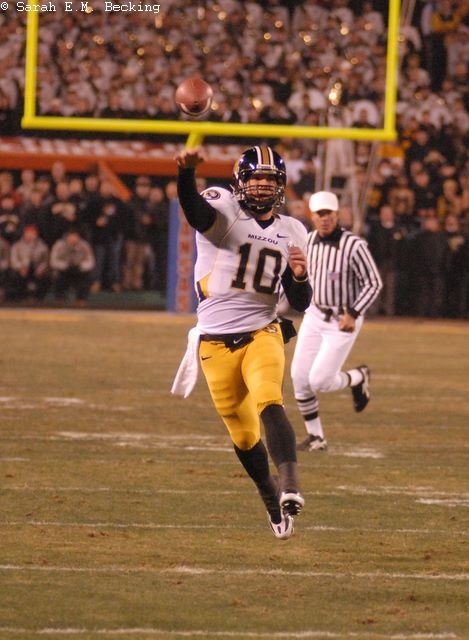 In the third quarter, Mizzou won the game.  Once again, Kansas drove to start the second half, but on third-and-nine from the Mizzou 16, Castine Bridges made a spinning interception of Todd Reesing and returned the ball 49 yards to KU's 40.  Nice rushes from Temple and freshman Derrick Washington, and a 10-yard pass to Franklin, set Mizzou up at KU's 1, and Jimmy Jackson barreled into the endzone.  21-0 Mizzou.
Finally, after spotting Mizzou a cushion, KU started to get untracked.  Dezmon Briscoe made an amazing, diving catch of a 34-yard Reesing pass, and Brandon McAnderson scored from one yard out, cutting Mizzou's lead to 21-7, but Mizzou's offense was clicking at this point.  Playing a bit of keep-away, Mizzou methodically drove 69 yards (in 14 plays and six minutes), converting three short third-down attempts and scoring on a short dump to Washington.  With 1:19 left in the third quarter, Mizzou was up 28-7.  They would have to hold onto that lead with all their might.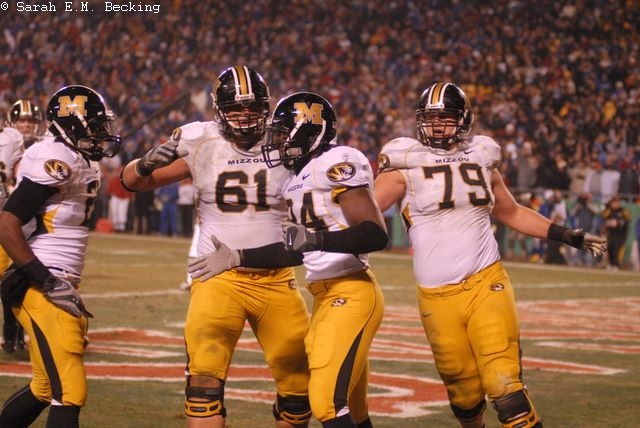 Whether it was a more conservative defense from Mizzou or just an angry, dialed-in KU offense, the Jayhawks were pretty much unstoppable in desperation mode.  They drove 65 yards in three minutes, and on fourth-and-two from the Mizzou 5, Todd Reesing bootlegged into the endzone to cut Mizzou's lead to 14.  Mizzou responded with a 10-play drive of their own but settled for a field goal.  Jeff Wolfert was thankfully automatic at this point, and Mizzou took a 31-14 lead with 9:55 remaining.  Tick, tock.
It took Kansas only 83 seconds to score again.  After a nice kickoff return by Marcus Herford, Reesing found Briscoe three times and found Kerry Meier on a gorgeous pass-and-catch to set up a Dexton Fields touchdown reception.  31-21, 8:28 left.
Of all the memorable plays in this game, potentially the single biggest came in the middle of Mizzou's ensuing drive.  KU was within 10 points and had momentum on their side.  After a holding penalty on Martin Rucker, MU faced a third-and-14 from their own 42 with under seven minutes to go.  In both of their finest hours, Daniel found Alexander once again, this time for 16 yards and a huge first down.  With new breath, Mizzou got another first down and set up Wolfert for a clutch, 43-yard field goal.  Mizzou was trading field goals for touchdowns, but they still led, 34-21, with just 3:31 remaining.
Once again, it took KU just 83 seconds to score. Reesing scrambled for seven yards on fourth-and-three from the Mizzou 33, then found Marcus Henry for a 5-yard touchdown.  Two minutes and three seconds remained, and Mizzou's lead was somehow down to six points, 34-28.  Every Mizzou fan in the stadium just knew that KU was going to recover the ensuing onside kick, but they did not.  Mizzou was unable to get a first down, but they made KU kill another timeout and ran the clock down under 30 seconds before having to punt.
Every Mizzou fan in the stadium just knew that KU was going to block the ensuing punt, but they did not.  Not only did Adam Crossett get off a lovely pooch kick to KU's 7, but Aqib Talib was able to return it for only four yards.  KU had 17 seconds to go 89 yards.  Here's where the Sports God would apply the biggest dagger ever to Mizzou hearts.  Somehow KU was going to win this game.
Nope.  The Mizzou defensive line blew up KU's offensive line and gang-tackled Todd Reesing in the endzone for the game-clinching safety (Mike Kelly's call: "Safety!  Ballgame!  Bingo!").  Sod Reesing was born, and Mizzou had just won the biggest game in the history of the rivalry.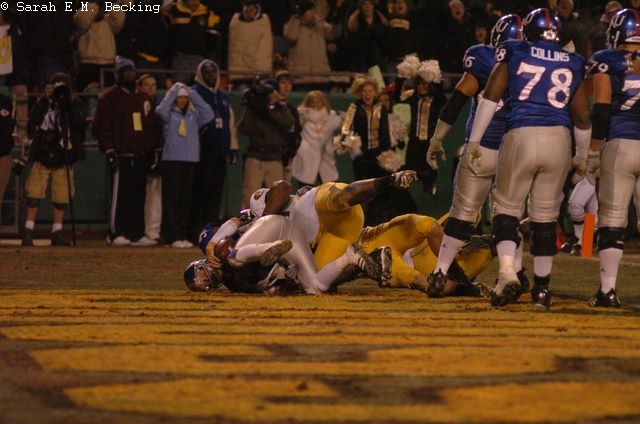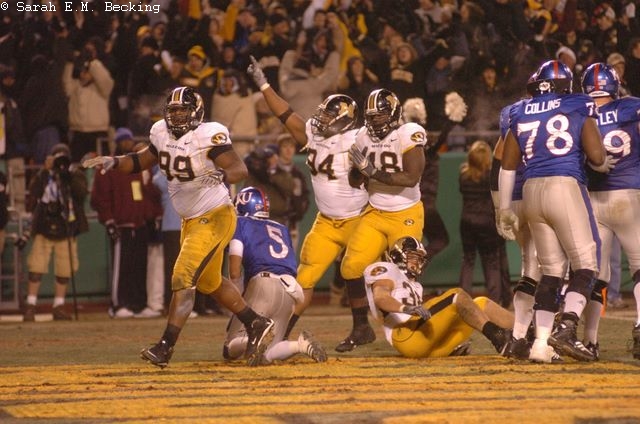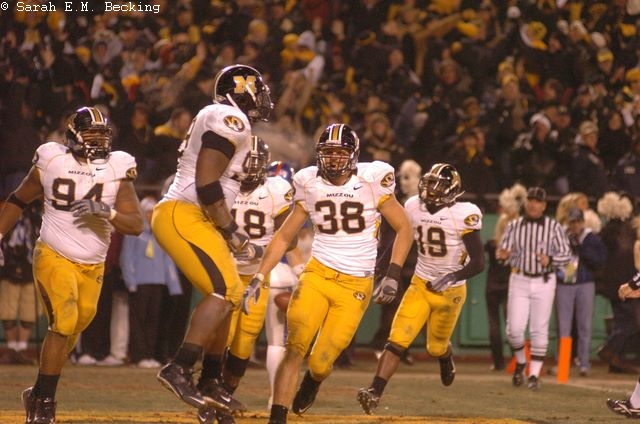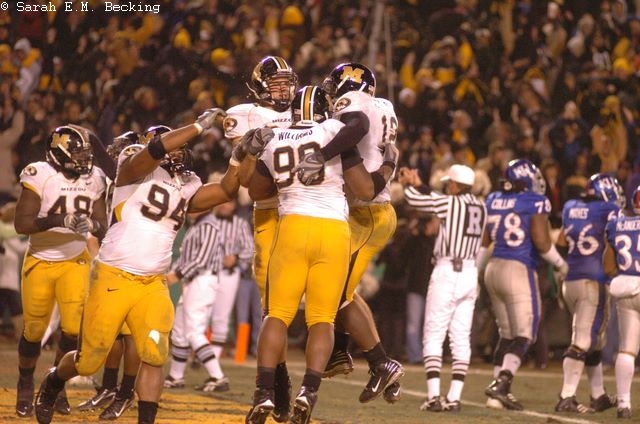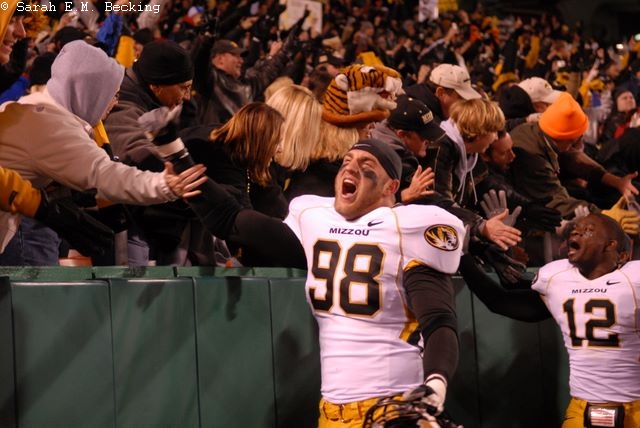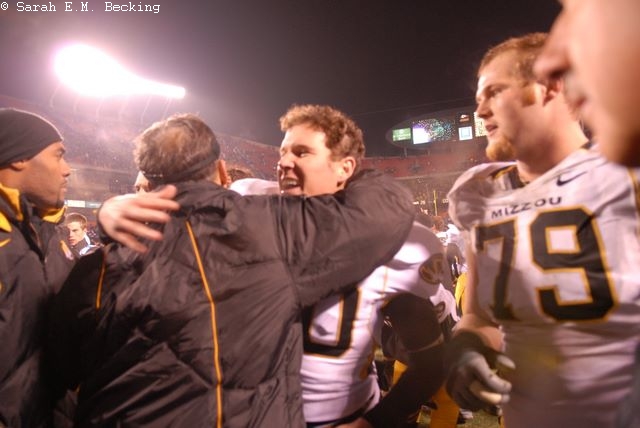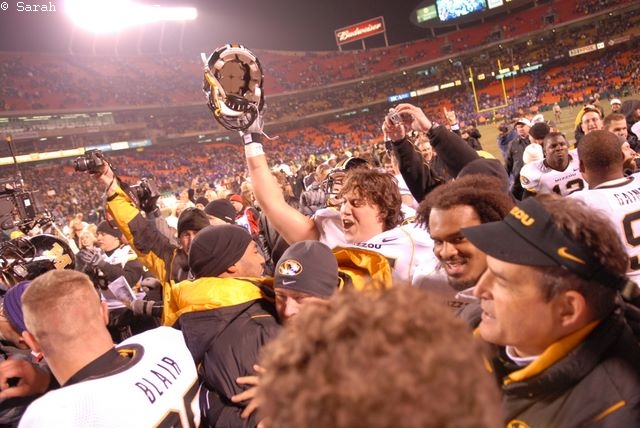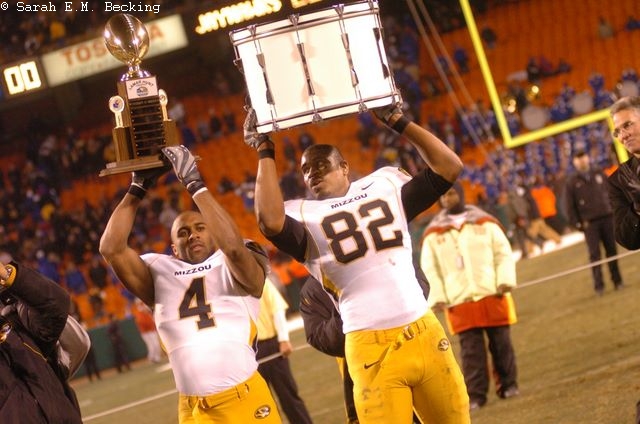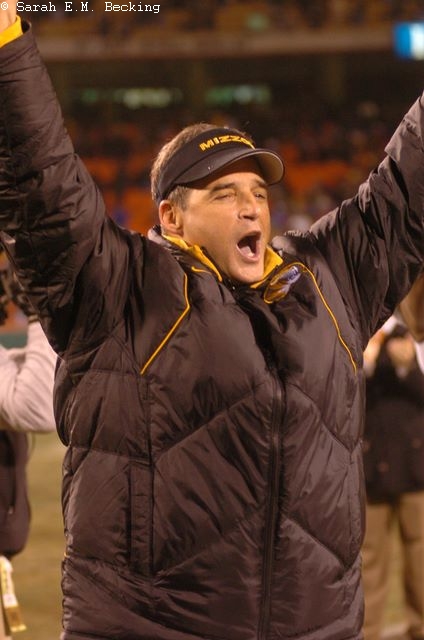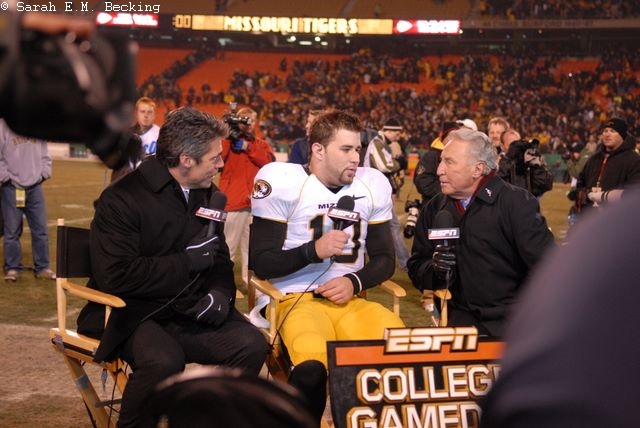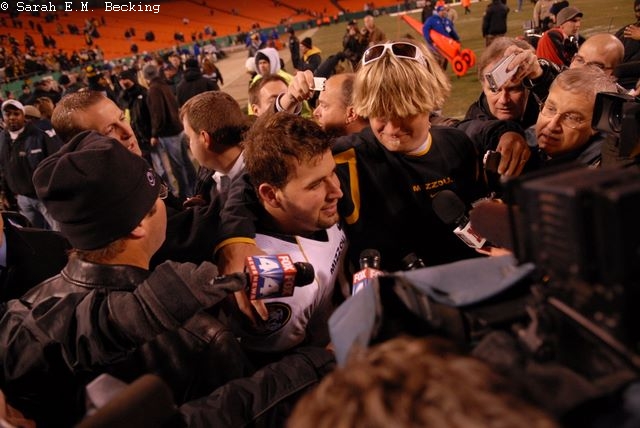 This win led to the single most celebratory week most Mizzou fans have experienced.  Not only did they move to #1 with the win, but they had also ruined (somewhat) KU's best season ever.  Mizzou was one win from the national title game--the closest the Tigers have ever come to a "Final Four."  Here's something Michael Atchison wrote on RMN the days after the game.
I am prone to belief in the divine, but not the supernatural. I recognize the existence of coincidence, happenstance, and random events of bad fortune. Never in my life have I believed in curses. Except when it comes to the Missouri Tigers.

There are the lightning bolts of cosmic scorn that even casual fans know: Colorado's fifth down, Nebraska's kicked ball, Tyus Edney's zero-to-heartbreak in 4.8 seconds. There have been other moments, equally powerful but more obscure, like first round NCAA flameouts against Rhode Island and Northern Iowa back when I'd never heard of Rhode Island or Northern Iowa (geography, alas, was not a strong suit). And then there were those times when we were made to pay for our prosperity, like when the undefeated, top-ranked football Tigers lost their shot at the national title by falling to Kansas in the 1960 season's final game, only to have the game futilely forfeited back later. Or Norm Stewart being blindsided by cancer at age 54 in the midst of a season in which he had one of his best and toughest teams. Or 2002, when an ascending basketball program welcomed Ricky Clemons to town and became a national punch line. Sadly, I could go on. There's more where that came from.

Despite what rational thought tells you, sometimes you have to believe your eyes. When water falls from the clouds, it's rain. When calamity pours from the sky, it's a curse.

After one remarkable week in Kansas City, though, I proclaim Mizzou to be cleansed. The curse is over.

It started on a Sunday night, in a reborn downtown, in a shimmering building, when Norm Stewart took his place in the National Collegiate Basketball Hall of Fame. As the coach stood at the podium nearly nineteen years after beating cancer – and helping countless others do the same through his charitable efforts – you knew that he was blessed. He was surrounded by family, including Virginia, his wife of fifty-one years, and his son Lindsey, who gave a world-class induction speech, full of the humor and fire he inherited from his dad. Coach Stewart also was joined by the other starters from his high school basketball team, and by members of the Stalcup, Faurot and Devine families who brought him back to Columbia in 1967. And he was surrounded by his players, Tiger titans like John Brown, Willie Smith, Steve Stipanovich, Jon Sundvold and Derrick Chievous, who won eight league championships and eleven conference tournaments (five old holiday affairs, six post-season events) in the 1970s, 80s and 90s. To see this living history mingling in the same room, it was plain that the good times have far outnumbered the bad, and hard to fathom that we might ever have considered ourselves unlucky, let alone cursed.

It continued the next night in the same building, when the Tiger basketball team played eleventh-ranked Michigan State. I had heard laments that years of scandal and mediocrity had crushed fan enthusiasm, as evidenced by only 5,000 turning out to see the Tigers play Central Michigan on a Monday in Columbia. But what I saw in the Sprint Center suggests that the problem may be playing Central Michigan. On a Monday. In Columbia. In Kansas City, against a top-flight opponent, an overwhelmingly pro-Mizzou crowd of more than 18,000 turned out, and those fans were fierce and hungry for success. And though the Tigers' rally from sixteen points down fell just short, they played with purpose, and the crowd loved them for it. The next night, when those fans returned to see the Tigers drill Maryland – a program with a national title this decade – it was plain that Mike Anderson's team is immune from the voodoo of Mizzou's recent past.

Then, on Friday, already surrounded by a family of Tigers in town for Thanksgiving, I drove to the airport to meet my friends Scott (in from Denver) and T.J. (New York). In recent years, with the demands of careers and families, our gatherings had been limited to weddings and funerals. But with our alma mater's football team set to play its arch-rival in the year's biggest game, we ran out of excuses not to get together. As we caught up and remembered winter nights at the Hearnes Center and spring Saturdays at Simmons Field, I realized that the Missouri Tigers had blessed me with the chance to share time with these great friends.

And then, of course, came Saturday night. I've never seen a stadium so electric, or a Tiger team so self-assured. From my perch on the verge of 40, it's easy to forget how young these guys are. Chase Daniel and Martin Rucker are barely old enough to remember the past's great disappointments. They don't believe in curses, they believe in each other. When Stryker Sulak and Lo Williams fell down like hard rain on Todd Reesing to secure a heart-stopping triumph, I looked to my right at my wife, who has shared the joy and despair of Tiger sports with me for nearly two decades, and I saw relief. I looked left at my father-in-law, who played on that star-crossed 1960 team, and I saw vindication. Then, as I thrust my hands in the air and looked up into the night sky, from which no calamity had fallen, my mind drifted to the elegant toast T.J. made at Scott's wedding. Traditionally, he said, the guests bless the newly wedded couple. But when a bride and groom like this share their moment, they bless us.

Missouri Tigers, you bless us. The curse is dead.