The Greatest Win in Mizzou History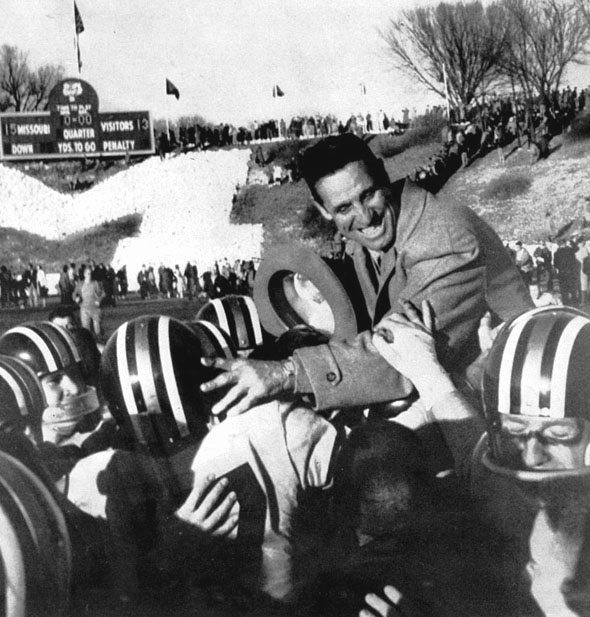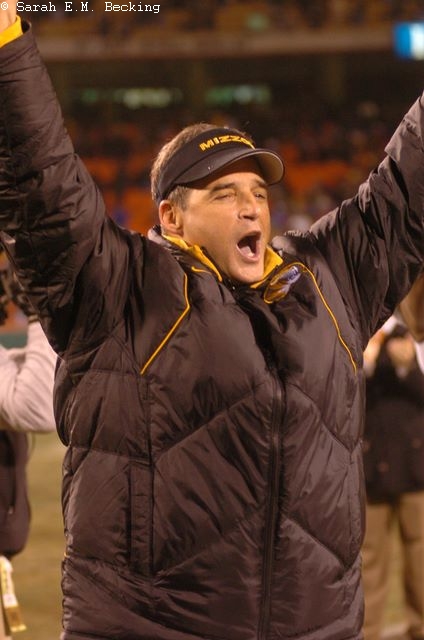 Greatest Win in Mizzou History Bracket

2000s Region

Round Two
Which was greater--the first step in the turn around or the final step to the top?
Mizzou 38, South Carolina 31
Mizzou 36, Kansas 28
December 30, 2005
Shreveport, LA
Independence Bowl

November 24, 2007
Kansas City, MO
Arrowhead Stadium


Significance: Whereas I would normally poo-poo a bowl result, good or bad (it's just one game, it doesn't affect recruiting, it doesn't make a season successful or unsuccessful), it's impossible to shoo away the importance of this one. After a crushingly disappointing 2004 season that saw Missouri fall from 8-5 to 5-6, Mizzou did improve in 2005, but barely. A ho-hum season, complete with big offensive numbers, a loss to New Mexico, and a third straight loss to Kansas, had done little to excite the fanbase, and from the start of this game it looked like Missouri had no interest being on the field.

Ten minutes into the game, the score was 21-0 SC. The Gamecocks had run 16 plays for 169 yards. Mizzou: 7 plays for -10. SC had executed flawlessly with three easy touchdown drives, meanwhile, Mizzou was killing themselves with fumbles, penalties, and downright listless play.

In the second quarter, Mizzou began to right the ship. They forced a punt on SC's first Q2 possession, but with seven minutes left in the half SC was driving again. They were to the MU 16, threatening to go up 28-0, when Marcus King picked off a pass at the Mizzou goal line and returned it 99 yards for a score. The Cocks immediately drove for another touchdown, but when Brad Smith found Chase Coffman for a fade route score with :20 left in the first half, Mizzou had at least a glimmer of hope. They were within reach (28-14) but still had a long ways to go.

The road got tougher when Mizzou executed a pragmatic, 19-play, 7-minute drive to start the second half, but Adam Crossett missed a 22-yard FG, and the score remained 28-14. But with Martin Rucker on the sidelines, exhorting whoever would listen to follow him to victory, things started happening. Mizzou got the ball back, and Smith scored up the middle from 31 yards out to make it 28-21. Then after a fingertip, off-the-shoelaces interception by Derrick Ming, Smith scored again on the second play of the fourth quarter. Somehow, this game was tied.

Less than five minutes later, after another South Carolina punt, Crossett got his chance to atone for the earlier miss. In pure Crossett fashion (he was maddeningly inconsistent at the chippies, but super-clutch), he boomed a 50-yarder for a 31-28 lead. South Carolina would tie the game at 31-31, setting the stage for one of Smith's most memorable plays.

With 4:16 left in the game, Smith rolled left and found no one open. He bobbed back toward the middle of the field, weaved around a couple of tacklers, and then burst to the left at a diagonal. Fifty-nine yards later, he was brought down. From there it took just four plays for Smith to score the go-ahead TD. SC drove to midfield, but Darnell Terrell picked off Mitchell's final pass, clinching the most exhilarating of wins.

Significance: The significance of this one goes without saying, does it not? After decades of producing bad, to mediocre, to good, to occasionally very good results, Missouri and Kansas had simultaneously thrown together potentially their greatest seasons ever in 2007. Missouri was 10-1 and ranked #3 in the country. Kansas was 11-0 and ranked #2. Both programs were riding sudden and shocking momentum late into November. And did I mention, they were meeting at Arrowhead? And that ESPN's Gameday crew was in attendance? And that #1 LSU had lost the week before, meaning the MU-KU winner would move to #1 a week before the BCS Championship pairing was determined?

This was the biggest game in history for both schools, and they played like it early. Two untouchable offenses were out of sync, trading three-and-outs at the start. Mizzou struck first, with Danario Alexander the catalyst for a drive that culminated with a Martin Rucker touchdown on fourth-and-goal.

Kansas started the second quarter with their first good offensive play, a 39-yard pass to Kerry Meier, but going for the jugular on the next play, Todd Reesing underestimated William Moore, who stepped in front of a bomb to the endzone. Thirteen plays and 98 yards later, Chase Daniel had his Heisman moment, scrambling for seemingly minutes at a time before finding Alexander for an 11-yard TD and a 14-0 lead. KU would miss two field goals, and Mizzou would take said fourteen-point lead into halftime.

The third quarter was Mizzou's time to shine. After a Castine Bridges interception, Mizzou marched 40 yards, and Jimmy Jackson scored to make it 21-0 Mizzou. It was 21-7 when Mizzou went 69 yards in 14 plays and scored to make it 28-7. Mizzou had a seemingly insurmountable lead heading into Q4.

And then they had to hold on with all their might. With nothing to lose, Todd Reesing started gunning the ball to Meier and Dezmon Briscoe, and the points added up. Touchdown for KU, field goal for Mizzou. Touchdown for KU, field goal for Mizzou. When Reesing found Marcus Henry for a 5-yard TD with 2:03 left, the lead was just 34-28. Mizzou tried to run out the clock but couldn't. They had to punt, and KU had 11 seconds to go 89 yards. Seems impossible, but in the minds of most Mizzou fans, it was anything but. Here's where the Sports God would apply the biggest dagger ever to Mizzou hearts. Somehow KU was going to win this game.

Nope. The Mizzou defensive line blew up KU's offensive line and gang-tackled Todd Reesing in the endzone for the game-clinching safety (Mike Kelly's call: "Safety! Ballgame! Bingo!"). Sod Reesing was born, and Mizzou had just won the biggest game in the history of the rivalry.

Aftermath: One game sometimes gets too much credit, good or bad, but the facts are this: midway through the second quarter, Mizzou was reeling as a program. Since the comeback, Mizzou has gone 30-11. Martin Rucker took charge of the team on the sideline and eventually helped lead them to a 12-2 season in 2007. Brad Smith's career was somewhat frustrating and up-and-down, but his final moment in a Mizzou uniform may have served as the program's greatest catalyst.


Aftermath: This win led to the single most celebratory week most Mizzou fans have experienced. Not only did they move to #1 with the win, but they had also ruined (somewhat) KU's best season ever. Mizzou was one win from the national title game--the closest the Tigers have ever come to a "Final Four." They would tie OU at half in the next week's Big 12 Championship before finally fading from the moment, losing and settling for the Cotton Bowl.