The Greatest Win in Mizzou History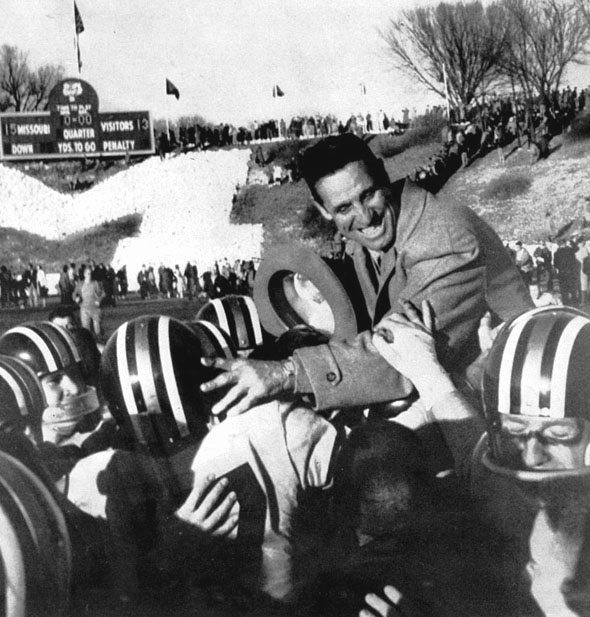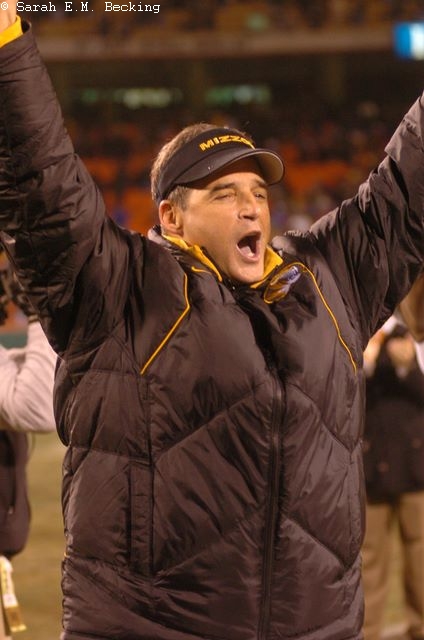 Greatest Win in Mizzou History Bracket

1976-2000 Region

Round Two
Which of these two marvelous upsets was greater?
Mizzou 46, USC 25
Mizzou 35, Nebraska 31
September 11, 1976
Los Angeles, CA
Los Angeles Coliseum

November 18, 1978
Lincoln, NE
Memorial Stadium


Significance: Since his inaugural 1971 season (in which Mizzou went 1-10), Al Onofrio had brought pretty consistently decent results to Columbia. The problem was, a) they weren't as decent as what Dan Devine had produced, and b) there hadn't been improvement for a while. An 8-4 season in 1973 was followed by 7-4 in 1974 and 6-5 in 1975, and while upset wins--Nebraska in 1973 and 1974, Alabama in 1975--were great, consistency was nowhere to be found.

Mizzou fans hadn't seen anything yet.

The craziest season in Mizzou history started with a bang--with Mizzou waltzing into the L.A. Coliseum and not only upsetting a Top 10 USC team, but thumping them.

It all went right from the start. In strangely rainy conditions, USC's opening drive ended with a botched punt snap, setting up an easy Mizzou TD. After the Trojans responded with a TD of their own, Curtis Brown took the ensuing kickoff 95 yards for a touchdown. Mizzou led 13-7, and they hadn't thrown a pass yet. Mizzou led 16-10 when Steve Pisarkiewicz found Leo Lewis for a 20-yard score with 2:15 left in Q2, and it looked like Mizzou would take a 23-10 lead into half. Nope. USC would have to punt, and Brown took a swing pass 49 yards for another score and a shocking 30-10 lead. It was 33-10 when Lewis applied the dagger, taking a reverse 24 yards for a touchdown.

This was not just a run-of-the-mill upset. Not only had Mizzou handled the wet conditions better than USC, but they were faster than USC as well. New Trojan coach John Robinson's tenure had not started as planned; had Mizzou taken advantage of an overrated team? Nope. USC would win the final 11 games on their schedule and finish #2 in the country--this was an outstanding team, and Mizzou had squashed them like a bug.

Significance: After years of working in the shadows of both predecessor Bob Devaney and OU coach Barry Switzer, Nebraska's Tom Osborne has positioned his Huskers for a shot at the national title in 1978, having knocked off Oklahoma and needing only a win over Missouri to play for the national title. But Warren Powers' Tigers would pull off an upset in one of the most well-played, exciting games in Mizzou history. With wind chill near zero, in front of 75,000+, both teams threw haymakers all game long.

On the first play of the game, NU's speedy Rick Berns raced 82 yards for a touchdown. Mizzou responded with a 9-yarder by James Wilder. Led by Berns again, NU struck right back to go up 14-7 and quickly added a field goal to take what looked to be a double-digit lead into halftime. But as they would all game, Mizzou responded. On their last first-half drive, Wilder was dominant, accounting for half the drive's yardage. Phil Bradley found a tiptoeing Kellen Winslow in the front corner of the endzone, and the score was a much more manageable 17-14 at intermission.

NU bumped the lead back to ten on a 2-yard run by Berns, but they couldn't shake the Tigers. A powerful, long Mizzou drive led to another Wilder touchdown. 24-21. Then linebacker Chris Garlich, playing the game of his life, picked off a pass at the NU 31. A long run by Phil Bradley set up a short Wilder touchdown, and Mizzou led, but not for long. A long drive by NU put them back on top, 31-28, heading into the fourth quarter.

Offenses slowed down in the final 15 minutes, but when it was time to make a play, Mizzou stepped up with one last perfect drive. Wilder did the dirty work, and Kellen Winslow caught a 33-yard pass over the middle to set Wilder up one more time. The Sikeston Train literally shoved a tackler to the ground on his way to the endzone for the game-winner.

When all was said and done, Mizzou had knocked off #2 Nebraska in Lincoln, ruined NU's title hopes, and locked down a bowl bid to boot--they would beat LSU in the Liberty Bowl.

Aftermath: Had Onofrio's program turned a corner? It sure seemed like it. But alas, a run of injuries and inconsistency led to mind-boggling results. Mizzou followed up this win with a 31-6 home loss to a weak Illinois team...and then beat #2 Ohio State in Columbus. It continued that way all season. Any team can go 6-5; the 1976 Mizzou team was extremely creative about it.

Aftermath: This was the high point in the Warren Powers tenure. Mizzou would field a competitive program for a few more years, winning more than they lost, but there was never another moment like this one. So unbelievably well-played, this game would take on added significance when Mizzou decided to go 25 more years before beating Nebraska again.