The Greatest Win in Mizzou History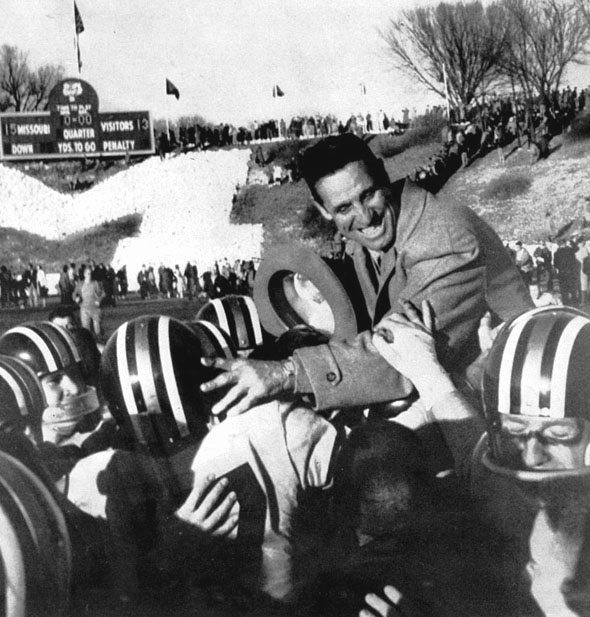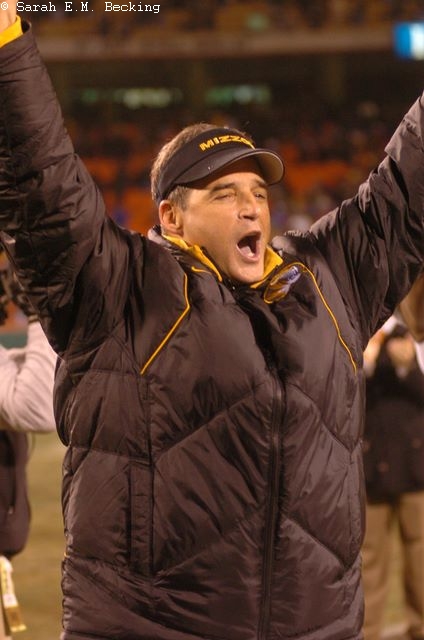 Greatest Win in Mizzou History Bracket

1963-1975 Region

Round Two
Which was greater, romping on the Bear or completing a 63-point turnaround?
Mizzou 20, Alabama 7

Mizzou 30, Notre Dame 26

September 8, 1975
Birmingham, AL
Legion Field

October 21, 1972
South Bend, IN
Notre Dame Stadium


Significance: Mizzou had established its "giant killer" reputation long before the crazy 1976 season that we've documented recently. In 1972, they took out Notre Dame. In 1973-74, Nebraska. But they weren't dominant in any of those games. They crushed Alabama on Legion Field to start 1975.

In the early part of the 1970s, Mizzou had a decent amount of firepower, but aside from a nice run in 1973, they had been missing the dominant defense that they had through much of the 1960s. That changed in the 1975 season opener, as they completely shut down #2 Alabama's potent wishbone attack, holding them to a startling 31 rushing yards.

It was a week before the NFL season started, so ABC elected to move Mizzou-Bama to Monday Night Football, and Mizzou put on a shocking show in front of a national audience. A 20-point underdog, they played one of the most perfect first halves in Mizzou history. They forced a 'Bama three-and-out on the opening possession and drove 58 yards in 12 plays for a touchdown. Fulton native Tony Galbreath, who would rush for 120 yards on the day, both keyed and capped the drive, scoring from three yards out to put Mizzou up 7-0. Another Tide punt led to a 44-yard Tim Gibbons field goal.

To the surprise of most of the country, Mizzou was up 10-0, and the Mizzou defense was far from done. Safety Jim Leavitt (yes, that Jim Leavitt) recovered an Alabama fumble at the Tide 32. Three plays later, fullback John Blakeman scored on an option reverse. 17-0. Mizzou didn't punt until four minutes remained in the first half, but after they did, Ken Downing picked off a hurried Richard Todd pass, and Gibbons bounced a line-drive field goal attempt in off the crossbar, and Mizzou shocked the country by going up 20-0 at halftime.

The second half was a formality, at least the Mizzou defense made it that way. Twice, Mizzou fumbled deep in their own territory, and a botched punt snap gave Alabama yet another opportunity, but the Tide would only score once, on a deflected touchdown catch by Ozzie Newsome. Led by tackle Keith Morrissey, who had three second half sacks, Mizzou would not let Alabama even think about coming back into the game.

When it was over, Columbia erupted. Students filled the Quad, where fireworks were shot and Marching Mizzou showed up. The impromptu parade spilled into downtown, where somebody etched "Missouri 20, Alabama 7, 9-8-75" into fresh cement. You just simply did not do to a Bear Bryant team what Mizzou did to them that Monday night. This was the only game 'Bama would lose in 1975.

Significance: Imagine the level of dread for Mizzou fans in this situation: Mizzou had gone 1-10 in 1971 and was only 2-3 in 1972. They had just suffered their worst loss in the history of the Mizzou-Nebraska series. The backfield, clearly vital in a wishbone offense, was banged up beyond recognition. The defense was suffering lapses that few Mizzou defenses had in the last 20-25 years. And now Mizzou had to travel to South Bend, where they were 35-point underdogs to the host Irish, a team that would go on to face Nebraska in the Orange Bowl.

On a cold, foggy afternoon in Indiana, with a banged-up, thin lineup, all Missouri did was play one of their most perfect games. After a Bob Pankey interception, Mizzou's Leroy Moss scored from 16 yards out to put Mizzou up 7-0, the Irish responded with a touchdown of their own. A banged-up Mizzou backfield caught fire, however, and Don Johnson scored to put Mizzou up 14-7. Notre Dame responded again. 14-14. But John Cherry and the Mizzou offense shockingly kept it up. Cherry found Henry Marshall and Bill Zeigler for big gains, and late in the first half, Johnson found paydirt again. The five-TD underdogs were up 21-14 at half.

Though the home crowd probably assumed the Irish would bounce back in the second half, it was Mizzou who continued to strike. ND muffed a punt, and Greg Hill kicked a field goal to make it 24-14. Then Notre Dame fumbled the proceeding kickoff! Mizzou recovered, and another Hill FG made it 27-14.

Tommy Reamon's running set up het another Hill field goal to put the Tigers up 16, but finally the Irish struck back. They drove 80 yards for a touchdown, but John Moseley tipped away the 2-point conversion, keeping the lead at 30-20. The Irish came right back and scored again, converting a 4th-and-18 pass en route to another touchdown. Once again, the two-point attempt was quashed, and Mizzou's lead was four points.

With two minutes left, the Irish got the ball back one more time, and while everybody probably assumed they would drive down and win the game, Mizzou had other ideas. Mike Fink stepped in front of a long pass, and Mizzou ran out the clock for the win.

Words like "miracle" are probably thrown around too much, to the point that they lose some of their impact. But if you're ever going to use that word to describe a sporting event, now's a pretty good time. Mizzou's win as 35-point underdogs was USC-Stanford-esque, and it turned around the Onofrio era.

Aftermath: I know everybody wants to schedule tougher, but 1975 is a pretty telling reason why that's not a good idea. Mizzou had to face the preseason #1 (OU), #2 ('Bama), #3 (Michigan), and #7 (NU) teams, and while they knocked off the Tide, they simply wore out down the stretch, losing four of six to finish the season 6-5, losing only once to a team that won less than 9 games in '75.

Aftermath: Onofrio's tenure was in danger of falling apart, but this win got Mizzou going. They would beat a good Colorado team and sneak into the Fiesta Bowl, then get revenge on Nebraska the next year on the way to a Sun Bowl win. Without this win, it's uncertain that Mizzou would have done much of anything under Uncle Al.