The Greatest Win in Mizzou History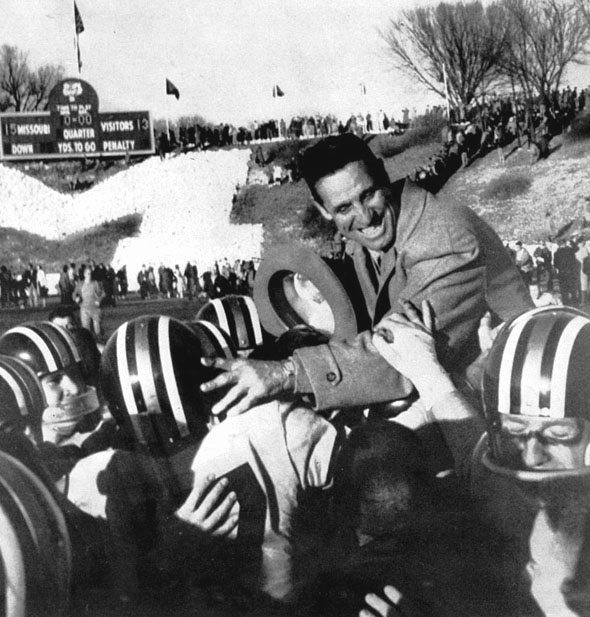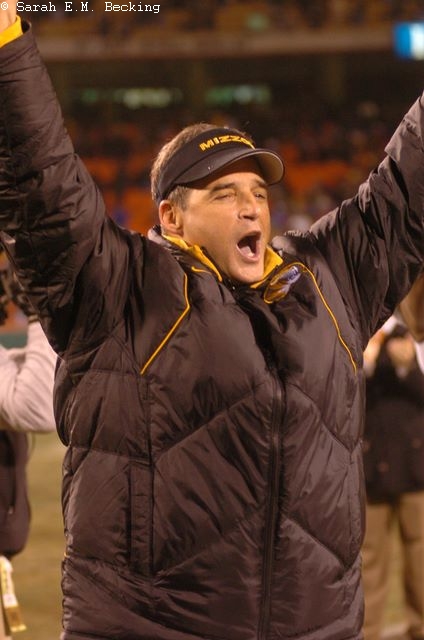 Greatest Win in Mizzou History Bracket

1963-1975 Region

Round Two
Which was greater, another beating of the Bear or a humbling of the Ol' Ball Coach to-be?
Mizzou 35, Alabama 10

Mizzou 20, Florida 18

December 28, 1968
Jacksonville, FL
Gator Bowl

January 1, 1966
New Orleans, LA
Sugar Bowl


Significance: Despite good to great records every season, Mizzou didn't always accept bowl bids. Dan Devine let the players decide whether they wanted to attend a bowl or not, and often they decided not to. It was apparently a different time. That said, when presented with the opportunity to play 12th-ranked Alabama in the Gator Bowl to finish the 1968 season, Mizzou accepted. They would not regret the decision.

In describing the 1975 Mizzou win over Alabama the other day, I mentioned that teams just did not do to Bear Bryant's Alabama teams what Mizzou did to them that day. But that was only a 13-point win. What they did to Alabama in the 1968 Gator Bowl was staggering. And that they did it without actually completing a pass is just plain mind-blowing.

During bowl practices, Dan Devine got sneaky--he installed a completely new formation for Mizzou, the Power-I. Alabama's defensive stalwarts never knew what hit them--Mizzou would rush for 404 yards. Meanwhile, the Mizzou defense thrashed the Tide, giving up just 45 rushing yards and 68 passing yards. Tide QB Scott Hunter went just 7-for-25 passing and was sacked for a loss of 61 yards.

Regardless of the statistical domination, it was a game early. A first-quarter TD run by Terry McMillan gave Mizzou, a slight underdog, a 7-0 lead, but McMillan then completed a pass to the wrong team--Donnie Sutton picked McMillan off and returned it 38 yards for a 7-7 tie. Mizzou would put together another nice drive, however, and another McMillan touchdown gave Mizzou a 14-7 halftime lead.

There was no scoring in the third quarter, and when another McMillan INT gave Alabama the ball deep in Mizzou territory, it looked like Alabama could not only keep this more competitive than the stats indicated, but maybe even straight up steal a win.

But the Mizzou defense would hold Alabama to a field goal, cutting the lead to 14-10 but maintaining a Mizzou lead, and then Roger Wehrli, playing in his final game as a Tiger, intercepted a pass that set up McMillan's third rushing touchdown. Mizzou was up 21-10 and then poured it on. Greg Cook capped a 179-yard rushing day with a 37-yard touchdown run, then Dennis Poppe stepped in front of a Hunter pass and took it 47 yards for a touchdown and a 35-10 lead.

The 25-point loss was Alabama's worst bowl loss ever, which was saying something since they had already played in 22 bowl games by 1968. It gave 'Bama their first three-loss season since Bryant's first year in Tuscaloosa (1958), and most importantly, it gave Mizzou a major shot in the arm for 1969.

Significance: Throughout history, how often do you figure a team has stopped a soon-to-be Heisman Trophy quarterback on three two-point conversions? I'm willing to bet it isn't a very common occurrence. It takes a team with an infinitely supply of testicular fortitude to pull that off--luckily, Mizzou's defense proved it had just that. Surprisingly, despite a high-profile QB battle of Steve Spurrier vs Gary lane, this game was a defensive show early. Neither team scored in the opening frame, as both teams were feeling each other out. But in the second quarter, Mizzou's rushing attack got rolling. The Tigers put together a 59-yard drive that was highlighted by Charley Brown's lovely diving catch of a Gary Lane pass. Brown then jetted in from 10 yards out to give Mizzou a 7-0 lead. After Florida muffed a punt, Mizzou quickly took advantage with a halfback option pass from Johnny Roland to Earl Denny, and it was 14-0.

Mizzou DE Dan Schuppan recovered a Spurrier fumble to stop a drive. Missouri snuck in a field goal and took a commanding 17-0 lead into halftime.

To shut out the potent Gators for a half was quite impressive, but to do it for another half would be impossible, right?

Well, maybe not. The D picked up where they left off in the second hafl, shutting UF out in the third quarter and, more importantly, tacking on another field goal to increase the lead to 20-0.

Heading into the final quarter, Mizzou had the dagger in their hands. They faced a 3rd-and-1 from the Florida 15 and a chance to end any hope of a Florida comeback, but Carl Reese was stuffed for no gain. Devine then had a choice to make--go for a third field goal and technically keep Florida within three possessions, or go for the first down, score a touchdown, and end the game. Devine went for the jugular. And missed. Reese was stuffed again on fourth down, and Florida was given life.

Six passes later (all completions), it was 20-6. Spurrier took the Gators 85 yards in the blink of an eye, but a two-point attempt failed, and Florida was down a full 14 points. After a Mizzou fumble, Florida quickly scored again, with Spurrier plunging in from a yard out. Ken Boston, however, broken up a second two-point attempt, and the lead remained at eight points.

After a Mizzou punt, Spurrier quickly led Florida 81 yards for yet another touchdown. Somehow, the score stood at 20-18 with four minutes left. But this time it was Jim Whitaker stepping up to the plate for the Tigers--he broke up a pass, and Mizzou continued to hold on for dear life.

Florida got the ball back one last time, but Mizzou's defense finally responded, quashing the rally, closing out a dramatic Sugar Bowl win.

Aftermath: The win sparked a Mizzou rise in the rankings--they would finish 9th in the AP Poll to end 1968 and start 1969 ranked 10th. Most of the offense that had dominated the Crimson Tide would return for the 1969, and as we see with today's other Greatest Win competitor, it would become one of Mizzou's most explosive offenses ever.

Aftermath: Mizzou came within 10 points of an undefeated season in 1965, but any disappointment from the near-misses was erased by defeating Florida and finishing 6th in the country. The 1965 Mizzou squad was full of seniors, and Mizzou would take at least a slight step backwards, losing three games for each of the next three seasons. But the recruits that signed with 1965's success were key cogs for the dominant 1969 Mizzou team.