The Greatest Win in Mizzou History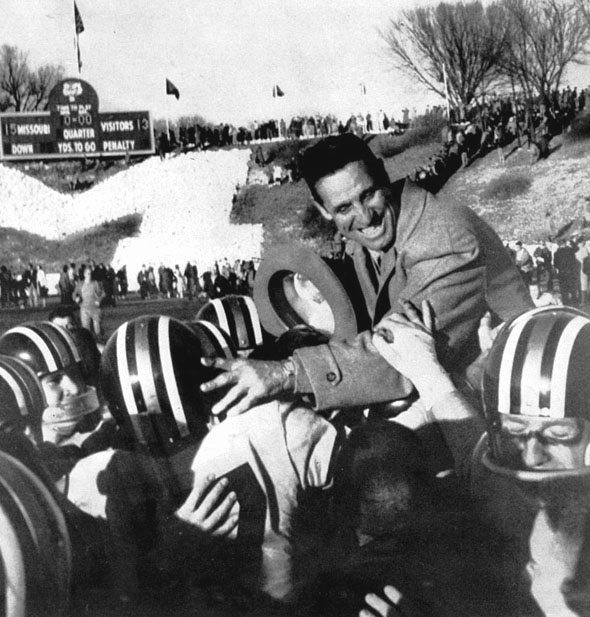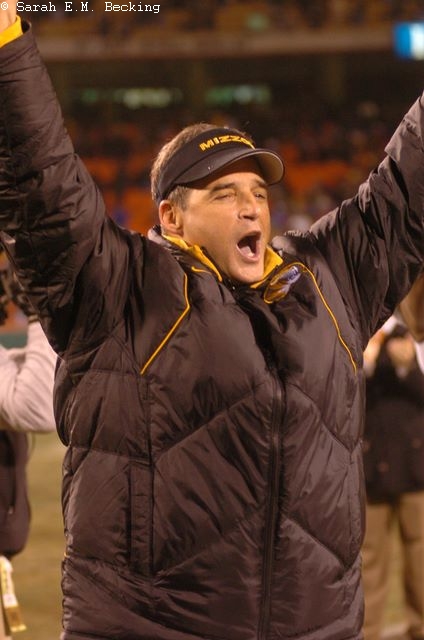 Greatest Win in Mizzou History Bracket

Pre-1963 Region

Round Two
Which was greater, Mizzou's first bowl win or one of Mizzou's most perfect performances?
Mizzou 21, Navy 14

Mizzou 20, SMU 14

January 1, 1961
Miami, FL
Orange Bowl

October 16, 1948
Columbia, MO
Memorial Stadium

Significance: Mizzou made their first ever bowl victory a pretty memorable one, hemming in (and popping down!) Heisman winner Joe Bellino and #4 Navy's offense, and piling up the rushing yards to win the Orange Bowl and finish the season 10-1 (I mean, 11-0). And they did it in front of Present-elect Kennedy, to boot.

From the opening kickoff, Mizzou dominated. On their first drive, they drove 70 yards to the Navy 2 before a miscue gave the Middies a surprising lead--halfback Donnie Smith got trapped behind the line and attempted an ill-advised lateral to QB Ronnie Taylor. The ball was picked off by Navy end Greg Mather and returned 95 yards for a touchdown. 6-0 Navy.

The craziness was just beginning. Navy attempted a surprise on-sides kick and recovered it. They moved inside the Mizzou red zone, looking to quickly go up 14-0, when Norm Beal turned the tables, stepping in front of a Hal Spooner pass and returning it 90 yards for a Mizzou touchdown. The first quarter was only half-over, and there had been two 90+ yard touchdowns. Bill Tobin's PAT made it 7-6 Mizzou.

From there, Mizzou took over. They quickly shut down the Navy offense, then drove 80 yards in 11 plays for the go-ahead score. Smith rolled in from 4 to make it 14-6. Navy had two opportunities to tie in the second quarter, recovering a Mizzou fumble and pouncing on a bad punt snap in Mizzou territory, but in both cases Mizzou's Andy Russell intercepted Spooner to get the ball back.

Entering the fourth quarter, Mizzou remained up eight when Mel West took over, marching Mizzou 64 yards toward the endzone. Ronnie Taylor snuck in from the 1, and Mizzou was up 21-6. This one was all but over.

To their credit, however, Navy finally moved the ball a bit. Spooner found Bellino for a late 27-yard touchdown, but this was Mizzou's day. Their first bowl win in seven tries was made possible by holding the explosive Middies to -8 yards rushing while plowing ahead for 223 yards of their own. West had 108 of those yards (plus Mizzou's only reception of the game, a five-yarder) in his final game as a Tiger, while Smith rang up 93. Heisman winner Bellino managed just four yards.

Though Kansas has wrecked Mizzou's national title hopes, the Tigers made a significant statement in this game. They truly were one of the two or three best teams in the country, and they had a pretty good claim for the national title. They didn't win it, of course, but they were as good as anybody that year, and they proved it in Miami.

Significance: Don Faurot's return to Mizzou had seen slow growth. Mizzou went just 5-4-1 in 1946 and 6-4 in 1947, but things came together again, and starting in 1948 Mizzou made one last great run under Faurot. After the typical season-opening loss at Ohio State (for money purposes, Faurot had agreed to a series of trips to Columbus throughout the 1940s...and Mizzou went 0-8-1 up there), Mizzou caught fire, first beating SLU 60-7, then welcoming mighty SMU to town.

Why was SMU mighty? Because they had a guy named Doak Walker dominating both ends of the field. SMU was 2-0 and ranked 4th in the country when they came to Columbia, and they were welcomed by a Mizzou team playing one of its most perfect games. Walker was every bit as dominant as advertised, and SMU played well...and Mizzou won anyway.

A record crowd of 30,892 watched SMU take a 7-0 lead in the second quarter after Walker made a leaping 25-yard grab to the Mizzou 3, then take it to the house off-tackle the next play (oh yeah, and he kicked the PAT too).

SMU led 7-0 at halftime, but Mizzou responded, with big runs from Nick Carras and Mike Ghnouly. Eventually Bus Entsminger scored, and it was 7-7.

The switch had flipped for the Mizzou offense. On their next drive, they drove to SMU's 1 before faltering, but they turned right back around and drove 69 yards for another score--Dick Braznell went in from 21 yards, and early in the fourth quarter it was 14-7 Mizzou.

Mizzou got the ball back, and with under four minutes to play Wilbur Volx scored on a 2-yard run. Despite a missed PAT, Mizzou had seemingly an insurmountable 20-7 lead.

Fifty seconds later, it was 20-14. After Walker returned the kickoff to the SMU 26, he caught a 74-yard bomb for a touchdown. SMU kicked off with 2:10 left and not only got the ball back via punt, but via poor punt. The Mustangs took over near midfield, but Loyd Brinkman stepped in front of a pass intended for Walker (seriously, I would hope they'd have had him quadruple-teamed), and Mizzou was able to run out the clock and clinch the stunning victory.

In the end, Walker was great (he did everything in the above write-up, plus he tracked Entsminger down from behind, preventing a TD on a long run), but the Mizzou rushing attack was too strong. They rushed for 356 yards, dominated the field position battle, and came away with the huge win.

Aftermath: Had the final polls been recorded after the season, Mizzou almost certainly would have finished 2nd (maybe 3rd) behind Ole Miss, as #1 Minnesota lost the Rose Bowl and #3 Iowa didn't get to play a bowl because of the Big Ten's "Rose or nothing" policy that last through much of the 1970s. Instead, they were locked in at #5.

Aftermath: 1948 was one of Faurot's last great years. Mizzou would lose only to mighty Oklahoma the rest of the way (seriously, OU has prevented Mizzou from about another ten conference titles over the years) and play Clemson in the Gator Bowl on January 1, losing 24-23 and finishing at 8-3.