The Greatest Win in Mizzou History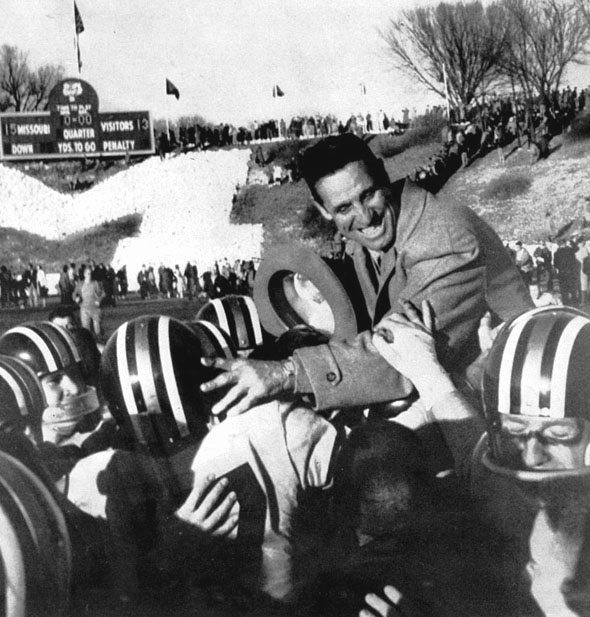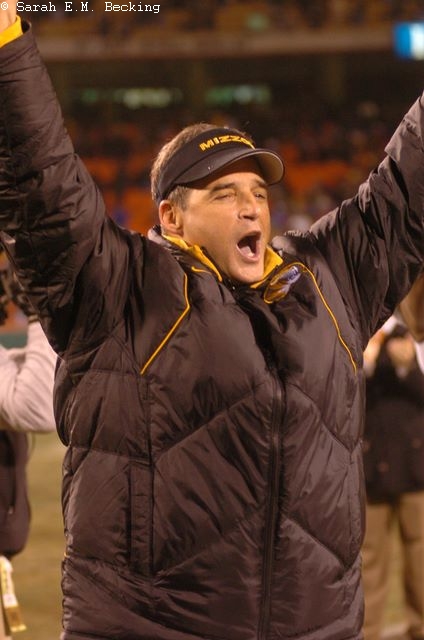 Greatest Win in Mizzou History Bracket

Pre-1963 Region

Round Two
Which was greater?
Mizzou 28, Oklahoma 0

Mizzou 21, Penn State 8

November 15, 1941
Columbia, MO
Memorial Stadium

October 1, 1960
State College, PA
Beaver Stadium


Significance: Before Don Faurot went off to war, before Jim Tatum, and then Bud Wilkinson took over at Oklahoma, before the concepts of the Split-T were slowly shared with the rest of the country, it was still a novelty. Mizzou caught opponents off-guard and, thanks to some nice recruiting, ran roughshod over almost every opponent in 1941.

When OU came to town to decide the Big Six title, Mizzou stood at 6-1, 16th in the country. Both teams were 3-0 in conference. In front of Mizzou's largest ever home crowd at the time (29,000), Mizzou was unstoppable. After failing to score on their first drive, they went 64 yards for a score on their second. Red Wade scored from 23 yards out to make it 7-0 Mizzou. After another OU punt, Steuber threw a 23-yard touchdown pass to Herb Ekern. 14-0.

Late in the first half, OU tried to respond. They drove to the MU 13, but a penalty bumped them back 15 yards, and a Jacobs pass on the final play of the half fell incomplete. It was 14-0 at half, and Mizzou had now gone 3.5 games without allowing a point.

MIdway through the third quarter, Wade scored another touchdown. 21-0. OU drove to the one-foot line early in the fourth quarter, but Mizzou's powerful D held their ground, and OU was still scoreless.

Late in the contest, Wade broke into the open field for a 34-yard touchdown run, his third of the game. This one was a laugher. It wrapped up the conference title and served as a major assertion of power for Missouri on their way to a Sugar Bowl bid.

Significance: From the moment Dan Devine took the Missouri job before the 1958 season, he had to look at the roster and realize that everything was building toward 1960. He would play an uncomfortable number of sophomores in 1958 as the Tigers went a respectable 5-4-1. In 1959, the record barely improved (6-5), but the wins came at just the right time, and Mizzou made one of the conference's more unlikely Orange Bowl runs, going 4-2 in conference but sneaking away with a ticket to Miami nonetheless.

When 1960 came, everything was in place. Mel West and Norris Stevenson were experienced backfield mates, both lines were outstanding, and end Danny LaRose was beyond dominant.

In the end, it was LaRose who carried Mizzou in the Nittany Valley. After whipping weak SMU and Oklahoma State teams to start the season, with an untouchable running game and soul-crushing defense, #19 Mizzou had a chance to make some noise by taking on #20 Penn State in Pennsylvania.

Thanks to LaRose, Mizzou made plenty of noise. The 6'4 senior from Crystal City made his All-America pitch by consistently finding his way into the backfield and getting after Lions QB Galen Hall, booming deep kickoffs to help Mizzou win the field position battle, and even catching a 16-yard touchdown pass. LaRose was one of the nation's premier two-way (three-way, really) talents, and he showed it on the first Saturday in October. Mizzou would win easily, heading back to the Central time zone an unthreatened 3-0, moving to #11 in the AP poll.

Aftermath: Mizzou would finish the regular season by romping Kansas, moving to 8-1 and ranking 7th in the country, having outscored their opponents 226-39 on the season. They would lose a heartbreaker to Fordham in the Sugar Bowl, 2-0, but bowls didn't matter much then--one more touchdown against Ohio State could have meant the national title (though it wouldn't have been guaranteed, as Michigan and Duke also finished undefeated, and Notre Dame finished 8-0-1.

Aftermath: Of course, this was just the start of Mizzou's upward trajectory. They would blow out just about everybody in the conference on the way to a 10-0 start, moving to #1 in the country before the infamous Bert Coan Incident, when KU played an ineligible player in knocking Mizzou from #1 with a 23-7 win in Columbia. It was the last time Mizzou would be #1 in the rankings until late-2007.