UPDATE: in case you haven't voted in Saturday's matchup yet, it was a tie when voting closed at 9am, so we'll reopen it until tomorrow at 9am.

The Greatest Win in Mizzou History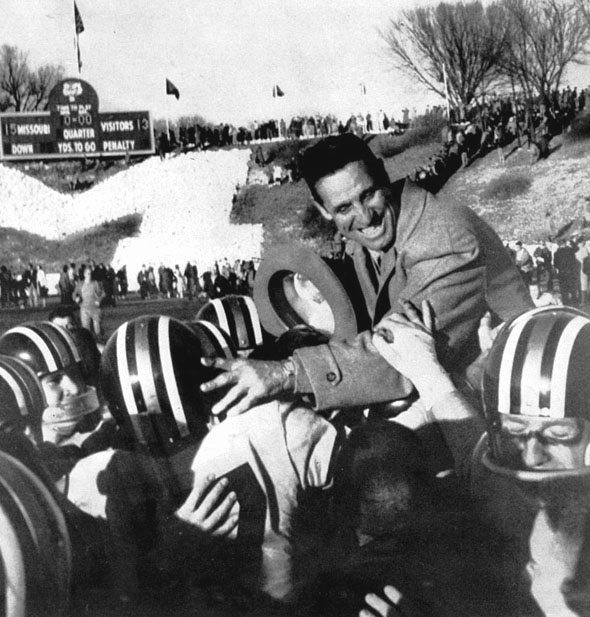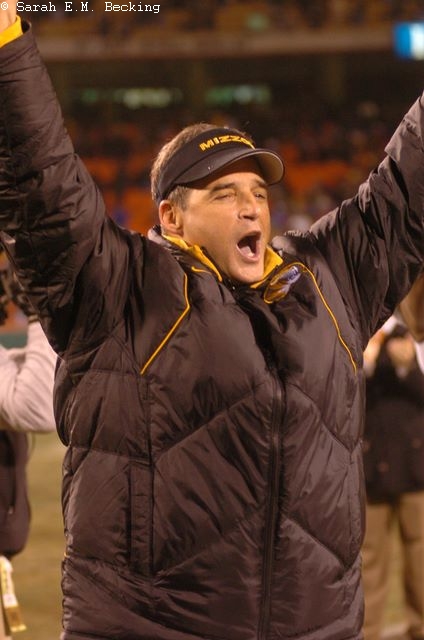 Greatest Win in Mizzou History Bracket

2000s Region

Regional Finals

Jeez, this is like choosing between your children...
Mizzou 41, Nebraska 24

Mizzou 36, Kansas 28
October 11, 2003
Columbia, MO
Faurot Field
November 24, 2007
Kansas City, MO
Arrowhead Stadium


Significance: This was Mizzou's first win over Nebraska in 25 years. After the heartbreak of 1997, Mizzou fans had to wait another six years go get a prime opportunity to beat the hated Huskers.

With how wonderfully this game ended, it's easy to forget how long this game was in question. After forcing an NU punt to start the game, Mizzou moved into Husker territory before Brad Smith was picked off by Josh Bullocks. Two plays later, NU went up 7-0 after a 55-yard touchdown pass. Mizzou quickly had to punt, but this time they caught a break. Josh Davis muffed the punt at NU's 6, James Kinney recovered, and quickly Brad Smith scored to tie the game at 7-7. Nebraska fumbled the following kickoff, but Mizzou couldn't capitalize as Smith was once again intercepted.

It seemed the tide would turn early in the second quarter, as Mizzou capped a 95-yard touchdown drive with a Smith-to-Outlaw-to-Smith double pass from 47 yards out and went up 14-7. As rain swept into Columbia, the desperate Mizzou crowd could not have been more raucous, more ready to explode. But Mizzou would not score for almost the next 30 minutes, their next five possessions ending with punts.

A 14-10 halftime lead quickly evaporated. On Nebraska's first drive of the second half, they moved 62 yards in 14 plays to go up 17-14. After a series of punts, Jammal Lord scored from 35 yards out, and with less than a minute left in the third quarter, NU was up 10.

Brad Ekwerekwu advanced near midfield on the proceeding kickoff, and as the fourth quarter began, Mizzou had quickly advanced to the NU 39.

What followed was possibly Mizzou's single most perfect fourth quarter ever. As James Kinney fired up the Mizzou defense on the sideline, Brad Smith raced for a touchdown on the quarter's first play, and it was 24-21.

Then Kinney, playing the best game of his career, absolutely obliterated Jamaal Lord, forcing a fumble that Dedrick Harrington recovered and returned to the NU 9. After a three-and-out, Gary Pinkel trotted out kicker Mike Matheny for seemingly the game-tying field goal attempt. Instead, Sonny Riccio pulled the ball away from Matheny, rolled right, and found Victor Sesay for the go-ahead touchdown. 28-24, Mizzou.

The carnage continued. Marcus James returned a punt inside the NU 40, setting up an eventual Brad Smith touchdown. 34-24. Zach Ville dropped into coverage and picked off Lord, setting up another Smith touchdown. In ten minutes, Missouri had scored 27 points. The final five minutes were just a party. The horn sounded, and the goalposts were down in about 2.5 seconds. Sure, a last-minute win is exhilarating, but this was all about exorcising demons.

Significance: The significance of this one goes without saying, does it not? After decades of producing bad, to mediocre, to good, to occasionally very good results, Missouri and Kansas had simultaneously thrown together potentially their greatest seasons ever in 2007. Missouri was 10-1 and ranked #3 in the country. Kansas was 11-0 and ranked #2. Both programs were riding sudden and shocking momentum late into November. And did I mention, they were meeting at Arrowhead? And that ESPN's Gameday crew was in attendance? And that #1 LSU had lost the week before, meaning the MU-KU winner would move to #1 a week before the BCS Championship pairing was determined?

This was the biggest game in history for both schools, and they played like it early. Two untouchable offenses were out of sync, trading three-and-outs at the start. Mizzou struck first, with Danario Alexander the catalyst for a drive that culminated with a Martin Rucker touchdown on fourth-and-goal.

Kansas started the second quarter with their first good offensive play, a 39-yard pass to Kerry Meier, but going for the jugular on the next play, Todd Reesing underestimated William Moore, who stepped in front of a bomb to the endzone. Thirteen plays and 98 yards later, Chase Daniel had his Heisman moment, scrambling for seemingly minutes at a time before finding Alexander for an 11-yard TD and a 14-0 lead. KU would miss two field goals, and Mizzou would take said fourteen-point lead into halftime.

The third quarter was Mizzou's time to shine. After a Castine Bridges interception, Mizzou marched 40 yards, and Jimmy Jackson scored to make it 21-0 Mizzou. It was 21-7 when Mizzou went 69 yards in 14 plays and scored to make it 28-7. Mizzou had a seemingly insurmountable lead heading into Q4.

And then they had to hold on with all their might. With nothing to lose, Todd Reesing started gunning the ball to Meier and Dezmon Briscoe, and the points added up. Touchdown for KU, field goal for Mizzou. Touchdown for KU, field goal for Mizzou. When Reesing found Marcus Henry for a 5-yard TD with 2:03 left, the lead was just 34-28. Mizzou tried to run out the clock but couldn't. They had to punt, and KU had 11 seconds to go 89 yards. Seems impossible, but in the minds of most Mizzou fans, it was anything but. Here's where the Sports God would apply the biggest dagger ever to Mizzou hearts. Somehow KU was going to win this game.

Nope. The Mizzou defensive line blew up KU's offensive line and gang-tackled Todd Reesing in the endzone for the game-clinching safety (Mike Kelly's call: "Safety! Ballgame! Bingo!"). Sod Reesing was born, and Mizzou had just won the biggest game in the history of the rivalry.

Aftermath: Mizzou was 5-1 after the win but went just 3-4 the rest of the way, winning out at home and losing out on the road. Still, they made their first bowl in five seasons--an Independence Bowl loss to Arkansas--and were thought to be headed in the right direction as a program. They were, but only after a 2004 detour cost Gary Pinkel a lot of goodwill that he's only now earning back.

Aftermath: This win led to the single most celebratory week most Mizzou fans have experienced. Not only did they move to #1 with the win, but they had also ruined (somewhat) KU's best season ever. Mizzou was one win from the national title game--the closest the Tigers have ever come to a "Final Four." They would tie OU at half in the next week's Big 12 Championship before finally fading from the moment, losing and settling for the Cotton Bowl.