The best part of this roundtable for me was actually saving a file by the name of "squirrel harbor"...that's a first...
1 - Missouri 37, Illinois 9.  Exactly what you expected, right?  How have your expectations of Missouri changed (if at all) since kickoff on Saturday?

2 - What was the most surprising (good or bad) aspect of your team's game on Saturday?

3 - Mizzou plays Bowling Green on Saturday (and KU plays UTEP).  Any chance of an upset in your team's game?

4 - Pick 'em!

Iowa at Iowa State
Houston at Oklahoma State
Texas at Wyoming
Kansas at UTEP
Colorado at Toledo
Kansas State at UL-Lafayette (seriously, is this "Big 12 comes to the mid-majors" week??)
Rice at Texas Tech
Arkansas State at Nebraska
Idaho State at Oklahoma

And finally...
Bowling Green at Missouri

5 - Top 5 favorite Beatles songs...go!
The Beef: 1 - I still have 9-3 in my head, and that is where I am going to leave it.  Don't get me wrong…part of my head believes 10-2 is now in the fold, but seeing as I have not seen a minute of NU or kU, I will leave it at 9-3 and be pleasantly surprised if I am wrong..or right…I'm so conflicted.

2 - Surprising good was the WR play in my book.  Funny thing is, I can still count about 3 drops on very catchable balls…two even by a guy (DAlexander) who had a tremendous game.  But I like that Jones kept working and got some touches down the stretch on what needs to become a comfortable pass for Gabbert (the 5-8 yard sit down).  Surprising good was also how effective the overall defense was, even though it was kept very basic.  I think there is room for improvement still on the corners (it did help that one of the maybe 2-3 plays where a WR got behind a corner resulted in Gettis coming back from a poor tackle attempt to strip the ball), but I am otherwise encouraged.  Surprising bad to me was DWash.  Not until the last two runs did I see him run like he did last year when he carved up Illinois.  Early on however, he was timid and dancing and neither of those work with the way we block or the way he should run.

3 - Doubtful.  From the little I have read, it sounds like BG put together a solid Q4 to beat a Troy team which was well thought of.  I am hoping someone can describe to me exactly what the "Clawfence" is this week, but other than that, I think the home crowd and getting their butts whipped in practice yesterday and today should have the team ready for a game they should not lose.

4 - Iowa at Iowa State – ISU…just because they seem to win games like this (and by games like this, I mean just against Iowa)

Houston at Oklahoma State – Okie State (while the loser are definitely people trying to buy tickets to an Okie State game.  The fact they did not sell out vs. UGA is amazingly terrible

Texas at Wyoming – Great to see DC get his win out of the way before this game…UT

Kansas at UTEP – kU, though I will be keeping an eye on the score from the UTEP side.

Colorado at Toledo – Oy…yeah…screw it…I'll say Toledo.  I think CU is THAT bad

Kansas State at UL-Lafayette (seriously, is this "Big 12 comes to the mid-majors" week??) – and why not…I will go UL-L.  kSU cannot afford to play like they did last week
Rice at Texas Tech – Ttech, though I too am looking at their offensive numbers

Arkansas State at Nebraska – NU over the RED W-O-L-V-E-S means VIC-TO-RY

Idaho State at Oklahoma – OU, but how much hand wringing is going on in Norman right now?

Bowling Green at Missouri – Mizzou by 24 with the dogs called off early'ish in the 4.


5 - I am not going to lie…I had to go to the iPod here to get the answer…

All You Need is Love – have to use that one for specific reasons
Let it Be
Lucy in the Sky with Diamonds
Maxwell's Silver Hammer
Elanor Rigby
Bill C.: 1 - The numbers still say Mizzou's right on the 10-2/9-3 border depending on the KU game...either way, that's lovely, and I'll stick with that.  Mizzou played well, but there was still room for improvement (running game), and I think Illinois' own ineptitude was responsible for a decent amount of the final scoring margin.

2 - We got a lot more big plays out of the passing game than I feared we would, so that was good.  D-Wash really didn't look much different than he did at the end of last season, when his knee was killing him, so that was bad.  The D played very well on passing downs--didn't have too many letdowns, so that was good.  And even though I knew Blaine Gabbert had a cannon for a right arm...Blaine Gabbert has a cannon for a right arm.  Holy moly.  That's also a good.

3 - I really like having this game right now.  Mizzou passed the test in terms of passing offense and rushing defense last week, but rushing offense needs improvement and the passing defense needs to show it can slow down a team that's a lot more willing and capable of dinking and dunking than Illinois was (Juice can throw a gorgeous long ball, but those sideline-to-sideline passes are a major weakness).  Mizzou should win this game because of the run defense and the passing game, but they'll be tested, and I like that.

4 - ISU, because why not

OSU in the most fun game of the week

I have a former co-worker who just moved to Wyoming, and she said that Wyoming had to move a golf tournament from the weekend to the early part of the week because Texas fans basically bought out the golf course over the weekend.  Love it.  And if Dave Christensen couldn't beat Texas at Missouri, I'm going to be a little pissed if he manages to pull it off at Wyoming.  But he won't.

KU easily.  Don't think UTEP's very good at all.

Toledo.  Prove me wrong, Colorado.  You haven't yet.

K-State, though I'm not sure why.

Tech, though they have to get something...anything...out of their running game.  Way too many passing downs last week.

NU.  If ASU were still the I-N-D-I-A-N-S spells VIC...TO...RY...then maybe I'd go with the upset.

OU, and after talking to an OU fan last night, I can say there's plenty of hand-wringing going on.  Just not about this game.

MU, baby.

5 - Glad to see I'm not the only one consulting the iPod...

And Your Bird Can Sing
For No One
Run For Your Life
In My Life
Please Please Me
Doug: 1 - In making my original prediction (MU Tight) I completely forgot to factor in just how terrible a coach Ron Zook actually is.  He had all summer to prepare for this game, make a statement and really get the ball rolling.  Instead, Illinois managed to puke all over itself, thanks in no small part to MU performance as well as it's own incompetence on the field.  I think Gabbert has a chance to be special, and the Big 12 North will still be a 3-team race.

2 - I don't know that is was surprising, but the cornerbacks for KU did struggle, picking up several pass interference calls, warranted or not.  The defensive line and the linebackers looked pretty good.  And, I can't complain about the work of the offense, especially freshman wide receiver Bradley McDouglad and running back Toben Opurum.

3 - It's on the road, so the chance does exist.  I think having a road non-con this year was a stroke of luck and will help push this team.  And, certainly. having Briscoe back won't hurt anything.

4 - ISU-IU - You know who the really loser is?  The state of Iowa.  Poor bastards.
OSU - Very Big
Texas - Very Big
Kansas  - Big
Toledo - Tight
UL-Lafayette - Tight (If KSU can only manage a 4 point victory at home against UMass, the road will not be kind to them)
TT - Big
NU - Very Big
OU - Big
MU - Very Big

5 - 1. Stg Pepper's Lonely Heart's Club Band
2. Drive My Car
3. Taxman
4. Ticket to Ride
5. Johnny B. Goode - (Yeah, it's a cover, sue me.)
Michael Atchison: 1 - I always thought they were going to be good, but I had no idea they'd look this good, this soon.  It has boosted my expectation in two ways.  First, I think the chances that they stumble in a non-conference game went from fair to remote.  Second, I think the prospect of 6-2 in the league went from crazy optimistic to within the realm of possibility.

2 - I was surprised at how simple and straightforward the offensive attack was.  My son asked to watch the 2007 highlight video this week, and it struck me that in the Illinois game that year, Missouri used some crazy creativity with reverses and other trickery.  I know that there's a different coordinator now, and I know that some of the creativity was designed to get the ball into Maclin's hands in unusual ways, but still I was struck by how Gabbert and the offense really just took what they wanted without resorting to fooling the defense.  And that's encouraging.

3 - I don't want to anger the gods.  There's always a chance.  But there's not much of one.

4 - I can't imagine that anyone cares what I think about these games (really, I don't care what I think about these games), but Colorado and K-State better watch out.  If they struggle, I think you see the brightest line between the top half of the north and the bottom half of the north that we've seen, and that's strange given that I don't think the top half is that dominant.  We could have three solid to good to (maybe) very good teams, and three teams just out there facilitating the schedule.

5 - Subject to change, of course:  "And Your Bird Can Sing," "You Never Give Me Your Money," "Happiness Is a Warm Gun," "I'm Looking Through You," "A Day in the Life."
ZouDave: 1 - Well, we're certainly further along right now than I thought we were.  I had very little doubt we were going to win this game, but no way did I think we'd see a 28-point win.  No way did I think our defense would hold them under single digits.  No way did I think Gabbert's biggest mistake in the game would be an intentional grounding penalty.  I had us at 9-3 on the year, beating Illinois of course.  I feel more confident that I'm right with a 9-3 pick, and definitely feel like 10-2 is a distinct possibility.
 
2 - Like I said above...it's a combo of Gabbert and the defense.  Illinois is kind of useless thanks to their coaching, but they have a stable of running backs that basically everyone agreed (prior to the game on Saturday) was pretty good.  They have what some were calling the most talented player in the Big Ten in Juice Williams.  I can't really use Benn here as an argument, because he played like 2 plays the entire game.  The announcers, however, sure made a big deal out of that Fayson guy that transferred from Florida.  All of that, and we gave up 9 points.  We only had 2 turnovers in the game on defense, and you'd think in a game where we only gave up 2 scoring drives that we were picking passes off all over the place.  Nope, we just weren't giving them anything.  So I guess I have to go with the defense as the good surprise.
 
The bad surprise was how completely impotent our running backs were, since they seemed to be the toast of camp along with our offensive line.  I think our line did fine, because Gabbert was not harassed all that often, but our running game looked slow and pedestrian.  Was it because Illinois did a reverse-Arkansas and focused solely on stopping the run?  Possibly.  Was it because Illinois really does have a very good front 4 and we just couldn't get any holes to run through?  Possibly.  But even if that's the case, we need more out of Washington, Moore and Lawrence.  I expect us to get more against Bowling Green.  I expect the running game to be fine.  Go back to 2007 and look at that Illinois game.  Tony Temple had like 40 yards in that game or something with just a single carry over 10 yards (I'm pretty sure).  His 2007 season ended up just fine.
 
3 - Not realistically, no.  Mizzou is the superior team at every position, both starter and backup.  We have home field advantage, we have a more experienced coaching staff, and we're just simply better than they are.  We could totally screw it up, but I don't see it happening.  Same goes for kansas.  Maybe UTEP gets a huge charge out of playing at home and it's 10-7 after the 1st quarter, but talent will win the day.  Look for both teams to win by at least 17.
 
4 - Iowa State, because both teams looked horrible on Saturday so ISU wins by homefield.
Oklahoma State, by a lot.
Texas, say hi to Dave Christensen for us.
kansas, they're simply a lot better than UTEP.
Toledo, because Colorado is probably worse than even I thought.
KSU, they bounce back from a bad 2nd half last week.
Texas Tech, no question.
Nebraska, and their fans will start making reservations for the BCS National Title game.
Oklahoma, they right the ship with their new QB Pro Temp and get things clicking.
 
5 - Let it Be, Hey Jude, Revolution, Yesterday, Come Together
RPT: 1. I didn't expect it, but I wasn't surprised. Does that make sense? My expectations still stayed in the same general area, because I had a hunch that this team was capable of playing that well and competing in the North. For me, now I just became a lot more confident about the rest of non-conference (Notre Dame/Nevada helped that a bit), and I think the Oklahoma State game just got a lot more interesting.

2. Grant Ressel. I'm still incredibly paranoid that special teams is going to cost Missouri a game this year.

3. Yes, always. Is it likely? No. But is it possible? Absolutely.

4. Picks

Iowa < Iowa State -- Reading too much into Week 1?

Houston < Okie State -- Probably a better test for the OSU defense than Georgia right now

Texas > Wyoming -- Sorry DC

Kansas > UTEP -- Want to see if Kansas stays committed to running game

Colorado > Toledo -- Seems like everyone is expecting Toledo to win now

KSU > ULL -- Carson Coffman gets his act together and plays like a Coffman

Rice < Texas Tech -- Would have been interesting with Clement and Dillard still around

Arkie State < Nebraska -- From what I saw, NU looked very legit in Week 1

Idaho State < Oklahoma -- Unless OU suffers 83 more injuries

BGSU < Missouri -- Really want to see the running game get going

5. You know, I was never a big fan of the Beatles. I appreciate their importance and what they did for music, but I never really had the huge infatuation with their music that most people do. For me, it's Come Together followed by everything else.
(An hour later...)
Michael Atchison: Has Gabbert's brilliance left the roundtable dumbstruck?

OK, here's a topic – underappreciated plays from the game.  I'll start.  The third and 19 that Gabbert converted on the pass to Perry in the fourth quarter was huge.  Effectively ended the game.
The Beef: Even though RPT has already touched on it, I will throw the two long'ish FG's by Ressel.  Evidently GP had given him a 40 yard leash, but Ressel showed him enough in warm-ups to get it extended to 45.  That kicks he made would have been good from 50+ after seeing the replay.  But getting points there and getting him confidence, while rewarding the offense just enough to keep their confidence up helped.
ghtd36: Hey, fellas. It was good to see a bunch of you at the tailgate, with the exception of Beef, who totally big-timed me.

Me (extending hand): "Hey, man, how are ya?"
Beef (pushing hand away): "I AM LORD OF THIS TAILGATE."
Me: "Uh, cool. So, excited about the game?"
Beef: "OBTAIN AN ALCOHOLIC BEVERAGE FOR A SURPLUS ON OUR TRAVELS, FOR I PORTEND THAT A MATCH INVOLVING OBLONG BALL WILL COMMENCE SHORTLY."
Me: "OK...well, thanks for letting me come to your tailgate."
Beef (mounting his chariot pulled by three white horses): "TO THE DOMED ESTABLISHMENT, HOOOOOOOOOOOO!"

It was weird.

1 - I'm keeping my expectations -- 8-4 -- steady. That said, Mizzou's chances of exceeding my expectations just increased. I think it's silly not only to change your expectations after one game, but to change your expectations after one game against a team coached by Ron Zook. Let's tap the brakes a little bit: Gabbo was excellent, and the defense was strong. If anything, I'll re-evaluate after non-con.

2 - Surprising good -- a certain quarterback, the emergence of Alexander as a legit No. 1 and the possibility of Kemp as a legit No. 2, the defense in general, the coaching in general (especially Steckel's debut; perfect gameplan of making Williams make all the throws he's not comfortable with).
Surprising bad -- lack of a running game, uh...Illinois side not being sold out?

3 - Any chance? Yeah. Mizzou could have a letdown game, and honestly, Bowling Green isn't lunch meat by any measure. I like what Tyler Sheehan can do, and he's got a strong No. 1 option in Freddie Barnes. They can hang.
Will they pull the upset? Nope. Not on the road in what will be a rowdy Faurot Field (6pm kickoff? That's a lot of time for ALCOHOLIC BEVERAGES).

4 - Iowa at Iowa State -- Iowa. Even after almost pooping in the bed against UNI, I think they're just better than the 12th best team in the Big XII.

Houston at Oklahoma State -- OK State. The hype machine rolls on.

Texas at Wyoming -- Texas. PLAY SOMEBODY.

Kansas at UTEP -- Kansas, though it could be closer than anyone thinks. You don't just WALK into El Paso and expect a win!

Colorado at Toledo -- Toledo. The Hawkins Death Spiral (copyrighted 9:50am Wednesday!) continues.

Kansas State at UL-Lafayette -- K-State. PLAY SOMEBODY.

Rice at Texas Tech -- Texas Tech. Yarrrr.

Arkansas State at Nebraska -- Nebraska. PLAY SOMEBODY.

Idaho State at Oklahoma -- Oklahoma. PLAY SOMEBO...oh. Right. The whole "your dreams of a national championship are totally shot because of untimely injuries and a near-total lack of depth at the skill positions" thing. My bad.

Bowling Green at Missouri -- Mizzou. I want no less than 40 rushes in this game.

5 - Who are the Beatles?

/ducks

Kidding. Kidding. Let's go with "Let It Be", "While My Guitar Gently Weeps", "Twist and Shout" (cover, ftw!), "Lucy In The Sky With Diamonds" and "Strawberry Fields Forever". Pow.
The Beef: Yeah…I get funny…but I have a Pimp-Challis, so it is OK
Bill C.: You'll come to enjoy the chariot after a while.
ghtd36: And the chain mail codpiece?
Bill C.: Well...you never get used to the codpiece.

And I just had to look up the correct spelling of "chalice" because I had no idea, but...when do the rest of us get chalices?
The Beef: Strange…because I typed in challis and Bill Gates did not bat an eye

The rest of you probably get chalices when you pony up some scratch for her to make them :-)  Unless we want to start a RMN Fan of the Game and award a chalice as the prize
Bill C.: I think people would find it a little off-putting when I consistently voted for myself as Fan of the Game in the hopes of winning the prize.
The Beef: I don't think so…most find you off-putting already.  I think this would just be par for the course
ghtd36: "Unless we want to start a RMN Fan of the Game and award a chalice as a prize."

THIS IS THE SMARTEST THING I HAVE EVER HEARD ANYONE SAY ABOUT ANYTHING.
The Beef: Makes up for my big-timing you, doesn't it?

And I remember shaking your hand…but ignoring you at the same time…at least give me credit for that :-)
Bill C.: Nevermind...I already found my own chalice:

ghtd36: Bill having a chalice that says "Pimp" is like Steve Urkel getting laid on prom night. It just doesn't compute.
Bill C.: So you're saying I should get it then, right?
The Beef: Well…if you did not get it on your prom night, you probably should not get it now…

You see what I did there?  Lots of layers to that one…
ZouDave: Challis is a word, just not the word you were looking for.
Challis is a soft, lightweight, usually printed fabric made of wool, cotton, or rayon.
ghtd36: I support you getting a Pimp chalice from a purely ironic standpoint. And because I want to drank from it when I come up for homecoming.
ZouDave: Beef just wants to drink from it when he comes up for air.
The Beef: I really should always have two chalices handy…especially for homecoming…one for the bloody mary and the other for the beer.
ZouDave: bloody beery?
ZouDave:
The Beef: That second thing there has the same head to neck ratio as Bill C.
ZouDave: yes, that's the joke, Fuad.
RPT: I found my own pimp chalice. Joe Nieuwendyk said I can borrow his:
Underappreciated? Early in the third, Missouri faces 3rd and 14 around the Illinois 32. Gabbert finds Alexander open over the middle who scampers for 29 down to the Illinois 3, setting up the Jerrell Jackson TD. If MU settles for the field goal because of failing to convert on that third down, the dagger is far less deep early in the second half.
The Beef: Wow…way to bring the conversation back around on that one
ghtd36: Yeah, thanks a lot, conversation re-railer. Jerk.
ZouDave:

ghtd36: RPT: Rock M Nation's Buzz Killington since 2009.
ZouDave: Buzz Killington:  Family Guy's RPT since 2006.
The Beef: Family Guy: Buzz Killington's RPT since 2001
Bill C.:

RPT:
This is what I get for forming a response to a question before reading the 17 pending messages...
ghtd36: 2001: Family Guy's RPT since Buzz Killington.
ZouDave:

ghtd36:

ZouDave: "Set phasers back to funny"
RPT: By the way, do we need to discuss the athletic department taking away wholesome family fun from Reactor?
Just reminds me of the Nevada game last year:

/police drive by after confiscating 25 cases of Natty and 30+ handles of crappy vodka
RPT: "BRING BACK FRAT PIT" [sarcastically]
/depressed and pissed students sulk by
Beef: "MAN IT IS GREAT TO BE 30!!!"
Bill C.: God that's funny...and stupid...and then funny again.
ghtd36: That also marks the first time anyone's said that it's great to be 30.
ZouDave: and what number is Kendial Lawrence again?
ghtd36: Kendial Lawrence is number infinity. He needs not your mortal numbers.
Michael Atchison: 30 is so much better than 20.  There comes a day when you look back at 20 and wonder how you could ever have been so ignorant.

40, however, is when the aches and pains begin.
Bill C.: What happens at 40 if the aches and pains have already begun at 30?

Nevermind.  I don't want to know the answer.
ghtd36: Yeah. I'd MUCH rather be 30 than 20. Who would want to be young? GROSS, AMIRITE?!?
RPT: Does it count if you're 20 and act 35?
ghtd36: Hey, RPT, if you hustle, you might be able to catch the end of Murder She Wrote.
ZouDave: to quote Abraham Simpson:

"I'm old!  I hate everything except Matlock.  Ooh, it's on now!"
RPT: Oh, I'm sorry. I was busy doing my civic duty by finding something to keep your geezers entertained while I scrounge up the money to pay for your health care and social security.

And here's the result. What? You can't hear me? HERE'S THE RESULT.

ZouDave: so infinity = 32?  If so, I'm older than infinity.
RPT: We know, Dave.
The Beef: It is so tough being the trend setters we are
ZouDave: to them, I say:

SQUIRREL HARBOR, BITCHES!
The Beef: Yep…just spit water on my computer screen…thank god I was on mute on the conference call
(30 minutes later...)
The Beef: We can finish with this…but in my previous job, our group held a test of sorts called Mock Calls.  We would call the new reps and pretend to be customers, and either pass or fail them from there.  Well, today was the first time since I moved to my new job (and off that team) that they had mock calls.  And what did I miss?  Someone puking while actually on their call.  The person who was talking to her did not hear it since the rep used the mute button, but the other reps (and therefore recorded calls) could hear it.  And It. Is. EHHHHHHHHHHHHHHHHHHHHHHHHPIC!  We've been playing it for about 10 minutes now…tears rolling down our faces here.
RPT: A perfect end, indeed.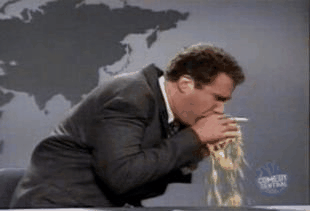 ZouDave: Happy Ending?
ghtd36: Aaaaaaaaaaaaaaaaaaaaand scene.