Honorable Mention Moments
10. Basketball: Mizzou 78, Iowa 77 (2001)
9. Volleyball: 2005 Elite Eight
8. Football: 2008 Cotton Bowl
7. Football: 2005 Independence Bowl
6. Basketball: 2002 Elite Eight
5. Basketball: Mizzou 62, Kansas 60 (2009)
4. Wrestling: Ben Askren Wins Mizzou's First National Title (2006)
3. Football: Mizzou 41, Nebraska 24 (2003)
2. Basketball: March 2009
1. Football: Mizzou 36, Kansas 28 (2007)

Let's give this one the same treatment as moment #2. We've said all we can say about it, so let's go to the artwork (most of which comes from Sarah Becking and The Trib's archive ... if one game was Sarah's crowning achievement, this was it).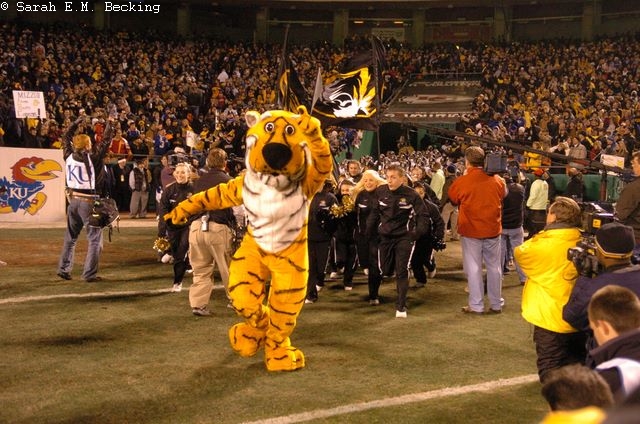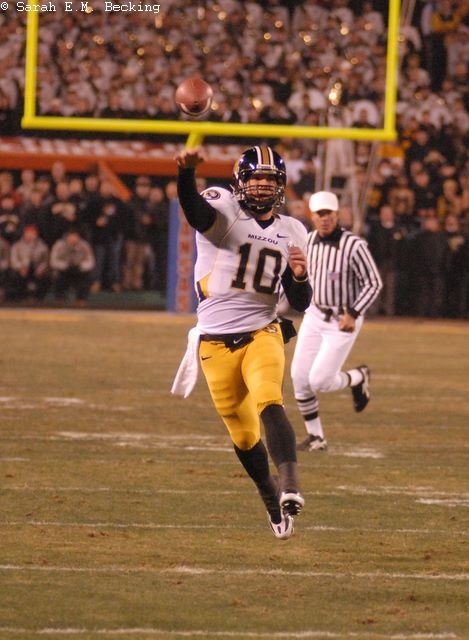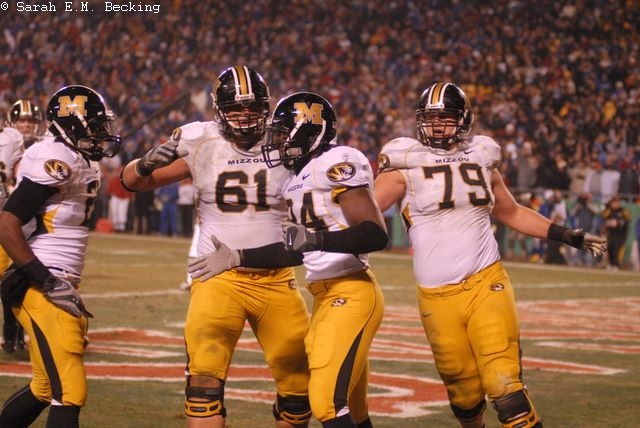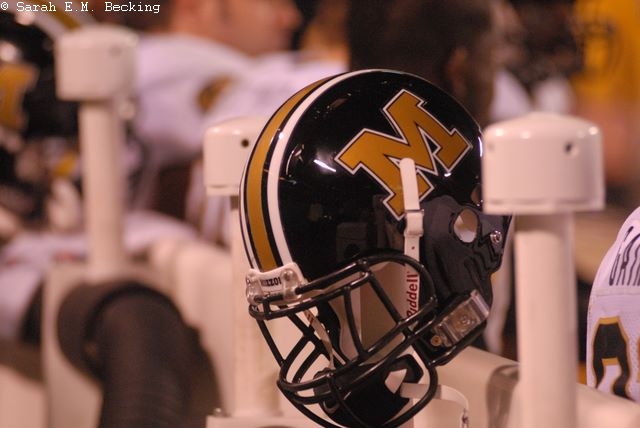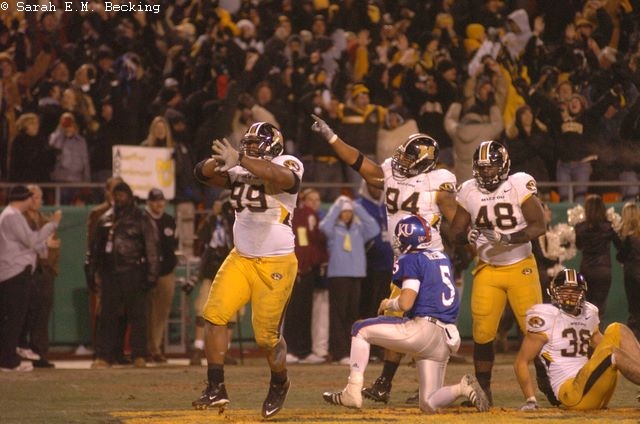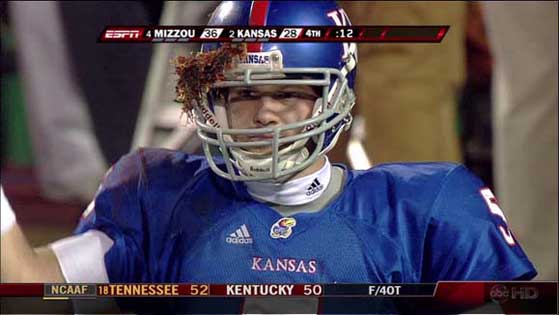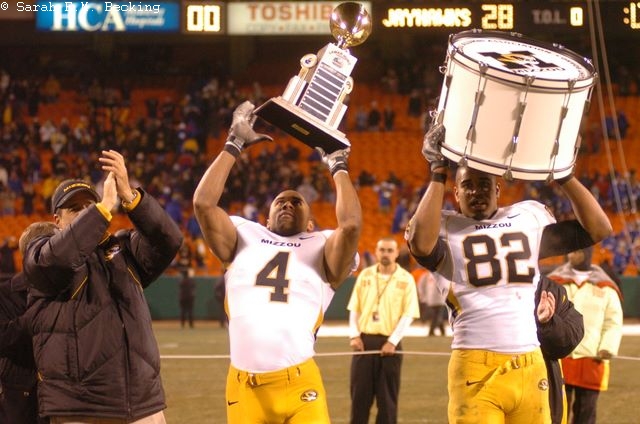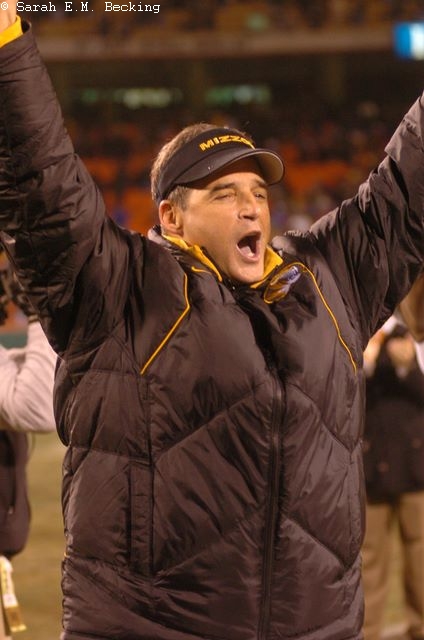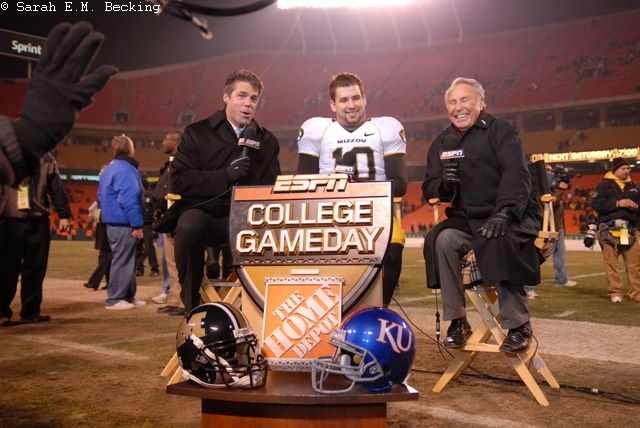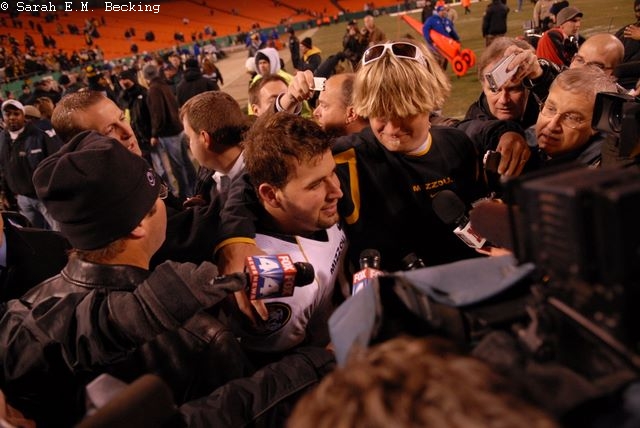 Why is this #1 over the 2009 Elite Eight run?  First, because Mizzou got a step closer to the championship game than they did with the Elite Eight run (consider it a pseudo Final Four).  Second, because in the end, Mizzou has made other Elite Eight runs, but there has only been one "biggest game in the history of both football programs," and Mizzou won it.  And that will always be the case.  And it was the greatest single moment of the decade.
We'll cap it off with something Atch wrote the next week:
Then, on Friday, already surrounded by a family of Tigers in town for Thanksgiving, I drove to the airport to meet my friends Scott (in from Denver) and T.J. (New York). In recent years, with the demands of careers and families, our gatherings had been limited to weddings and funerals. But with our alma mater's football team set to play its arch-rival in the year's biggest game, we ran out of excuses not to get together. As we caught up and remembered winter nights at the Hearnes Center and spring Saturdays at Simmons Field, I realized that the Missouri Tigers had blessed me with the chance to share time with these great friends.

And then, of course, came Saturday night. I've never seen a stadium so electric, or a Tiger team so self-assured. From my perch on the verge of 40, it's easy to forget how young these guys are. Chase Daniel and Martin Rucker are barely old enough to remember the past's great disappointments. They don't believe in curses, they believe in each other. When Stryker Sulak and Lo Williams fell down like hard rain on Todd Reesing to secure a heart-stopping triumph, I looked to my right at my wife, who has shared the joy and despair of Tiger sports with me for nearly two decades, and I saw relief. I looked left at my father-in-law, who played on that star-crossed 1960 team, and I saw vindication. Then, as I thrust my hands in the air and looked up into the night sky, from which no calamity had fallen, my mind drifted to the elegant toast T.J. made at Scott's wedding. Traditionally, he said, the guests bless the newly wedded couple. But when a bride and groom like this share their moment, they bless us.

Missouri Tigers, you bless us. The curse is dead.