A unit that was supposed to carry the Tigers in 2009 and prevent coaches from having to put too much pressure on Blaine Gabbert was ... fine.  43rd in the country, fifth in the conference.  The running game was not a liability, but aside from certain games (Kansas, Bowling Green), it was not much of a strength either.  While most fans blamed play-calling for the struggles (always the culprit), the problem seemed to reside more in the blocking of the line and the decision-making of the backs themselves.  No matter what the issues may have been, just about everybody associated with the running game (backs and line) return in 2010.

Returnees
Derrick Washington (6'0, 220, Sr.)
2009: 190 rushes, 865 yards, 10 TD; 26 receptions, 156 yards
2008: 177 rushes, 1,036 yards, 17 TD; 29 receptions, 277 yards, 2 TD
2007: 36 carries, 184 yards, 1 TD; 10 receptions, 70 yards, 1 TD

Bill C.: A former 4-star recruit from Ray-Pec, Derrick Washington is seemingly everything Mizzou fans would want as a running back in this offensive system.  He is a low-center-of-gravity back who makes the most of small gaps and always falls forward; meanwhile, he is also potentially the best pass-catching back Mizzou has had in Gary Pinkel's time in Columbia, having caught 65 passes in three seasons.  He averaged almost six yards per carry as a sophomore in 2008, showing smarts and speed despite fighting an injured knee most of the season.  In 2009, a fully-healed Washington was expected to put together Mizzou's fourth consecutive 1,000-yard season by a back and take pressure off of new starter Blaine Gabbert.  At times, he showed everything we had come to expect from him ... but the season as a whole fell short of expectations.  Washington managed just 865 rushing yards, and his per-carry average fell from 5.9 to 4.6.  He ran the ball 13 more times and produced 171 fewer yards.  Even his receiving averages fell, from 29 receptions at 9.6 yards a catch, to 26 catches and 6.0 yards per.
Why did this happen?  Was the play-calling really to blame?  Was Washington's knee not actually fully healthy?  Were opponents really keying on the run to force Gabbert to make plays?  Were the new blocking schemes partially introduced by new assistant Josh Henson harder to grasp than expected?  Was Washington simply not as decisive and on his game for a portion of the season?
The answer is, of course, yes.  It was almost certainly a combination of all of those factors.  (The world is just full of gray areas, isn't it?)
In the end, Washington had pretty much every type of game a running back can have:
Plenty of Carries, Little Results: Furman (15 carries for 45 yards)

Plenty of Carries, Solid Results: Bowling Green (23 for 120), Nebraska (20 for 80 ... not great, obviously, but not bad), Colorado (22 for 99), Kansas (15 for 111)

Productive, but Few Carries: Kansas State (13 for 68), Iowa State (11 for 62), Navy (11 for 62)

Not Productive, Few Carries: Oklahoma State (10 for 35), Texas (11 for 35), Baylor (9 for 12)

Meh: Illinois (14 for 61), Nevada (16 for 75)
For three of four conference games, Washington was average or worse, and it is pretty safe to say that opposing defenses probably keyed on Washington and the run game in an attempt to make the new QB beat them.  When it became evident that the new QB could beat them, defenses adjusted.
And then Blaine Gabbert got hurt, and both the run and the pass suffered.  While he produced respectable results against Nebraska, he did not do much against either Oklahoma State and Texas.  After a rebound against Colorado, the running game completely cratered against Baylor -- Mizzou backs combined for 43 yards on 15 carries, and Gabbert was forced to make one or two more plays than he was capable of making.
The final four games of the season, however, gave hope to the notion that the 2010 running game could actually somewhat be the strength we thought it would be in 2009 -- Washington ran 50 times for 303 yards and five touchdowns, while his backups did relatively well too.  If we are to believe that part of the problem came with a young offensive line learning some new blocking schemes, then you would expect end-of-year improvement, and things certainly played out that way.  Washington's running style is extremely patient, and while that is a plus in a lot of cases, if the blocking is iffy, then it just makes Washington look indecisive.  Washington and the line needed to do each other favors early on, and it resulted in inconsistent play.  But things fell into place a bit late, and that could mean good things for next season.
De'Vion Moore (5'9, 195, Jr.)
2009: 63 carries, 258 yards, 1 TD; 3 receptions, 13 yards
2008: 41 carries, 231 yards, 1 TD
Bill C.: If Derrick Washington's season was up-and-down, what was De'Vion Moore's?
First Five Games (he was injured in two of them): 15 carries, 33 yards (2.2 per carry)
Next Three Games: 21 carries, 129 yards (6.1 per carry)
Final Four Games: 27 carries, 96 yards (3.6 per carry)
In the end, Moore's numbers suffered in a similar manner to Washington's.  After averaging 5.6 yards per carry in 2008, he managed only 4.1 in 2009.  Of course, this drop-off is not as surprising as Washington's -- if you take out his 55-yard TD run against Colorado's scrubs in 2008, he only averaged 4.4 yards on his other 40 carries, and he has not, to date, been a high success rate runner.  He looked great in the spring, giving Mizzou hope for a decent variation of a "thunder and lightning" combo with Moore and Washington; plus, he clearly has a nice mix if quickness and speed.  But he probably needs to have a very strong  if he wants to hold off not only Kendial Lawrence on the depth chart, but potentially a true freshman as well.  He has not demonstrated A-grade consistency yet, despite his potential, so I would wager that Spring of 2010 is a pretty big time for him.
Kendial Lawrence (5'9, 180, So.)
2009: 52 carries, 219 yards; 3 receptions, 49 yards
Okay, fine...
Bill C.: Few recruits came to Mizzou with as much Rock-M-Nation-specific hype as Mr. Kendial "God" Lawrence, the Texas product destined to win five Heismans in just three years in Columbia (because when you win five Heismans in three years, you clearly have to go pro after that).  He responded by doing a pretty good De'Vion Moore impersonation, registering a similar level of production despite making some youthful mistakes in the process.  In the eight games in which he touched the ball at least three times, he averaged at least five yards per touch five times, had a decent showing (4.0 yards per touch) once, and put up two stinkers -- he combined for 2 yards on 11 touches against Illinois and Colorado.  I think his upside is higher than Moore's at this point, though it's probably not smart to parse detailed interpretations out of basically four touches a game.
One of the more interesting parts of Lawrence's season came after the season, when he revealed that he had considered transferring but decided to stick with Mizzou.  Why he was thinking about transferring -- homesick? not prepared to be the third-stringer? creeped out by the RMN love? -- was uncertain.  Hopefully it was just an adjustment to not getting the playing time he felt he deserved.  Lots of freshmen run into that issue, and he should end up seeing the playing time he desires if he stays here long enough.  People who think about transferring early are often the ones who end up pulling the trigger and leaving later on, but hopefully that is not the case here.
Gilbert Moye (6'2, 220, Jr.)
2009: 6 carries, 35 yards; 1 reception, 5 yards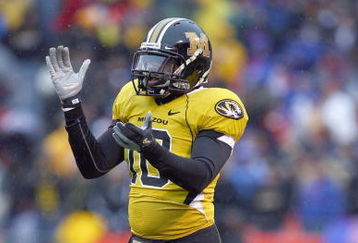 Image via Bleacher Report / Getty Images
RPT: Behold the athlete without a position. I think Bill and I are on the same page in agreeing that Gilbert Moye had to be Nos. 1, 2, 3, and 4 on our "Top 5 Potential Transfers" list, simply because the ratio of talent to utilization seems to be extraordinarily unbalanced. The QB turned DB turned RB finally saw some game action late against Furman, where we really got our first (and only) look at his capabilities. He lacks the shiftiness of Lawrence, the straight line speed of Moore, or the power of Washington. But he really seems to be a combination of all three, for better or for worse. Needless to say, of the uphill battles faced by the members of this list, Moye's HAS to look the steepest, right?
UPDATE, 2/8/2010: Steep climb, indeed. Moye is seeking a transfer. 
Incoming
Marcus Murphy (5'9, 170, Fr.)
DeSoto, TX, ***

Image via Prep Ticket
RPT: If nothing else, the Pinkel regime is certainly starting to develop a formula. For the second year in a row, I was caught off-guard by an incredibly talented, versatile, smaller, spread-style back committing to Mizzou. Just like Kendial Lawrence before him, I would catch Murphy on TV or on tape and think about what a great fit he is for the offense in which he plays, never stopping to think that it might be a possibility that he would consider Missouri. But once that commitment comes in, it's hard to contain the excitement.
I'm not ready to proclaim Murphy the next big thing at tailback for the Tigers. Lord knows we probably jinxed the hell out of his DFW-to-MU predecessor by doing that with the "ghtd36 thinks Kendial Lawrence is God" meme. But Murphy is a great blend of tools that cater well to the Mizzou brand of offensive football. For 5'9" 170, he's a deceptively powerful runner with solid hands who seems to much prefer downhill (or, if you prefer, NORTH-SOUTH!!!) motion to bouncing it all the way outside. The latter is quite an encouraging sign. In many high school recruiting tapes, an athlete is able to just beat people to the edge and exploit the wide talent disparity that's evident in the high school ranks. And while that works for the Percy Harvins and Chris Johnsons of the world, we all know that talent/speed gap closes at the next level. That makes Murphy's ability to follow his blockers and make decisive cuts that much more attractive for translating his game to the next level.
Henry Josey (5'10, 200, Fr.)
Angleton, TX, ***

Image via MaxPreps
Bill C.: A four-year starter for Angleton High School, Josey has been considered an "ATH" instead of a pure running back, not because of a lack of running skills -- he rushed for over 2,350 yards and 32 touchdowns over the last two years -- but because he is well-rounded enough to play slot receiver or defensive back as well.  Supposedly the coaches have told him they see him as a running back, however, so we stick him here.  He is similar to Marcus Murphy in terms of height, but it does appear that they are different types of runners.  From the VERY limited video I was able to dig up, it appears that Josey might not be quite as shifty, but he is built more like a tree trunk and is more capable of absorbing contact at this stage in the game.  He is a strong, aggressive runner, and I would say he has as much of a chance to make a quick impact as any of the freshman backs.
Greg White (6'2, 215, Fr.)
DeQueen, AR, ***
Image via ARpreps.com
Bill C.: Admit it: you see Greg White's height and weight and assume he'll be moved to linebacker sooner than later.  And for all we know, that might happen.  But here is a quote from a PowerMizzou article from earlier this week:
At 6-foot-2, 215-pounds, White excelled both in the backfield and as a linebacker in high school. However, during his weekly conversations with Missouri safeties coach Barry Odom, his future position has never been in doubt.

"They still want me as a running back," White said.

Missouri hasn't had a power running back since Zack Abron graduated following the 2003 season. While White is taller than the 5-foot-9 Abron, he's already heard the comparison in running styles.

"Coach Odom said the coaches like the power I bring to the game," White said. "He told me they usually have smaller, scat backs, and they haven't had a power guy in five or six years."
So ... we're bringing in a power back and recruited Matt Hoch as an H-back.  What in the name of Chase Daniel is going on around here???
Actually, this adjustment could be explained by the following: in incorporating aspects of the spread offense in 2005, Mizzou was rather forward-looking in terms of what offenses could be effective against the typical Big 12 defenses.  As the spread has caught on, defenses have begun to adjust by, among other things, getting faster at defensive end and outside linebacker.  As defenses continue to adapt, offenses can either continue to try to make the spread work, or they can adapt a bit in the other direction.  If defenses are getting lighter and faster, then you can hope to adapt by getting bigger and stronger.  I started wondering if this was an intentional strategy when Mizzou targeted two bigger backs, Ronnie Wingo and Knile Davis, both of whom ended up at Arkansas.  (For that matter, they also went after other 200+ pounders like Stepfan Taylor, Brandon Wegher, and Montee Ball.)  While Mizzou clearly still targets the smaller scat-back types (like Moore, Lawrence, Murphy and, to a slightly lesser degree, Josey), I do think we are seeing a slight adjustment in philosophy, and I assume it is in attempt to stay ahead of the curve and adapt before being forced to adapt.
2010 vs 2009
As with the quarterback position yesterday, there is only addition to this position in 2010, no subtraction (barring a transfer).  If Mizzou gets no immediate contribution from the newcomers and sees only typical year-to-year improvement from Washington, Moore, and (particularly) Lawrence, this is a better unit than it was in 2009.  And if the late development of the line is any indication, this could be a much better unit.  And considering they were still average this year despite the disappointment, that's an intriguing thought.