Our Walkthrough series moves to the defensive side of the ball.  In this series, the words "upside" and "youth" have been used roughly 1,425 times.  Well ... you ain't seen nothing yet.  You want upside (and extreme youth)?  Look no further.

Returnees
Aldon Smith (6'5, 255, So.)
2009: 55.0 tackles, 19.0 TFL/sacks, 1 FF, 1 FR, 5 PBR

Photo via The Trib's Nick King
Aldon Smith was declared eligible for NCAA play well into two-a-days in August 2008, leaving the coaching staff with a difficult decision: go ahead and play him in his true freshman season (since he was clearly pretty freakishly talented), or redshirt him, allow him to get straight in the classroom, and not worry about him not being up to speed after missing quite a few August practices.  With a decent rotation of Stryker Sulak, Tommy Chavis, Brian Coulter and Jacquies Smith, they decided on the redshirt.
Smith would proceed tear things up on the scout team defense and become a bit of a myth -- we would hear random things about how good he was, but we were not able to see it with our own eyes.  And even when spring came, and we saw it with our own eyes (he was the best defensive player on the field for the spring game), we still didn't know what to expect from Agent Smith the first time he saw the real field.  Even the most optimistic among us couldn't have predicted that he would break the school's single-season sack record, rack up 19 tackles for loss, and even bat down five passes.  MIzzou's most physically intimidating end, Smith was an absolute monster at times.
The next step for Agent Smith: consistency.  He had 3.0 tackles for loss (one sack) against Illinois, 4.0 tackles for loss (two sacks) and 11 solo tackles against Texas, and 4.0 tackles for loss (three sacks) against Colorado ... and just 7.5 total tackles (2.0 for loss) in the final three games of the season.  Teams, I think, started figuring out his tendencies a little bit (that's what usually happens) and better knew how to handle him.  It was possible to take him out of games if you knew how.  If Smith wants to take the step from good (and sometimes really good) to great, he has to absorb the lessons from the bad games, figuring out how to read situations better and learning more moves.  If he does learn and grow ... holy moly.  He has already become Mizzou's latest great end named Smith (joining Justin and Brian), but with three years of eligibility left (good luck keeping him that long if he continues to improve), he's still got quite a bit of blank canvas left -- he could leave the other Smiths in the dust when all is said and done.
Jacquies Smith (6'4, 245, Jr.)
2009: 31.0 tackles, 4.0 TFL/sacks, 2 FF, 1 FR, 1 INT, 1 PBR, 2 QB Hurries, 1 TD reception
2008: 34.0 tackles, 3.0 TFL/sacks, 2 PBR, 2 QB Hurries
Mizzou's other end named Smith has created an interesting resume for himself in two years in Columbia: he's a decent defensive end with plenty of untapped potential ... and he is quite possibly Mizzou's best tight end.  I mean, did you see his touchdown run on the fake field goal against Colorado?  CU wasn't actually too fooled by the fake attempt, and he made the moves to score anyway.
(It comes at the 0:40 mark)
That's the first play I think about from that game despite, you know, one of the greatest catches ever happening in the same game.
Anyway, Jacquies-the-DE had a pretty frustrating season.  When he made a good play, it looked so completely natural that it was extremely easy to expect those plays to happen quite often.  And then he disappeared for 2-3 games.  He ended up with fewer tackles in 2009 than what he produced in 2008, when he didn't completely break into the rotation until mid-season.  Brian Coulter's play ensured that Mizzou didn't necessarily need Jacquies' A-game that often, but ... in 2010, Mizzou needs Jacquies.  He is a smooth athlete with outstanding speed for an end, and while he is not as physically freakish as Aldon Smith, he has got all the tools to become a great complementary end, a player more than capable of punishing teams for trying to move plays away from Aldon.  The last step in moving from "young up-and-comer" to "veteran leader" is consistency, and if Jacquies develops an every-game presence (like Aldon), then this is as frightening a pair of ends as Mizzou has ever had.  It's all about consistency for both Smiths, and considering how young they still are, there is still plenty of time for them to put everything together.
Marcus Malbrough (6'5, 250, So.)
2009: 5.0 tackles, 1.5 TFL/sacks, 1 FR
The next two ends on the list started to get more and more playing time as the season progressed, suggesting the coaching staff began to trust them.  They didn't exactly do much with the playing time, but the fact that they saw the field at all suggests that the staff likes their upside.
Physically, Marcus Malbrough looks like a precise combination of Jacquies and Aldon Smith (though he has the audacity to not be named Smith ... how dare he), but despite the increased playing time, he has not necessarily shown his ceiling just yet.  His first step was pretty passive and uncertain, and as a result, he would end up a step away from making a lot of plays.  If that is a mental issue -- if he just needs more playing time to get a better read for the game -- then the future is pretty bright for him.  But a ton of defensive ends are simply a step too slow to be a big difference maker, and if that is the case, then he's already pretty close to his ceiling.  Consider this yet another development to watch come springtime.
Brad Madison (6'4, 260, So.)
2009: 0.5 tackles, 2 PBR
Madison: #57.  Image via Chris Dunn
An OL-turned-DE, I fear that Brad Madison is a smidge too much of a tweener (not quite fast enough for DE, not quite big enough for DT) to be a true difference-maker as a backup, but I'm obviously far from reaching a conclusion about that.  Madison got more playing time than I expected him to get last year (I figured the conversion from OL would be enough of a learning experience to bury him on the depth chart for a while), and he showed a strong ability to knock down passes (granted, he only did it twice, but both required really nice timing, and besides, two is more than Jacquies Smith, Coulter and Malbrough managed combined).  Like Malbrough, he was a step away from making quite a few more plays, and we'll have to see if he is still mentally grasping the position, or if he's just simply a step too slow.
I guess the major thing to note about all four players we just mentioned is, NONE of them have been on campus for more than three semesters.  They are all still VERY young, and while we've seen just enough youngsters break through at a high level to start to expect it from everybody, a lot of players simply need a bit of season before figuring everything out.  If all four of these guys pull off typical-for-their-age growth, then look out.  But when people talk about the depth Mizzou has on the D-line, they're including players like Malbrough and Madison into that equation, and both of those players (and Jacquies) still have quite a bit of learning to do before truly becoming big-time assets.
Michael Sam (6'3, 235, RSFr.)

Image via Chris Dunn
As the season approached, Michael Sam was performing well enough in practice that the staff was supposedly actually considering him playing as a true freshman.  He is a high-motor player who almost overtook both Malbrough and Madison then, and if he has managed to put on some weight between August and this coming March, then he could shock everybody by ending the spring as the #3 DE.  A country boy with a big ass (I mean that in a good way -- he's built like a tree trunk with huge hips ... it makes sense, trust me), Sam will have every opportunity to earn a spot in the rotation, and I'm really optimistic about his future.
Brayden Burnett (6'3, 240, RSFr.)
Image via Scout.com
Supposedly up to 255 pounds already, Burnett was showing a strong overall skill set in his high school film, and depending on your viewpoint, that could be really good or really average.  In the NBA, they say that if you are really good at one thing -- 3-point shooting, rebounding, man defense, etc. -- you can make a career for yourself for quite a while.  You could make the case that the same is true in college football -- that being pretty good at everything could get you on the field, but you have to be really good at something to truly make a difference.  If that's the case, then Burnett will need to find something that sets him apart from guys like Sam (high motor), Madison (seems to have good strength) or Malbrough (good speed maybe?) to see the field.  If it's not true, and I'm just making all of this up, then hey ... go ahead and throw him into the mix for a spot in the rotation.
Incoming
Kony Ealy (6'5, 230, Fr.)
Portageville, MO, ****, #3 player in MO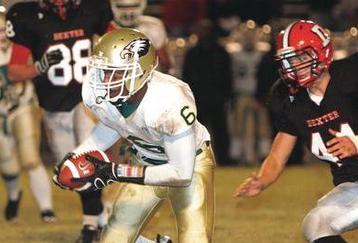 Image via Bleacher Report
A long, lean athlete with outstanding overall athleticism (he's also a really good basketball player at the high school level), Ealy went from unknown to 4-star recruit once his film started to make the rounds.  It appears he is cut from the Jacquies Smith cloth (great pure athlete), only his recruiting ranking suggests Aldon-like upside.  He is not only ranked ahead of bigger-name players like Tyler Gabbert, Chase Rome and Trey Millard within Rivals' state rankings, but he is their #194 overall recruit.  Early in the recruiting process, his high school coach said, "We haven't really put him out there as far as football goes because we wanted to see how his recruiting goes. We've been pushing him in [both football and basketball].  If he ever commits 100% to football, he'll be a multimillionaire."  Sounds intriguing, no?
(I do have to note that, as with Jimmie Hunt, there is a little bit of a concern about whether Ealy will qualify or have to go the JUCO route.  Like I said with Hunt, I'm not going to worry myself too much about qualification until we hit the summer and he still hasn't qualified, and if that's the case ... well, Mizzou has shown great patience and foresight in building relationships with certain junior college coaches, and though it would be great to see what he could do as soon as 2010, if we end up having to wait a couple of years for him, it's not the end of the world.)
2010 vs 2009
Seven players listed above -- a junior, three sophomores, two redshirt freshmen and (hopefully) a true freshman.  This position has insane amounts of upside for Mizzou, especially in the first two players on the list, but even after a 2009 season that saw four of these players in the five-man rotation (along with Brian Coulter), this unit will still be insanely young in 2010, and youth rears its ugly head at random times.  And by the nature of the position, "youth rears its ugly head" means "players you think are really good disappear for a game or two at a time."
That said, all we need here is minimal growth for this unit to be better in 2010 than 2009. If Aldon Smith progresses even minimally, if Jacquies Smith improves a smidge to the level of Brian Coulter, and if just one backup improves to the "30 tackles, 4-6 TFL" level of 2009 Jacquies, then Mizzou's 2010 DEs are as good or better.  But if A. Smith actually takes a full step forward, and if J. Smith makes a contribution in every game, and if a backup -- be it Malbrough, Madison, Sam, Burnett or Ealy -- actually proves themselves as a legitimate threat in either pass-rushing or standing up to run-blocking, then Missouri's ends could be as good as anybody else's in the Big 12.