Log on to flavortouchdown.com to enter for a chance to win the Sonic Flavor Touchdown Sweepstakes. You could win a VIP football trip for 6 to the bowl game of your choice, including, 4 days/ 3 nights of luxury accommodations and Roundtrip airfare.
As you have probably noticed by now, we have been given the opportunity to write sponsored posts from time to time here on Rock M Nation.  At first, I was hesitant about doing so -- it opened up memories of old "They're selling out!" accusations leveled (even by me once or twice) at this or that favorite indie band -- until I realized that it opened up chances to stray from the script.  (And besides, hearing Wilco in a Volkswagen commercial really was pretty cool, wasn't it?) We have a pretty set schedule at RMN on a weekly basis, and it works well for us, but as with RPT's video capture posts from last week, sometimes taking on a new topic is fun too.  Sonic asked us to talk about a "standout" of some sort, and I was wanting to emphasize something we've been hinting at for a while, so here we go!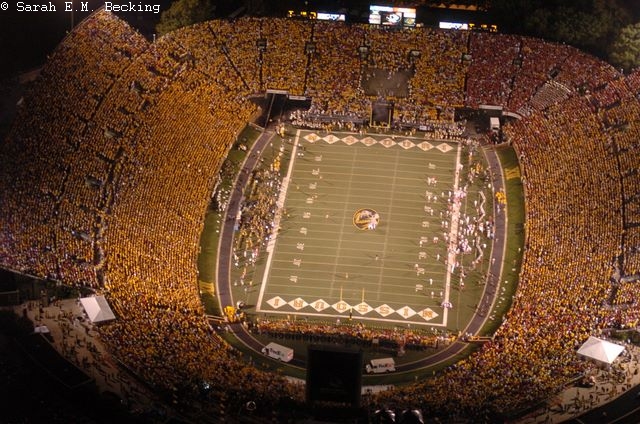 Photo via Becking.com
I have often said about Mizzou Arena that stadiums and arenas develop personalities over time, based on the moments that happened within it.  We liked the Hearnes Center more because we hadn't seen enough great moments in Mizzou Arena, but after a couple of seasons full of big wins and fun moments, the new digs are finally beginning to truly feel like home.  By this definition, Faurot Field already has plenty of personality.  There is a history here, from the Fifth Down and the Flea Kicker, to the Moe Miracle, to Chase Daniel's magic act against Iowa State in 2005, to Brad Smith and the fake field goal against Nebraska in 2003, to Corby Jones leaping head-first (and backwards) into the end zone, to (and we have to take a rather large leap backwards here) the huge crowds and big wins (and near-wins) of the late-1970s and early-1980s.  Memorial Stadium has been providing a unique and historical backdrop for great (and terrible) Mizzou moments since the 1920s, when the fanbase expanded enough due to Gwinn Henry's success that a bigger stadium became a necessity.
Photo via Bill Carter
Faurot has the history, but it hasn't always had the personality, the unique aspects that make a home crowd feel unified and make road fans think "I need to see a game in Columbia at least once."  College sports are, after all, about involvement and experiences.  At home, you feel more connected to your program if you feel you are making a difference.  You want to know that you are providing a unique and influential home field advantage.  When you walk into your home stadium, you want to remember great moments from the past and know that there are more coming in the not-too-distant future.  And with the golden glow that now fills the background of the picture anytime a Mizzou game at Faurot is televised, Mizzou has taken a huge step toward developing that unifying, unique, and potentially intimidating personality.
Photo via The Columbia Tribune's Julia Robinson
For Mizzou fans, the Faurot experience has become even more unique and successful in recent seasons, especially for night games.  Viewers know within about 0.2 seconds that they are watching a game at Mizzou when they are flipping through channels.  Why?  Because of the golden glow in the background.  Before the 2007 Nebraska game, the stands were a mix of black, gold, white, and gray.  The atmosphere was still great at times, but aside from maybe the Rock M, there really was not much that distinguished the Faurot experience from that of tens of other programs around the country.  But Faurot has an identity now.
Photo via Bill Carter
Were there great home memories before 2007?  Of course.  But what the golden glow represents has been as important and unifying as the actual visual effects.  Here's how The Beef put it in the 2010 Missouri Football Preview, when the gold rush began at the 2007 Nebraska game:  "For fans whose history takes them back to the 70's and early 80's, it likely looks like an eye-shieldingly bright version of the past.  To those who came through Mizzou in the darker years, the gold serves as a spotlight to the rest of the college football landscape, announcing Mizzou's return."  Mizzou has gone 37-12 since the beginning of the 2007 season, and while you cannot avoid the history when you walk between Memorial Stadium's gates, the gold indeed serves as a reminder that the present and future tenses have a pretty bright tint to them.  And with every big win, and every great moment, the gold shines a little brighter, the crowd gets a little louder, and the Faurot experience becomes that much more unique.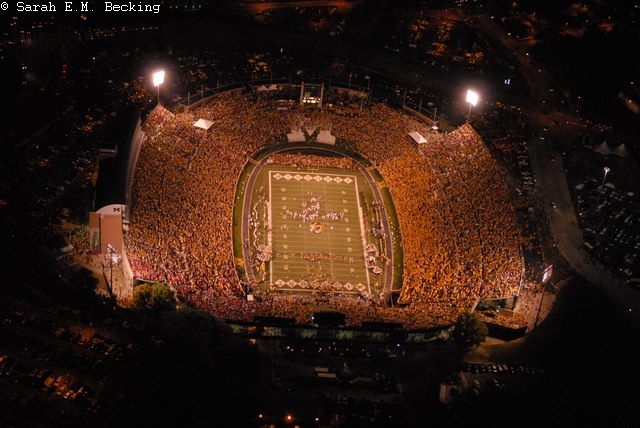 Photo via Becking.com