Trifecta!
What Happened Last Time

These two teams met at Mizzou Arena three weeks ago.  Mizzou could not buy a bucket all game long, thanks both to solid defense from Iowa State and simply missed open shots.  Kim English made his only jumper of the game, a 3-pointer, with 90 seconds left, and Mizzou pulled away to win 65-56.  It was the start of the upswing in Mizzou's overall play, and the Tigers did play relatively well overall against the 'Clones -- they just couldn't shoot, which is rather important.  Zaire Taylor was struggling through a stomach virus, and Marcus Denmon had a "regression to the mean" game similar to what happened at Bramlage last Saturday night, but J.T. Tiller was relentless in attacking the rim, and English came through when needed.
Here's what I said in the Study Hall piece following ISU-MU:
It was just amazing how many open shots Mizzou missed last night.  Marcus Denmon, clearly straining under the weight of all of RMN's expectations for him (ahem), had one of those "regression to the mean" games -- apparently he isn't a 47% 3-point shooter, and despite multiple great looks from beyond the arc, he went just 2-for-8 on 3's, 3-for-11 overall.  Not good.  Of course, take Denmon out of the equation, and Mizzou's FG% rises from 39.7% to ... 40.8%.  There were plenty of bricks to go around, good shots and bad shots alike.  Iowa State did a solid job of packing the lane and forcing some interior turnovers, but Mizzou got plenty of open outside shots in and out of the flow of the offense, and they bonked most of them off the rim.

Of course, Mizzou pulled it together just in the nick of time.  They missed 15 of their first 19 3-point attempts, but drained their last one, the Kim English back-breaker with 1:44 left.  Meanwhile, they were just 9-for-16 from the free throw line for the game's first 39:27, but they made their last six to ice the win.

...

Just like we had the "all the good and bad of Keith Ramsey" game in Boulder on Saturday, we had the "all the good and bad of Justin Safford" game last night.  He had three egregious turnovers and badly missed a couple of ill-timed shots during important possessions ... but he played strong defense against Craig Brackins in extended minutes (he and Bowers combined for 61 minutes with Keith Ramsey injuring his ankle in the first half), grabbed an impressive nine rebounds, and still managed to shoot 4-for-8 from the field, 5-for-6 from the line.  If Mizzou lost, he'd have been one of the reasons why ... and instead, he was one of the main reasons why they won.

...

In terms of expected rebounds, Mizzou won the battle of the boards by two.  If they had shot even an average percentage from the field, they'd have won this game by 20 or more because of it.  Craig Brackins showed that he is a lot like Justin Safford on the boards -- he almost forgets how tall he is and doesn't show a lot of aggression on the glass.  It's odd to insult a guy who ended up with 14 rebounds, but he had the ball stolen from him in the air multiple times, and it made a lot of difference in the game's outcome.  MAJOR props go to Bowers and Safford, who combined for 21 boards, seven on offense.

...

Not until the game's final 6-7 minutes did the game start to take on the pace that Mizzou likes, and part of the reason Iowa State was able to hang around with almost non-existent guard depth was because ISU was successfully able to slow things down.  As we've seen before, Mizzou's opponent is infinitely more capable of slowing the game down when Mizzou is missing their jumpers, and that's what we saw last night.
Your trifecta in the win over Iowa State was Tiller-Safford-Bowers.  Saffy and Bowers both played wonderfully on the offensive glass, and Mizzou will need Bowers to pick up the slack a bit in Safford's absence (and yes, I'm just assuming Safford is out until I hear otherwise).
ISU's Season Since Last We Saw Them: 1-4

KenPom's Ranking in use here
at #2 Kansas (L, 59-73)
#43 Oklahoma State (L,64-69)
#24 Texas A&M (L, 56-60)
#90 Nebraska (W, 78-74)
at #94 Colorado (L, 72-75)

Granted, their last couple of road trips haven't gone to well, but ISU has done well in each of their last three home games.  They lost tight ones to far superior OSU and ATM teams, and they beat Nebraska.  Chances are, Mizzou will get a strong game from them, and if they shoot like they did last time these teams played, they could be 9-8 in conference come Wednesday morning.
ISU Since Last We Saw Them

ISU
Opp

Points Per Minute

1.60
1.73
Points Per Possession (PPP)

0.98
1.06
Points Per Shot (PPS)

1.09
1.23
2-PT FG%
41.6%
50.2%
3-PT FG%
27.9%
34.4%
FT%
70.9%
75.3%
True Shooting %
47.0%
54.6%
ISU
Opp
Assists/Gm
10.8
13.7
Steals/Gm
5.7
6.0
Turnovers/Gm
11.5
12.3
Ball Control Index
(Assists + Steals) / TO
1.43
1.59
ISU
Opp
Expected Offensive Rebounds/Gm
14.2
11.7
Offensive Rebounds/Gm
13.5
9.7

Difference
-0.7
-2.0


Ken Pomeroy Stats

ISU Offense vs MU Defense Ranks

ISU Offense
MU Defense
Advantage
Efficiency
110
5
MU
Effective FG%
116
32
MU
Turnover %
119
3
MU Big
Off. Reb. %
147
321
ISU Big
FTA/FGA
193
215
ISU
MU Offense vs ISU Defense Ranks

MU Offense
ISU Defense
Advantage
Efficiency
38
71
MU
Effective FG%
79
114
MU
Turnover %
53
308
MU Big
Off. Reb. %
120
94
ISU
FTA/FGA
249
7
ISU Big

In all, ISU has been pretty solid on the defensive end, limiting opponents to at least a respectable 1.06 points per possession and winning the rebounding battle to boot.  The problem is that nobody on the team has been able to hit the broad side of a barn recently, as you'll see below, and they're only average in terms of offensive rebounding, despite starting three guys at 6'7 or taller.  Only one Cyclone has been able to make more than 33.3% of his 3's lately, and Craig Brackins is shooting far too many jumpers.  And ... oh, Chris Colvin ... you might have the worst shooting numbers I've ever seen for 18 minutes a game.
ISU Player Stats Since Last We Saw Them
Player
AdjGS*/Gm
GmSc/Min
(Last Time)
Line
Marquis Gilstrap (6'7, 215, Sr.)
17.7
0.50 (0.46)
35.3 MPG, 15.5 PPG (42.1% FG, 37.5% 3PT), 8.7 RPG, 2.5 APG, 1.2 SPG, 2.5 TOPG
Craig Brackins (6'10, 230, Jr.)
14.1
0.38 (0.49)
36.8 MPG, 14.7 PPG (32.3% FG, 26.9% 3PT), 9.7 RPG, 1.5 APG, 1.3 BPG, 1.2 SPG, 1.7 TOPG
Justin Hamilton (6'11, 260, So.)
13.6
0.47 (0.39)
29.0 MPG, 9.2 PPG (47.6% FG), 9.5 RPG, 1.3 TOPG
Diante Garrett (6'4, 190, Jr.)
10.8
0.31 (0.30)
34.8 MPG, 10.7 PPG (42.9% FG, 27.8% 3PT), 3.8 APG, 2.3 RPG, 1.5 SPG, 2.2 TOPG
Scotty Christopherson (6'3, 200, So.)
7.6
0.25 (0.23)
29.7 MPG, 8.5 PPG (38.1% FG, 28.6% 3PT), 2.2 RPG, 1.5 APG, 1.2 TOPG
LaRon Dendy (6'9, 230, Jr.)
6.3
0.46 (0.52)
13.7 MPG, 4.3 PPG (57.1% FG), 3.7 RPG, 1.3 BPG
Chris Colvin (6'3, 195, Fr.)
-3.2
-0.18 (0.09)
18.0 MPG, 2.2 PPG (8.3% FG!!, 0.0% 3PT), 1.7 TOPG
Dominique Buckley (6'2, 200, So.)
-0.2
-0.02 (0.19)
8.2 MPG, 1.0 PPG (22.2% FG, 33.3% 3PT)
Alex Dorr (6'7, 210, Fr.)
8 minutes
* AdjGS = a take-off of the Game Score metric (definition here) accepted by a lot of basketball stat nerds.  It redistributes a team's points based not only on points scored, but also by giving credit for assists, rebounds (offensive & defensive), steals, blocks, turnovers and fouls.  It is a stat intended to determine who had the biggest overall impact on the game itself, instead of just how many balls a player put through a basket.
Players who have improved from the last preview to this one: Hamilton

Players who are about the same: Gilstrap, Garrett, Christopherson

Players whose stats have regressed: Brackins, Dendy, Colvin, Buckley
I think it's safe to say that Craig Brackins has fallen in love with his jumper, and it's severely impacting his shooting percentages.  For a 6'10 player to be making fewer than one of every three field goal attempts (and barely more than one of every four 3-point attempts) is both rare and rather unacceptable.  Brackins is a beast on the defensive glass, averaging 0.20 defensive rebounds per minute (Mizzou's best: Laurence Bowers, at 0.15 playing a faster pace), but he's averaged just 0.06 offensive boards per minute recently (J.T. Tiller averages 0.05), meaning he's spent far too much time on the perimeter.
It's pretty clear looking at the minutes per game, Brackins has basically been playing the small forward position while improving sophomore Justin Hamilton has taken on a lot of the banging near the basket.  He is the only Cyclone to have improved his statistics demonstrably since the last time these teams met, and he does offer an interesting matchup advantage for ISU: sheer size.
Brackins gets the pub, but it's pretty clear at this point that Gilstrap is the team's MVP.
Starting with the Mizzou game, Chris Colvin is 2-for-24 from the field, 0-for-9 from 3-point range.  There are shooting slumps, and then there is that.  He's playing 18 minutes per game and averaging almost as many turnovers (1.7) as points (2.2).  Holy moly.  And since I brought this up, I fully assume he will go about 6-for-8 from the field against Mizzou.
Keys to the Game
These are exactly the same as the keys to the last KSU game, as I think they're still 100% relevant.
Make the open ones. Both Marcus Denmon and Laurence Bowers were god-awful Saturday night, missing tough shots and easy ones both.  In all, Mizzou missed plenty of makeable shots, just like they did last time they played Iowa State.  ISU is a decent defensive team, but they could not possibly more different in style than KSU, who was able to successfully muscle Mizzou around a bit and take their legs away from them.  ISU is more in line with Nebraska's defensive style, which means the more impatience Mizzou shows, the more they fall into the Cyclones' trap.  They will get open shots if they work for them, and while I'm confident that their ball movement and general offensive flow will stay as strong as it has been for most of the last few games, they will still need to make the open shots they get, which isn't a given.  If Denmon or Kim English get hot, Mizzou should win easily ... but someone needs to get hot.


Gun it. Quite frankly, ISU isn't so good that Mizzou has to play a perfect game to win.  Clearly.  And as long as the mistakes Mizzou makes are aggressive ones -- charges, over the back, outlet passes that are too aggressive (like the one J.T. Tiller sent into the second row last Saturday night), I will remain confident that Mizzou will win this game.  ISU is thin, thin, thin, and if Mizzou can push the tempo wherever possible, even at the expense of making some mistakes, they should pull it out.  They finally got moving last time when Tiller just decided to drive to the hole on every possession, and aggression is how they win even if the shots aren't falling.  Punish ISU, and empty their gas tank.


R-E-B-O-U-N-D. This is almost always a key, isn't it?  With Justin Safford, Mizzou outrebounded ISU last time around, and they needed it.  Without Safford last Saturday night, Mizzou actually managed to outrebound Kansas State as well, which was encouraging.  ISU is rock solid on the defensive glass, but if Mizzou wins the battle of the boards, either by doing great on the offensive glass or limiting the Cyclones to one-and-done (or preferably both), then it becomes a lot more difficult for ISU to score enough points to win this game.

Prediction
So for no real reason, I started reminiscing about the Larry Eustachy era when I came up with the silly title for this post, and I realized that we have begun to forget one of the most surreal, unexpected coaching "scandals" of our lifetime, the one where Eustachy and Josh Kroenke went to a party together after a Mizzou-ISU game.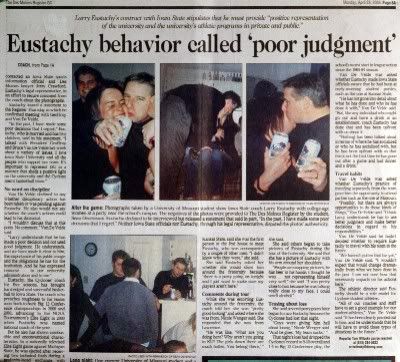 I don't even bring this up to make fun of Eustachy, who was a helluva coach at ISU and clearly had a bit of a drinking problem that needed corralling.  It's just that somehow, amid all the craziness that swallowed the Missouri basketball program in the early part of the 2000s, from the baffling, up-and-down teams, to "Them crackas shaking," to Quin's own downfall (and the popcorn incident, of course), this absolutely insane incident has been swallowed up by time, even as Iowa State's program has failed to recover seven years later.  After back-to-back phenomenal teams and conference titles in 1999-00 and 2000-01 (I still say the only team in the 2000 NCAA Tournament that would have defeated ISU was Michigan State, and they were totally screwed in both not getting a 1-seed and ending up in MSU's region), ISU has only been to the tourney once since Eustachy's embarrassing, party-and-Kroenke fueled exit (a 2005 trip to the second round).
Eustachy's replacement, Wayne Morgan, made the tourney once in three seasons and was abruptly and oddly fired; now, the latest hire, Greg McDermott, is not working out too well.  Whereas I can see a glimmer of hope for the young Colorado and Nebraska squads, I just can't see any long-term potential with McDermott, and ISU might currently be the most directionless program in the conference.  It's been a startling turn for this program, and it started with a party at College Park after a Mizzou game.
Anyway...
If ISU wins ... it's pretty easy to see how it would play out.  Either Brackins or Gilstrap gets hot and goes for 20 & 12 or so, and Mizzou simply can't find the jumper that they misplaced back in Mizzou Arena after the Colorado game.  The pace is slow, and at least a glimmer of Hilton Magic comes back.  ISU goes up double digits before Mizzou claws back, but the Tigers can't make the shots they need to make, and ISU wins, 69-65.
If Mizzou wins ... rewind back to Mizzou's trip to Lincoln.  Mizzou withstands an early spurt, makes their open jumpers, starts to force some turnovers, and pulls away.  The Tigers wrap up their tenth conference win of the season by a 72-57 margin.
It really is easy to see how this game could turn in ISU's favor -- basically, it plays out the same as the last MU-ISU game, only home court gives ISU the edge.  However, I see Mizzou responding well to the tough loss in Manhattan.  Justin Safford's (assumed) continued absence could certainly hurt the Tigers, but if Steve Moore is aggressive on the glass (not a given), and Marcus Denmon and Laurence Bowers don't go a combined 1-for-15 from the field again (seriously, 1-for-15!), then Mizzou should win this game.  Mizzou 72, Iowa State 57.