As the Mizzou offseason begins, it's time to give the same reverential treatment to past Mizzou basketball players as we gave to football players with last year's Wall of Excellence idea (the second Wall class is coming soon, by the way).  So say hello to The Rafters.  Based on your voting, we will induct five players into the first Rafters class, one from each of the following tiers:
Tier 1: The RMN era (2007-present)
Tier 2: The rest of the 2000s (2000-06)
Tier 3: The 1990s (1990-99)
Tier 4: The 1980s (1980-89)
Tier 5: The 1970s and Earlier
We move to Vote #3 today. Below, you will be asked to rank your top three selections from the selected tier.  First place will be given five points, second place will be given three points, and third place will be given one point.  Whoever receives the most points is the winner from that tier.
---
Here are your Tier 3 Nominees.  And yes, Doug Smith counts as a 1990s participant, as that's when he thrived the most.
Doug Smith (1987-91)
Anthony Peeler (1988-92)
Melvin Booker (1990-94)
Jevon Crudup (1990-94)
Paul O'Liney (1993-95)
Jason Sutherland (1993-97)
Derek Grimm (1993-97)
Kelly Thames (1993-98)
Brian Grawer (1997-01)
Keyon Dooling (1998-00)

All blurbs below are from Michael Atchison's True Sons blog, and photos below are from either the MU Archives' wonderful Savitar archive or Sarah Becking.

A starter and double-figure scorer his first two seasons, 6'10" Detroit native Doug Smith erupted as a junior. In the process of leading the Tigers to a Big Eight championship and the top of the national polls, he was named Big Eight Player of the Year, won the league scoring race, earned second team All-America honors, and blistered Nebraska for 44 points (the second highest total ever by a Tiger). Despite the lure of the NBA – and an NCAA investigation-turned-probation for the Tigers – Smith returned for his senior season and won his second straight Big Eight Player of the Year award and another scoring title (averaging 23.6 points and 10.4 rebounds), in addition to yet more All-America recognition. In his last hurrah, he propelled the Tigers to the 1991 Big Eight Tournament title, capturing MVP honors with 92 points and 30 rebounds in three games, a sweet cap to a season marred by the NCAA's post-season ban. Doug Smith closed his career as the only Tiger ever to collect 2,000 points and 1,000 rebounds. A truly dominant interior player, Smith ranks second in points scored (2,184) and rebounds (1,053), third in blocked shots (129), and fourth in steals (178) in the first century of Missouri basketball.
Perhaps the most dizzying all-around talent ever to play at Mizzou, Anthony Peeler could slash, pass, score and defend the perimeter as well as any Tiger in history. A 6'4" guard from Kansas City's Paseo High, Peeler was the Big Eight Newcomer of the Year in 1989, as he helped the Tigers reach the NCAA Sweet Sixteen. In his sophomore season, Peeler showed his remarkable versatility, averaging 16.8 points, 5.4 rebounds, 5.8 assists, and 2.0 steals en route to being named first-team All-Big Eight. He also became just the eighth Tiger to score 40 points in a game as he drilled Iowa State for 42, including a perfect 20 for 20 from the free throw line. After he lost the early part of his junior season to academics, Peeler returned and averaged 19.4 points, 6.2 rebounds and 5.0 assists. Peeler was even more dominant as a senior, winning the Big Eight scoring title and Player of the Year honors, and leading a group of young role players to the NCAA Tournament. But the most vivid memory of that season came in a loss, when he scored an electrifying 43 points at Kansas. His 1,970 career points rank him third all-time, and he remains number one in assists (497) and steals (196).
Little fanfare accompanied Melvin Booker's arrival in Columbia. Norm Stewart discovered the unassuming point guard from Moss Point, Mississippi, while recruiting a more heralded peer. Good thing he did, because Booker spent the next four years maximizing his ability as well as any player in the Stewart era. A starter as a freshman, Booker deferred to Doug Smith and Anthony Peeler on the court. But he began to come into his own as a sophomore, averaging 11.6 points and 3.9 assists. With Peeler's departure after the 1991-92 season, Booker assumed leadership of the team. His 15.8 points per game led the club in his All-Big Eight junior season. But it was Booker's remarkable senior season that sealed his place among Mizzou's all-time greats. His averages of 18.1 points and 4.5 assists per game do not begin to tell the story. On his way to becoming the Big Eight Player of the Year and a second team All-American, Melvin Booker imposed his will on each game, hitting every clutch shot in a season that saw the Tigers go a perfect 14-0 in the Big Eight and advance to within one game of the Final Four. Though his career began in virtual anonymity, it ended with Booker ranking among the greats in Missouri Tiger history.
As physically intimidating as any Tiger ever, the scowling Jevon Crudup was six-feet-nine-inches of chiseled granite. A starter from the get-go, Crudup averaged 12.0 points and 7.1 rebounds as a freshman until a broken wrist ended his season after 15 games. The superior defender returned for an outstanding sophomore season in which he averaged 15.3 points and 8.2 rebounds while leading the team in blocked shots and finishing second in steals to Anthony Peeler. He put up similar numbers as a junior, and as a senior he was the powerful yin to Melvin Booker's fluid yang on the only Missouri team ever to finish a conference season undefeated. His presence made opponents think twice before entering the lane. Crudup's play was more steady than spectacular, but the numbers reveal that he was one of the best all-around frontcourt players ever at Mizzou – he ranks twelfth in career points (1,498), seventh in rebounds (874), eighth in steals (154), and fifth in blocked shots (116).
The man Oklahoma coach Billy Tubbs incredulously called "a nice walk-on," Paul O'Liney walked out of the shadows in the middle of the 1993-94 season and straight into Missouri lore. O'Liney led Pensacola Community College to the national junior college championship in 1993 and then sat out the first semester of the 1993-94 season while he finished his associates degree. After watching Missouri get scorched by 52 points at Arkansas, O'Liney figured the Tigers could use some help, so he joined the team just after Christmas (the fact that his aunt lived in Columbia didn't hurt). A broad-shouldered swingman, O'Liney immediately became Mizzou's sixth man and gave the team instant offense off the bench. His play helped the Tigers make their epic undefeated run through the Big Eight, and then advance to the Elite Eight of the NCAA Tournament. In 1994-95, after the graduation of half of the championship roster and a season-ending injury to Kelly Thames, O'Liney, with an average of 19.7 points per game, carried Missouri to a surprising 20-win season and a victory over Indiana in the first round of the NCAA Tournament. He nearly carried the Tigers to a shocking upset of top-ranked UCLA in the second round, but his 23-point performance was wiped away by Tyus Edney's infamous last-second shot.
Freshmen on the great 1993-94 team, Derek Grimm and Jason Sutherland introduced themselves to Missouri fans by entering the epic contest game against Illinois after four other Tigers had fouled out, and helping Mizzou take a 108-107 victory. A raw-boned 6'8" power forward, Grimm was a surprisingly accurate three-point shooter, making 41.8% of his tries for his career. Sutherland, a 6'1" guard, possessed a warrior's mentality and an underdeveloped sense of self-preservation through four years that saw him ride the ragged edge between control and chaos. Ultimately, each topped 1,000 points in a Tiger uniform.
Kelly Thames, a 6'7" forward from Jennings High School, was a freshman sparkplug on the veteran Tiger team that swept through the Big Eight schedule undefeated in 1994. The conference Freshman of the Year, his last-second game winner against Oklahoma State preserved Mizzou's unblemished record. He also scored 24 in the Tigers' NCAA Sweet Sixteen win over Syracuse. High expectations for Thames's sophomore season were dashed when a terrible knee injury during a workout cost him the entire year. Though he never regained all of the explosive athleticism he demonstrated as a freshman, he battled on, twice leading the team in scoring and rebounding. Thames shares Mizzou's record for career starts with Steve Stipanovich at 124, and ranks seventh in scoring and tenth rebounding.
One of the steadiest, headiest players ever at Mizzou, Brian Grawer was the glue that held the Tigers together for four years. A savvy playmaker and dead-eye long-range shooter, he ran the point for Norm Stewart's final two teams, and helped the coach win in his last visit to Allen Field House by scoring 18 points in 71-63 upset of the Jayhawks. Then, in Quin Snyder's first two seasons, Grawer was the ultimate team player, gladly changing his role to accommodate talents like Keyon Dooling and Kareem Rush. Grawer's impact on his younger teammates was noted by Snyder, who called him one of the best leaders Snyder had ever seen up close. That leadership was especially valuable during Grawer's senior season. With Rush sidelined by injury and Clarence Gilbert working through discipline issues, Grawer held the team together and led the Tigers to a third straight NCAA Tournament appearance.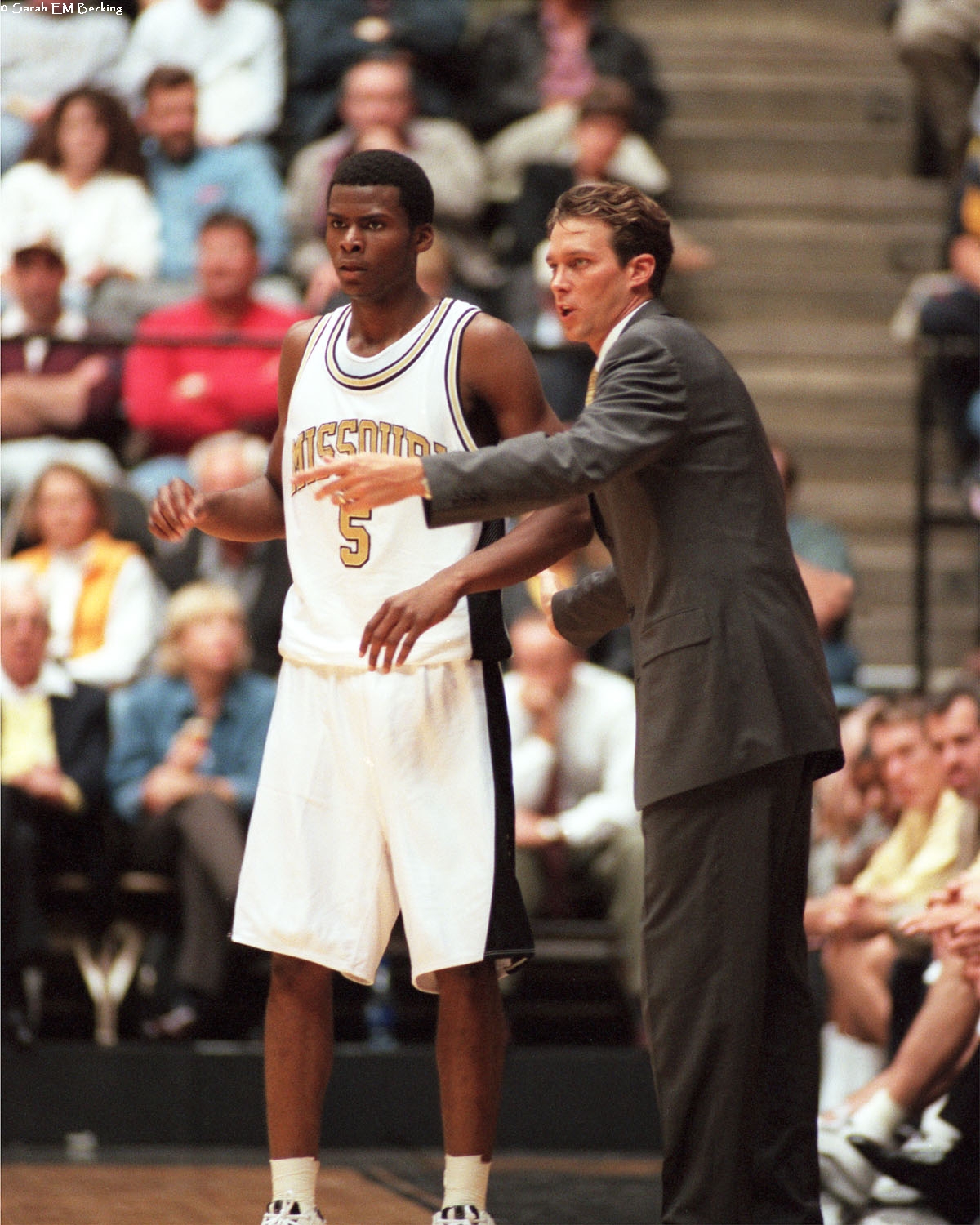 One of the most electrifying athletes ever to wear the black and gold, 6'3' guard Keyon Dooling had an up-and-down freshman season until the Tigers traveled to Lawrence, Kansas. Dooling scored 15 points as Missouri upset the Jayhawks, who were nearly invincible at Allen Field House. His play helped Mizzou to a second place finish in the Big 12, and an appearance in the NCAA Tournament after a three-year absence. Then, in 1999-2000, Dooling emerged as Missouri's top player. He scored 15.3 points per game and earned second team All-Big 12 honors as he carried the Tigers to their second straight NCAA appearance. Dooling then cut short his collegiate career to enter the NBA draft, and was taken with the 10th overall pick.