As the Mizzou offseason begins, it's time to give the same reverential treatment to past Mizzou basketball players as we gave to football players with last year's Wall of Excellence idea (the second Wall class is coming soon, by the way).  So say hello to The Rafters.  Based on your voting, we will induct five players into the first Rafters class, one from each of the following tiers:
Tier 1: The RMN era (2007-present)
Tier 2: The rest of the 2000s (2000-06)
Tier 3: The 1990s (1990-99)
Tier 4: The 1980s (1980-89)
Tier 5: The 1970s and Earlier
Today, it's Vote #4. Below, you will be asked to rank your top three selections from the selected tier.  First place will be given five points, second place will be given three points, and third place will be given one point.  Whoever receives the most points is the winner from that tier.
---
Here are your Tier 2 Nominees.  We are now entering an era with which more and more Mizzou fans (and RMN readers) are immediately familiar.
Clarence Gilbert (1998-02)
Kareem Rush (1999-02)
Arthur Johnson (2000-04)
Rickey Paulding (2000-04)
Travon Bryant (2000-04)
Jimmy McKinney (2002-06)
Linas Kleiza (2003-05)
Thomas Gardner (2003-06)

All blurbs below are from Michael Atchison's True Sons blog (except Kleiza ... that one's mine).

In Mizzou's recent history, no player has had a greater flair for the dramatic than Clarence Gilbert, a 6'2" guard from Fort Lauderdale, Florida, famed for his pit bull intensity and freewheeling shot selection. What's your favorite Gilbert moment? The night in his sophomore year when he made five of seven three-point shots and scored 24 points to lead Mizzou to an upset of Illinois? Or a month later when he went seven of ten from beyond the arc on his way to 27 points in an 81-59 rout of seventh-ranked Kansas? How about the afternoon he took a head-spinning 36 shots in a four-overtime victory over Iowa State? Or the night he drilled a 17-footer at the buzzer to beat Georgia in the NCAA Tournament? There was the 2001 Guardians Classic tournament where Gilbert won MVP honors after leading Mizzou from eleven points down with 2:15 to play to beat Iowa in the championship game. And there was the day in Colorado when he sank twelve three-pointers against the Buffs. Add it all together and you get a sensational career that saw Gilbert contribute to four NCAA Tournament teams and score 1,685 points, eighth most in Missouri history.
Perhaps the most elegant offensive performer in Missouri's history, Kareem Rush, a 6'6" swingman from Kansas City, possessed a picture-perfect left-handed jump shot and an effortless style that made him one of the Big 12's most dangerous scorers. The league's Freshman of the Year in 1999-2000, Rush went on a scoring binge in conference play, including a 31-point effort in a win at Texas Tech. The next season, Rush missed half the league slate with a thumb injury that required surgery, but he still earned a spot on the All-Big 12 team, and he garnered national recognition by scoring 29 points against Duke in the second round of the NCAA Tournament despite wearing a specially-made cast on his shooting hand. Then, as a junior, Rush again made the all-conference team and led the Tigers to the Elite Eight of the NCAA Tournament. Rush left school after his junior season for the NBA, but his career scoring average of 18.9 points per game ranks fourth in Missouri history.
At 6'9" and at least 275 pounds, Arthur Johnson combined impressive size with surprising mobility and became one of the most productive players in Mizzou history. Blessed with soft hands and a deep arsenal of post moves, Johnson surprised on-lookers in his freshman year by becoming the most prolific shot blocker ever at Missouri. In fact, he holds the number one, two, three and six positions for single-season blocked shots in Tiger history. But Johnson could do far more than swat shots. In his first season, he made the Big 12 all-freshman team, and as a sophomore, Johnson was a key player in Missouri's late-season surge. He recorded 18 points and 14 rebounds in a win over 12th-ranked Oklahoma State that helped the Tigers sneak into the NCAA Tournament field, and later he posted 14 points and 14 boards in MU's Sweet Sixteen triumph over UCLA. As a junior, with Kareem Rush and Clarence Gilbert gone, Johnson became a full-fledged star, averaging 16.1 points and 9.6 rebounds per game, and capping the season with a 28-point, 18-rebound effort against Marquette in the NCAA Tournament. In his final year, the team struggled, but Johnson continued to shine, especially late the year as the Tigers tried to resurrect their season. He tallied 29 points and 13 rebounds in a crucial win over sixth-ranked Oklahoma State, and he later scored 37 points in his final home game, a heartbreaking two-point loss to Kansas. Johnson holds Missouri's all-time records for rebounds (1,083) and blocked shots (245), and he ranks fifth in points scored (1,759).
One of the great aerial acrobats in Missouri history, 6'5" Rickey Paulding came to Columbia from Detroit and made an immediate impression with his extreme athleticism. In his sophomore season, Paulding helped key Mizzou's run to the 2002 Elite Eight, earning a spot on the All-West Regional team after leading the Tigers with an 18.3 point average in their four NCAA Tournament games. The next season, after the departures of Kareem Rush and Clarence Gilbert, Paulding became Missouri's dominant offensive player, averaging 17.4 points on the year. He capped his junior season with a remarkable 36-point performance in an overtime loss to Marquette in the second round of the NCAA Tournament. In his senior year, Paulding averaged 15.1 points per game and wrapped up his career with 1,673 points, good for ninth place on the Tigers' all-time list.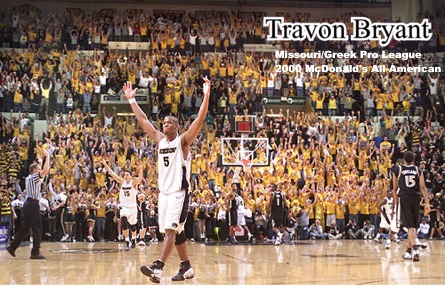 A high school All-American from Long Beach, CA, power forward Travon Bryant contributed to three NCAA Tournament teams at Mizzou. During his career, Bryant recorded 912 points and 666 rebounds, plus he 119 blocked shots, a total that ranks fourth in Missouri history. A solid face-up shooter, Bryant played some of his best basketball during the Tigers late surge in the 2002-03 season. His buzzer-beating jump shot gave Missouri a win over Oklahoma State in the second round of the conference tournament, and his 18-point effort against fourth-ranked Kansas the next day helped propel the Tigers into the tourney final.
A superstar at Vashon High School in St. Louis, Jimmy McKinney arrived at Mizzou with sky-high expectations, but his career was beset by injury (he fractured his sinus early in his freshman year) and controversy beyond his control (the Clemons fiasco, the end of Quin Snyder's tenure). Still, even as he was shuttled between positions to cover for the team's shortcomings, McKinney posted impressive personal numbers, recording 1146 points, 422 rebounds and 349 assists for his career. As a freshman, he helped the Tigers advance to the second round of the NCAA Tournament, but his finest individual performance may have come in his junior season against Kansas in Columbia. Playing point guard in place of the suspended Jason Horton, McKinney scored 21 points on six-of-seven shooting to lead the Tigers to an upset victory over the seventh-ranked Jayhawks.
Linas Kleiza (2003-05)

Bill C.: His time in Columbia may have been brief, and Mizzou's performance may have been disappointing while he was here, but Linas Kleiza lived up to most of his five-star billing in two years.  Mixing a small forward's agility with a center's brute strength, Kleiza was one of the more unique recent Mizzou stars.  He was supposed to be the missing piece on the 2003-04 team that started the season ranked in the top five, and while the team underachieved, Kleiza averaged 11 PPG and 8 RPG in an injury-shortened season.  After the departure of Arthur Johnson, Travon Bryant and Rickey Paulding, Kleiza gave Mizzou's 2004-05 NIT team star power, averaging 16 PPG and 8 RPG.  Against 1st-place Oklahoma in the quarterfinals of the Big 12 Tournament, Kleiza was amazing.  He scored 33 points (he went a staggering 17-for-19 from the free throw line) and grabbing 7 boards in a near-upset.  He declared for the NBA draft after his sophomore year and was drafted in the first round.  Honestly, his resume is no worse than Keyon Dooling's, but his two-year stay was marred by team disappointment.  That shouldn't take away from the perceptions of his own quality of play.  He was a bull with finesse, and he was very fun to watch.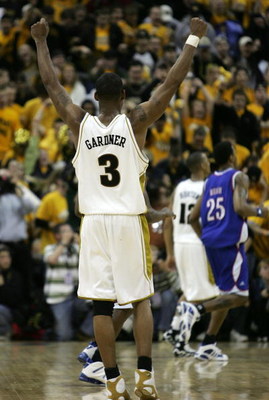 Score 40 points in an unbelievable overtime victory over Kansas and you make the list. In three seasons at Mizzou, Thomas Gardner, a guard from Portland, Oregon, displayed a flair for the dramatic. As a freshman, he sank a clutch three-pointer in overtime to help beat sixth-ranked Oklahoma State. As a sophomore, he christened Mizzou Arena with a 19-point, 12-rebound performance as the Tigers opened their new home with a win over Brown. Later that season, he sank two three pointers in overtime to give Missouri an upset victory over nationally ranked Oklahoma. And, of course, during his junior year, Gardner's clutch shooting helped the Tigers overcome a seven point deficit in the final minute to stun Kansas in a nationally televised game. In three seasons, Gardner accumulated 1,067 points, thirty-third on Missouri's all-time list.