Part One: The Team Stats
Part Two: The Player Stats and Style Doppelgangers
Part Three: More Doppelgangers - The Scorers
Part Four: More Doppelgangers - The Distributors
Part Five: Final Doppelgangers - The Backup Bigs (and Sutton)
Part Six: What Mattered Most?
Part Seven: Mike Anderson vs Nolan Richardson
We've reviewed the stats, we've made comparisons, and we've dropped some hints.  As our season wrap-up series draws to a close, it's time to assign some homework. As we bid adieu to everybody for the summer and switch our focus to football, here's what we want to see developing from each player between now and when they re-enter our lives in late-October.
(All images below come from the lovely photo archives at The Missourian unless otherwise noted.)
Bill C.: Tap Into Your Chievous
In one of the more entertaining SI profiles ever written, Derrick Chievous said the following:
"It's all tricks in college," he says. "As you can see, I'm not the biggest dude in the world. If they throw your ass down a couple of times, you've gotta pop the J. I find a way to get fouled. It's the easiest points you'll get. Three pointers? I don't bomb 'em from way out. I score, go to the line for a little rest, then shoot the free throw."
Thanks to Twitter (#FollowKimmie!), we know what Kim English's main area of focus is for this summer -- mid-range and ball-handling.  Sounds good.  However, do not underestimate the importance of free points and a little body control.  Along with a nice mid-range jumper, if you can master the art of drawing contact as you go up, you can quite easily up your scoring average by 2-3 points per game while improving nothing else.  Easier said than done, obviously, but all I'll say is this: you have complete access to virtually any film the athletic program has, and I bet there's quite a bit of Derrick Chievous film lying around some where.  Watch it, watch it again, then have Tyler Stone ride your hip every day in pick-up games and start experimenting.
RPT: More Good Leo
I know several of us have taken to comparing the career path of L-Bo to that of Leo Lyons, noting the similarities in playing styles and 15-foot baseline jumpers. We've noted that Bowers appears to be further along than Leo was at the same point in his career, but that all means nothing if Laurence doesn't take the next step. Bowers' potential is still off the charts, but Year Three is now time for him to graduate from "intermittently dangerous talent bomb" to "every night producer." Year 3 Leo put up 13 and 5 a game. Get in that ballpark on most nights, if at all possible.
Bill C.: Also...
...if you wanted to make it 13 and 8, that's cool too.
RPT: Experiment with taking the game by the nards.
A confident Marcus Denmon is a game-changing X-factor that I'm not sure the Big 12 Conference fully comprehends. Yes, I realize that much of his utility has been a function of his willingness to let the game come to him. I know that there's a chance that he'll struggle if he tries to be more assertive than his game would typically allow. But I'd LOVE to get a glimpse of what a balls-to-the-wall, no-holds-barred, unleashed Denmon would look like. Supplement that 3-point shooting (the good kind, not the late season kind) with the sexy ball-handling of which we've seen glimpses. Even if it's only a trial run, instead of letting the game come to you, see what it'd be like to grab the game by the horns a few times.
Bill C.: Don't Forget to Pass
In general, your freshman season was a successful one.  You were a nice offensive sparkplug off the bench.  Next year, you will almost certainly move from "sparkplug" to "starter."  With that move comes responsibility -- as the starting point guard on a team with reasonably high expectations, you'll need to start doing more point-esque things.  Setting the offense, passing, deferring to hot scorers.  Not saying you can't do it by any means, but you'll need to do it.  If the jumper's open, unleash it.  But you're responsible for five players now, not just one.
RPT: Channel Zaire when necessary
This is probably a bastardization of what Bill was saying, but I think the biggest concern Missouri may face with Dixon is what will happen if he tries to do too much. This is, of course, one area that Missouri simply NEVER had to worry about with Zaire Taylor during the last two seasons. I don't expect Dixon to develop that kind of feel for the flow of a game overnight, but I'd love to see him start to develop that point guard "Hell, everyone else is feeling it so I'm just going to let them do their thing" mindset to complement his scorer skill set.
Bill C.: Oh yeah, and...
...Zaire Taylor and J.T. Tiller are leaving quite the legacy of hard-nosed defense and tenacity.  You've got the tenacity part down, but the instincts need to get closer to speed.  So yeah ... in one offseason, all you have to do is become a true point guard and get better on defense.  No problem, right?
RPT: Be basketball's Jeremy Maclin or Danario Alexander (kidding!)
Mizzou's football program has a good history of player performance after knee injuries. We can expect that level of performance from Safford next year, right? Glad to hear everyone agrees that I'm being totally rational.
Bill C.: Learn the instincts of a hobbled big man
As the injuries pile up through the years, aging big men tend to start learning tricks, little things that can help them succeed when their physical ability fades.  I have full confidence that Safford's physical ability will return to 100% after knee surgery, and probably rather quickly.  But Safford's general weaknesses from the past season -- rebounding, sometimes forgetting that he's a PF and not a SG -- could become strengths if he learns some tricks.  If he learns to bang a bit and (though this sounds like a bit of a paradox) stay on the ground and throw his weight around a bit, it could help both his team and the more high-flying aspects of his game.
I'm sure that made total sense.
RPT: Get a haircut, Morris Day.
Bill can do the real talking here. I've said my piece.
Bill C.: Two things ...
1) Don't listen to the haters.  I love the hair.  2) Let us know pretty soon whether you're going to actually be on the team next year so we can figure out our plans.
IF you stay, here's my advice: start going to hypno-therapy.  We've heard many times that you're an unbelievable practice player.  And on the court, you've certainly shown potential -- you're the closest thing to a pure point guard on the roster, and your defensive ability is extremely underrated (if you transfer, the team's biggest concern becomes guard depth and backcourt defense ... okay, that's two concerns).  But your head gets in your way sometimes.  If the brainfarts ever disappear, then you could be one helluva player.  So yeah ... get rid of those.  It's that easy, right?
RPT: Develop one go-to post move.
Steve, I don't need you to be Karl Malone. I don't need you trying to perfect an arsenal of offensive weaponry that would put Wilt Chamberlain, James Naismith and Jimmy Chitwood to shame. All in all, I'm VERY pleased with the progress you made – especially defensively – throughout last season. Now, develop just one post move you can have at your disposal to try to get your numbers up into that 5-7 PPG range. Every little bit counts.
Bill C.: Demand the ball.
A couple times this year, you unleashed a perfect post move that made everybody step back and wonder where that came from.  Then you wouldn't touch the ball in an attacking position for about four games.  Demand the ball in the post, if just once or twice a half.  Prove you exist on offense and have a chance to become a threat.  You don't actually have to be a threat that often -- just prove you can be.
Image via The Trib
RPT: Eat a sandwich. Or two. Or twelve.
Whatever Steve Moore was eating before he got to Mizzou, let's get Underwood on that diet. I know that bulk isn't the end-all, be-all for his future success, especially since he showed fairly deft use of his limbs in rebounding in limited time last season. But I'd feel at least a little bit more comfortable if he and L'Damian Washington downed a full Sams Club palate of BEEFCAKE 4000 before the next athletic year.
Don't tell me you've forgotten about this post already...
RPT: Plant your flag.
Two years ago, Mike Anderson had a label for all of his freshmen. Denmon was "natural scorer," Bowers was "human highlight reel," English was "shooter," etc. Dixon's role has become defined. Underwood's role is likely small but still largely defined. So, who are you going to be, Mr. Stone? What's your thing? Plant your flag on your territory and stake your claim to your role.
Bill C.: What Ross said.
Players who are decent at everything but not really good at anything tend to fade into the woodwork a bit.  It took about two minutes of watching Underwood play to know what his identity was -- defense and rebounding.  Stone was an amalgamation of everything.  He's athletic, but not Bowers.  He's a decent rebounder, but not Underwood.  He's got a bit of size, but he's not Steeeeeeeeeeve.  Whatever his game is going to be, we need to see it.
RPT: Be Mark Titus.
Entertain me, walk-on. Be at least 15 percent as entertaining as Club Trillion. That's ALL I ask. And, remember, stretching is essential.
Newbie: Tony Mitchell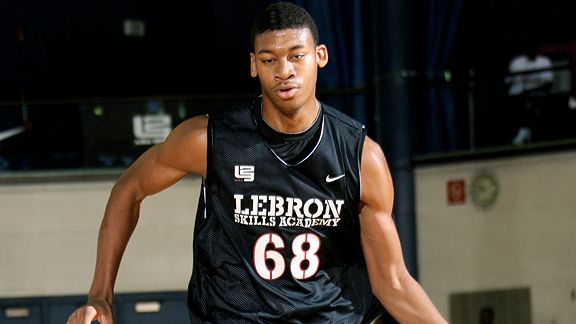 Image via ESPN.com
RPT: Literally, do your homework and qualify.
Just like it was impossible to do with Blaine Gabbert before last football season, assigning expectations to this kid is going to be flat out unfair. I know there are those ready to announce Mitchell as the missing link for the next big run for Missouri basketball, but priority No. 1 for me and priority No. 1 for Mitchell are one and the same: Get qualified and make yourself at home in CoMo.
Bill C.: I'm an optimist.  I say he'll qualify.  Therefore ...
...the number one goal is, rebound.  Rebound, rebound, rebound.  We know you'll throw some dunks down -- we've seen the highlight reel.  We know you'll score some points.  But Mizzou has a specific need, and it is on the glass.  Hustle, throw your body around, crash the boards ... you could be exactly what Mizzou needed in 2009-10, but you're going to have to show a level of hustle that a lot of 5-star recruits don't necessarily show, at least not immediately.
Newbie: Phil Pressey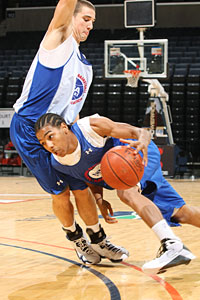 Image via ESPN.com
RPT: More Dixon, Less Paul
My assignment has NOTHING to do with style of play and EVERYTHING to do with place in the rotation. Pressey's being loaded with expectations, and for good reason. I have NO clue what to expect from him as far as numbers are concerned, but all I know is that I want his place in Anderson's rotation to be more reminiscent of Mike Dixon's past role than Miguel Paul's past role. Carve yourself the niche of being one of the primary options off the bench in most situations. Don't relegate yourself to end of the first half "bombard teams with fresh legs" appearances only. 
Bill C: More Paul, Less Dixon
My assignment has EVERYTHING to do with style of play.  As a sophomore, there's no way Mike Dixon won't get a little lost or out of control at times -- it's what sophomores do.  When that happens, we will need Pressey to be a bit of a stabilizing force, doing whatever it is Dixon is not -- setting up the offense, trapping on defense, whatever.  Paul and Dixon combine to have basically every single skill you could want in a point guard, but they're not the same person, and we need Pressey to deliver whatever it is that Dixon (or both of them, really) isn't delivering.
Newbie: Ricky Kreklow

RPT: Shut people up.
Why such a vindictive and vicious assignment? Maybe it's because I'm sick of people doubting him, and hopefully he's sick of it too. There's a very distinct of segment of this fan base that seems to think that Kreklow is no better than a spare sharpshooter whose scholarship is some kind of inter-departmental nepotism. The thing those people forget? The kid can reportedly ball. Originally, my assignment was going to be "become Matt Lawrence," but that's obviously a tall task for an incoming freshman. I want Kreklow to be the guy every team tries to overlook but can't afford to do so. Become the guy whose biggest utility is punishing teams for leaving him too open. Take your respect, Ricky, and shut people up.
Newbie: Kadeem Green

Image via Scout.com
RPT: Get healthy
Before you do ANYTHING, make sure that Achilles is ready to rock. We'll cross all other bridges when we get to them.
Bill C.: Also...
...look at whatever John Underwood is eating and eat double.  Take advantage of the rehab time to do a little weight training and see if you can't get that 6'8 frame above 200 pounds by the time August rolls around.