1 - How high were your expectations for Mizzou Basketball in 2010-11 last week, and how much higher are they now, after the commits of Ricardo Ratliffe and Matt Pressey?

2 - The Black & Gold Game is this Saturday.  Yeah, it's a glorified scrimmage, and yeah, the result doesn't matter (Mizzou's going to win, and Mizzou's going to lose), but if you could choose one storyline to develop in a positive manner on Saturday, what would it be?  (For Doug ... I have no idea when KU's spring game is, but same question.)

3 - How much tailgating is too much for a spring game?  Okay, poor wording.  There's never too much tailgating.  Let's try again: how many hours of spring game tailgating does it take before things go from cool to pathetic?

4 - On a scale of 1-10, how much do you agree with this Gregg Doyel column?  Have we overdone it with the "Phil = good, Tiger = evil" sentiment?
Doug: 1 - I figured Missouri would be top half of the conference again, behind Kansas State and, probably still, Baylor, perhaps even with Texas, and a little bit ahead of KU, just in terms of rankings. I don't know much about either one of these guys, but the response nationally is good, so I'll guess that it pushes them ahead of Texas and even ahead of Baylor, especially with the loss of Udoh.

2 - Obviously replacing Reesing will be the top storyline for Kansas, but I think there are a bunch more. Lots of guys switching positions on the field, most are going back to the spots where they never should have left, but Mangino was a tinkerer; a slightly different look at the offense, spread, but some two-back sets and under-center looks; and hopefully a much improved defensive scheme from the past season.

3 - When does Beef put on the cape? That's your cue.

4 - How about eleventy billion? I'm sorry, but sportswriters are sheep, especially the national ones, nobody wants to be caught with a different angle than anyone else, hell even Whitlock fell for the Phill Good! Tiger Bad! angle. What happened to talking about Phil managing the course while Tiger screwed around with 3 bogies in the first 5 holes, Woods manages the first 5 in par, then his eagle, birdie, birdie puts him in the lead and I think Sunday afternoon takes on an entirely different complexion. But, no, we can't talk about that, because that's not the "STORY".
ZouDave: 1 - I was expecting a Top 4 finish in the conference for Mizzou in 2010-11 prior to getting Ratliffe and M Pressey (contingent on Mitchell being eligible).  Now, assuming everyone gets to campus, I expect us to be in the hunt for the Big XII title.  We may not win it, but I expect us to be within a game or 2.  Should be aiming for about a 4-seed or so in the NCAA Tournament.

2 - I want to see 2 things that directly contradict each other, so I guess that means I'm guaranteed to be pleased and disappointed.  I want to see Missouri's young receivers step up and demand the ball.  Jackson and Kemp had decent Soph seasons, and I want them to do even more, but I really want to see Woodland, Moe, L Washington, McGaffie, etc., come out and simply demand the ball.

And while that's happening, I want to see our secondary not getting beat and making plays on the ball rather than making plays on the receiver after-the-catch.

3 - Well, I figure I'm going to try to get to town around 10:00am so that gives me 3 hours to game time.  There will be people there before me, and they're ok.  If you start before 8am, though, you might have a problem.

Speaking of that, Bill, do you know your plans for Saturday?  You tailgating or are you just gaming?

4 - Not sure I truly understand your question.  How do I rate my level of agreement on a scale of 1-10?  I will say I'm not at all surprised that everything is being compared to Tiger Woods.  That's the way golf has been for years.  Any time someone besides Tiger won a major, they'd compare it to Tiger's wins.  Any time someone has a great round, they'd compare it to Tiger's great rounds.  Are we surprised, then, that when someone doesn't show cracks in their moral armor that it's compared to Tiger's cracks?  The golf world is about Tiger Woods.  Comparing everything to him is just the way the sport has gone over the last 15 years.  It's what ESPN and the PGA wanted.  Keep Tiger in everyone's eyes, minds and mouths (that's what she said?).  Nature of the beast.
RPT: Attention Mizzou students and faculty: If your student/faculty webmail crashes today, it may or may not be because Bill directed the flood of emails that comprise this Roundtable to my student account. And also because it's incredibly unreliable. Probably the latter, actually.

1. Last week, I was still thinking Top 4 finish in the Big 12, a minimum conference semifinal appearance, and a 4-5 seed in the NCAA Tournament. Now? I'm thinking Top 4 finish in the Big 12, a minimum conference semifinal appearance, and a 4-5 seed in the NCAA Tournament.

2. Bill and I were in the midst of discussing the quarterback situation on the GREATEST PODCAST NEVER AIRED, and that's pretty well chronicled. I'm curious to see what happens at the safety position. Are Matt White and Tavon Bolden as much of a threat for playing time as they've been made out to be?

3. 25 hours. Because, well, anything over 24 is just absurd, right?

4. I'll abstain from answering since I have not – not do I intend to – read Doyel's column. All I know is that Mickelson's hug with his wife after 18 was a fantastic moment.
(90 minutes later...)
ZouDave: This has all the makings of the worst roundtable ever.  Can that bode well for the B&G on Saturday?
Doug: If the Round Table is the worst ever, Missouri will definitely lose on Saturday.
ZouDave: but.....that.......wait....
Bill C.: Clearly my e-mailing RPT's student account has thrown the whole thing off the rails.  I have now changed it to his gmail address, so ... commence good roundtable!
Michael Atchison: 1 - With the customary proviso that I'm assuming everyone makes it to campus, I think Mizzou went from fighting for a first-round bye in the Big 12 and a 5-8 seed in the NCAAs to being a contender for the league title and a team fighting to be seeded into the Sweet Sixteen.  The comparison everyone is going to want to make is to the 2008-09 team, because that's the benchmark for recent success.  And I don't know that the starting lineup will be any better – that group with the three seniors (Carroll, Lyons, Lawrence) and two juniors (Tiller, Taylor) was awfully good – but the difference is in the depth of the team as a whole, and the depth of scoring options.  Next year's team returns three players who averaged double figures in scoring last year (English, Denmon, Bowers); for discussion's sake, let's pencil those three into the lineup.  Now add Ratliffe, who has an awfully good chance to be a double-figure guy, too.  I'm going to put Dixon in as the fifth starter for now, and he scored 7.5 points per game coming off the bench as a freshman, which is more than Zaire Taylor scored as a starter in the '09 season.  The '09 team was deep in bodies (eleven guys played regularly), but not in production.  English (6.5 points per game) and Denmon (6.0) were the only reserves who averaged more than 3.6 points per game.  Next year's team will have Justin Safford (who averaged 8.6 ppg as a junior) as a reserve who has proven he can contribute, and I suspect that most people believe that both Presseys will be better equipped to contribute right away than any of the guards (Denmon, English, Paul) who came off the bench in '09.  But I think the guy who will benefit most from Ratliffe's arrival is Tony Mitchell.  Before, there was a need to play him at the four spot because of depth/talent concerns.  Now he can play anywhere you want to put him.  Want to go small and athletic?  Put him at power forward with Bowers and three guards.  Want to go big?  Put him at the three with Ratliffe and Moore along the front line.  We haven't seen that kind of player here in a long, long time.  I don't want to pile expectations too high for him, but he gives this team a different sort of dimension, and he helps Mike Anderson dictate matchups.  I don't think this team will be the defensive freight train that the '09 squad was, but offensively, they have the chance to be outstanding.

Of course, Ratliffe should benefit everyone on the offensive end.  We saw what happened last year when Safford was hurt and Bowers was playing with the injured wrist.  Teams didn't even have to defend the post.  Mizzou just couldn't score through its big men in the halfcourt.  Teams will have to honor Ratliffe, which should make things easier for everyone.  It should be spectacular fun to watch.

2 - I want to see two things that are in direct conflict with one another: production from several different receivers, and inspired play from the defensive backfield.

3 - Two hours is perfect, three is acceptable, four is really pushing it.

4 - I agree at about a 7.  The problem is that the story is just too obvious not to write.  On some level, I don't know how a sportswriter can overcome the temptation.  Before the tournament, everything was about Tiger and his return, and the understood subtext is that the guy humiliated his wife and family very, very publicly over the past several months.  And when Mickelson, Tiger's only true rival, wins the thing, and his cancer-stricken wife shows up at her first tournament in a year, and he's featured in Exxon commercials touting how he and his wife have started this foundation for educating students in the sciences, and Tiger is featured in this bizarre ad that addresses (albeit circumspectly) that he's been something of a creep, I mean, how do you not mention it?  Even if you don't make the connection yourself, the reader does it for you; it's just too obvious.

That said, Doyel's point is well-taken.  What happened over the weekend is not about the mechanics of a marriage (and we don't really know what goes on inside either of the marriages in question, though we can make educated guesses), it's about making shots on a golf course.  Part of the problem is deadlines; internet deadlines are now, newspaper deadlines are tonight, and SI's deadlines are Monday.  It takes a remarkable writer to take all the information and create a nuanced, fresh take on it in that short period of time.  I'd really like to see someone like S.L. Price or Joe Posnanski take on the story as a magazine piece to be published some time over the summer.  I'm sure there's a great narrative in there somewhere; but it will take the right writer to find it.
RPT: This roundtable sucks. Good to know it wasn't just our podcast from last night that seems to be prematurely aborted.
ZouDave: Oh God, I hope nobody takes the bait for an image on that one...
RPT: By the way, if we want to discuss who I'm most excited about, I'll just say that I'm basically Stephen Colbert in this totally non-doctored photo:
ghtd36: Here is my attempt to salvage another Roundtable.

1 - My expectations pre-Ratliffe and Pressey were a 5-seed or better in the Tourney. I loved what Mizzou was returning and what they were already bringing in (Dallas, stand UP). Now, though? Uh, holy crap. I'm going to keep my expectations the same -- 5-seed will do me just fine -- but only for my own sanity. If I start saying what I really think, well, I'm only going to end up disappointed. But suffice to say, holy crap.

2 - First things first:  I will not be attending the Black & Gold Game on Saturday. Yeah, flame away. But ultimately, the ghtd36gf had no interest in driving to Columbia. Actually, the conversation went something like this:

ghtd36: So, I'm thinking that we could go to the Spring Game in Columbia on Saturday.
ghtd36gf: I've been the past three years, and it's rained every time.
ghtd36: But, it's only supposed to rain on Friday. Saturday looks clear!
ghtd36gf: I have no desire to go. The answer is no.
ghtd36: We can go to Flat Branch!
ghtd36gf: It's going to be crowded. We'll never get in. No.
ghtd36: But...but...my Internet friends will be there!
ghtd36gf: (sustained silence)

Anyways, all I want to hear about is the receivers stepping up. The big concern is to find new weapons for Yo Gabba Gabbert, and I'd love for someone like Rolandis Woodland to have a monster game.

3 - Stop taunting me. You know I love tailgating stupid things.

4 - Doyel, who is very hit-or-miss with me, absolutely nailed this one. We have absolutely deified Phil Mickelson because he's a family man. I'm not knocking that; that's important. But just because Tiger Woods boinked a porn star or two, we're supposed to think that he is the Anti-Christ? Meanwhile, Ben Roethlisberger may have sexually assaulted someone, and we're quick to forgive him? Tiger Woods didn't break the law, yet we've gone out of our way to make him everything that is wrong with society. I hate doing this...I really, really, really do...but...
Michael Atchison: We're quick to forgive Ben Roethlisberger?  I think the jury's still out on that.  Terry Bradshaw absolutely crushed him the other day, and when Terry Bradshaw comes off as the sensible one in an argument, you know you've got trouble.
Michael Atchison: Wait, did you just play the race card?  Tiger transcends race.  His crime was cultivating a particular image very publicly, and then undercutting it privately in a spectacularly devastating way.  A sex scandal always sells.  When it involves one of the nation's five most famous people, it sells huge.  And when you throw in hypocrisy, it's Christmas in July for tabloid culture.  Tiger could have been purple and the story would have been just as big.  Actually, if he were purple, the story would probably have been even bigger.  It's not everyday that you find a purple golf genius with an insatiable appetite for porn stars.
RPT: Speaking of this subject, isn't this the most likable photo you've ever seen?
Michael Atchison: Ben looks like he's hiding Tiger's women under his clothes.  I bet he's pushing 285 pounds.
ghtd36: Let's just put it this way: John Edwards.

And no, that's not an invitation to get in a political debate. But -- to me, at least -- what he did was twice as despicable as what Tiger Woods did, yet where are those headlines six months later? And that dude was almost President.

I'm not saying that the race card is prominently involved. I'm just saying that I think it is involved in some capacity.

/$0.02
Michael Atchison: First, John Edwards was not almost president.  He finished third in a three-person race.  Second, John Edwards isn't nearly as famous as Tiger Woods (I bet Tiger's Q rating is triple Edwards').  Third, there are still plenty of headlines, ranging from Rielle Hunter's Vanity Fair spread to the staffer's book to the tape that's apparently out there somewhere.  Fourth, John Edwards essentially vanished from the face of the earth, while Tiger just played in the Masters.  Edwards is retreating from public life; Tiger is reentering it.
ZouDave: I think you may be putting too much emphasis on the fact that John Edwards is in politics.  It's a readily known fact that more people vote for American Idol than POTUS.  The "people" are interested in celebrities and their wrong-doings.  Scandals in politics, and politicians, pre-dates all of us by a few centuries to say the least.
ghtd36: Maybe I'm overplaying the Race Card -- a sincere possibility, because I think it is played too often in general -- but do you believe that race has nothing to do with anything here? I'm not saying that's a dumb stance, not in the least; just clarifying.
Michael Atchison: I'll never say that race plays no part in anything, but I think it plays a surpassingly minor role in this story.  What's weird is that I'm trying to think of a Caucasian person with enough gravity to create the same kind of furor as Tiger.  When I try to come up with people in that same very thin strata of celebrity, I come up with Oprah, Obama and Jordan, and that's about it.
ZouDave: Tom Hanks, maybe?
ghtd36: Maybe Bill C.?
Michael Atchison: http://www.nooooooooooooooo.com/

and I've discovered who was stashed under Ben's shirt:
(30 minutes later...)
ghtd36: Soooooo...Neftali Feliz?
Michael Atchison: And a Merry Christmas to you!
RPT: Soooooo, Anderson to Oregon?
ghtd36: Mike Anderson: great human, or greatest human?

Discuss.
Bill C.: I will say this: in the time it took me to go to lunch, the "MA to Oregon?" story came and went.  It's funny how things can go from 0% existence to 100% in a lunch break.  Obviously he turned it down and everything, but WOW that would have been an out-of-nowhere kick in the junk...
ghtd36: Quick: everyone post a picture/gif of your reaction if CMA had taken the Oregon job.

I'll start:
Bill C.: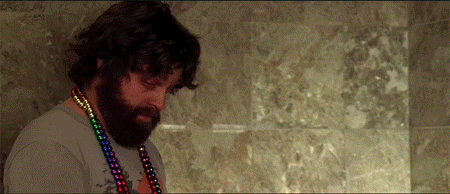 RPT: He would no longer be Stephen Colbert's new black friend:
Yeah, I recycled the same joke in the Roundtable. Deal with it.
ghtd36: Unoriginal hack.
Bill C.: CAT ON IPAD!! CAT ON IPAD!! CAT ON IPAD!! THE INTERNET GRINDS TO A COMPLETE HALT!! CAT ON IPAD!!
(An hour later...)
Doug: Wow... you called that one.
ZouDave: