As with the Oregon preview last week, The Beef wrote a softball preview that he couldn't actually post himself because of web filters at work.  So I am passing it along.  And if somebody just glosses over this paragraph and thinks that I wrote the preview, that's fine too.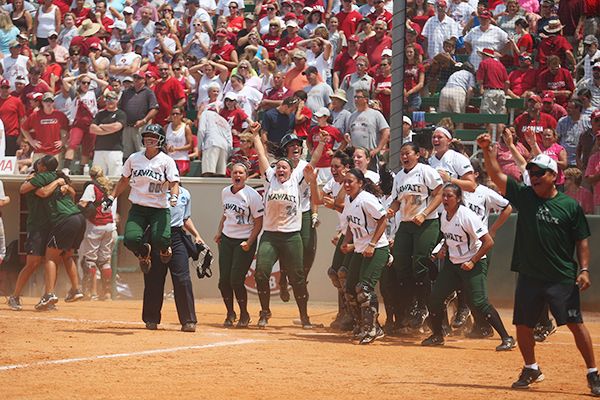 Every time I get out...they pull me back in...
Such seems to be the way of the Mizzou Softball team and my now trying to find a free hour or two to put together another preview piece.  But on a marvelous Sunday afternoon, the Tigers played probably their best game in the past few weeks to dispatch the upstart Oregon Ducks 7-2, qualifying them for their second straight berth in the Women's College World Series, and qualifying me to do one more of these.  Mere minutes before Kristen Nottelmann struck out right field fan favorite Sam Pappas, the Hawaii Rainbow Wahine scored as improbable a win as has been seen in NCAA softball recent history.  Who knew a coin flip to determine the home team on a "neutral" site would prove to be so big, as junior Jenna Rodriguez snuck one out over the left field fence for a 2-out, 2-run, walk-off, series-ending, WCWS-clinching homerun over #1 Alabama.  As we will soon see, it was NOT the first homerun for this squad.  You know how we do it, so let's start at the top with the pure numbers:
Last year (2009): Hawaii was 30-24 last season, going 15-6 in the WAC.  For the season, they hit .268 (with just two starters over .300) with 62 homeruns.  They did not make the NCAA's last season, but this is a strong program typically, one which was just a win away from making the WCWS back in 2007 before falling to Tennessee. The 2009 squad did see seven seniors graduate and move on, and that new blood coming in was pretty amazing in 2010 as we will soon see.
Record (2010):
49-14 (including 3-0 in Hawaii Regional and 2-1 in Alabama Super Regional).
24-8 at home, 16-1 on the road and 9-5 in neutral games (including NCAA's).  19-1 in the WAC.
#21 in the last USA Today poll on Monday before NCAA's began.  #16 in the NCAA RPI's
Stats (updated through Super Regionals for Hawaii and their opposition):
Team batting average of .326 (.245 for the opposition, .302 for Mizzou)
Team slugging of .654 (.370 for the opposition, .492 for Mizzou)
Team OBP of .410 (.315 for the opposition, .402 for Mizzou)
154 HR's (50 for the opposition, 58 for Mizzou)
17-23 in stolen bases (24-29 for the opposition, 115-141 for Mizzou)
2.88 ERA (7.23 for the opposition, 2.32 for Mizzou)
342 K's/135 BB's in 401.2 innings (351K's/179 BB's for the opposition, 335 K's/109 BB's in 365 innings for Mizzou)
Fielding percentage of .958 (.952 for the opposition, .967 for Mizzou)
Non-Conference:
Non-conference saw the Wahine score a few nice wins, a couple of head-scratching losses and a number of losses to top teams, finishing with a 23-11 tally.  Their season started at home against a pretty weak tourney field of #93 McNeese State, Texas A&M-CC and #21 Stanford.  The Wahine went 3-2, losing 1-0 to McNeese and 2-0 to Stanford before beating both later.  Competition would actually step down a bit in the next tournament on the road, as they took wins from a bunch of 100+ RPI squads, along with #55 Utah.  However, in the marquee game of the weekend, they did get run-ruled by #5 Ga Tech 11-2.   The next tourney, also on the road, only saw them beat #104 UC-Davis, while falling to #17 Okie State (4-0), #23 Oregon (4-3) and #7 Arizona (8-3).  Hawaii would return home and lose two games to #2 Washington (1-0 and 8-4) in their next tourney, while splitting with #20 Depaul (lose 6-2, win 4-1) the following weekend.  The non-con wrapped up with three games against #13 Cal, losing two (5-0 and 5-1) and winning one (3-0), while sweeping three from #42 Lipscomb.  Unlike Mizzou and the Big XII, once the WAC gets into their conference season, there really are no more out-of-conference games.

WAC Action:

Hawaii absolutely dominated the WAC conference, going 19-1 with the lone loss coming to #46 Fresno State.  The WAC is certainly not a strong conference, with the eight members averaging #110 in the RPI (Hawaii and Fresno are the only ones above 100).  Hawaii's offensive numbers were staggering, as they hit .357 with 65 HR's in 20 games.  They scored 193 runs across those 20 games, and their team ERA was at a solid 2.75.  Needless to say, there is not much to be taken away from these games aside from that fact they were overmatching their opponents, on their way to scoring seven run-rules (with two more coming in the conference tournament).  They did trip up against Fresno 4-3 in the WAC tourney before crushing the Bulldogs 14-3 in 5 innings in the championship game, closing the tourney with a 3-1 record and as champions.

NCAA's:

Securing the #16 seed in the NCAA's, Hawaii would be the seeded team, but would be on the road, as Stanford was chosen to host the regional.  Their first game was a return from earlier in the season, pitting them against UC-Davis who they beat 8-5 early on.  It would only take five innings, as the Wahine won 10-2, moving on to face another previous opponent in Stanford.  In what would become the rubber game of a three-game series between the two teams, Hawaii took this one 6-3 and waited for their opponent, who would end up being Texas Tech (who upset Stanford to make the finals).  Tech would prove no match for Hawaii, and after a 7-1 win, the Wahine were off to Alabama.  'Bama got the best of them in game one, with a convincing 8-0 win in five innings.  Hawaii got out to a big lead in game 2, but blew the lead before winning 8-7 off a run in the 6th inning.  The tie-breaker was a great game which Hawaii led 3-0 for a time and 3-1 before Alabama would score three to make it 4-3 and looked for all the world to have it locked up.  But a 2-run homerun by Jenna Rodriguez with 2 outs in the bottom of the 7th would give Hawaii the improbable 5-4 win and an extension to their road trip as they now are in OKC.
Offense: (current)

Where to start with this team from an offensive standpoint?  Considering this team boasts EIGHT players with 10 homeruns or more, let's just start at the top.  Leadoff hitter and RS freshman CF Kelly Majam was second on the team with a .406 batting average, while hitting a team-leading 30 HR's and tied for the team lead in RBI's with 60.  She scored 81 runs on the season with 82 hits, both team highs.  Her slugging over the 63-game season currently sits at .946 and her OBP is .522.  She stole no bases.  Freshman SS Jessica Iwata typically bats second, and was third on the squad with a .379 batting average with 18 HR's.  She hit an astounding .488 in WAC play. Junior 3B Melissa Gonzalez was second on the team with 25 homeruns and tied Majam with 60 RBI's, while hitting a team high .408 out of the three-hole.  Cleanup is reserved for junior DP Jenna Rodriguez, the hero of the Super Regionals, who hit .379 with 17 homeruns and 58 RBI's.  Sophomore LF Alexandra Aquirre hits fifth and also was over .300 at .308 with 11 homeruns.  Freshman 1B Amanda Tauali'i was the final Wahine hitter over .300 on the season, as she sits at .304 with 18 homeruns.  Seniors C Katie Grimes and 2B Traci Yoshikawa were the other Hawaii batters with more than 10 homeruns (11 each).  The Wahine really do not employ much of a bench, as freshman Brynne Buchanan has played in 54 games this season and scored 27 runs (on TWO at-bats...oh the life of a designated pinch runner).  Only sophomore (sigh) Makani Duhaylonsod-Kaleimamahu has more than 21 AB's coming off the bench (and she only has 50, hitting .140 on the year).
A Note on Homeruns:
I will admit to being nervous in hashing this part out given how it is going to come off (especially in this day and age) and how that is entirely opposite of how I want it to come off, but I feel it needs to be mentioned.  Here are the facts, as best I can find them on the subject.  First, a look at the team homeruns for Hawaii going back to 2007, included with the number of at-bats and homeruns of current Hawaii players from those years.
2007 – 84 team HR's (Yoshikawa – 0 in 2 AB's, Pu'u-Warren – 0 in 9 AB's, Tauali'i – 2 in 18 AB's and Grimes – 2 in 98 AB 's)
2008 – 48 team HR's (Yoshikawa – 0 in 12 AB's, Pu'u-Warren – 0 in 4 AB's, Tauali'i – 0 in 21 AB's, Grimes – 3 in 133 AB 's, and Gonzalez – 1 in 72 AB's)
2009 – 62 team HR's (Yoshikawa – 2 in 52 AB's, Pu'u-Warren – 6 in 98 AB's, Tauali'i – 15 in 160 AB's, Grimes – 0 in 81 AB 's, Gonzalez – 1 in 53 AB's, Aquirre – 0 in 39 AB's, and Duhaylonsod-Kaleimamahu – 7 in 131 AB's)
Three-year Total for Returning Players – 39 HR's in 983 AB's (1 HR per every 25.2 AB's)
HR totals for those players this season – 90 HR's in 1082 AB's (1 HR per every 12.02 AB's)
Now, three of the top hitters in the Hawaii lineup are new to the team this year (Rodriguez is a JUCO, Majam is a RS frosh and Iwata is a true frosh), and those three combined to hit 65 HR's in 598 AB's (a ridiculous HR in every 9.2 AB's, or basically a little over one HR per game from these three).  And obviously you assume year-to-year progress from your hitters.  However, five of these players combined to hit 14 HR's in 581 AB's coming into this season (a HR every 41.5 AB's), and managed to hit 65 HR's in 851 AB's (a HR every 13.1 AB's).  That is one remarkable uptick in HR's from the "rest" of the squad which is returning.  As for a possible explanation, Hawaii does have two assistant coaches who are new to the squad this year.  Kaulana Williams was a student assistant last season, but not much of a power hitter in her career, so all the credit must go to this man, Dickie Titcomb.
What's your secret, Dickie???
Defense:
There is nothing special about the Hawaii defense, but nothing terrible about it either.  As we all saw this past weekend, defense was one of the main downfalls for Oregon, and Hawaii did give up three errors in their 8-0 loss to Alabama in Game 1 of their weekend series.  Up the middle, Yoshikawa and Iwata combined for 27 errors and fellow infielders Tauali'i and Gonzalez combining for another 24 errors to make 51 around the diamond.
Pitching:
Hawaii employed only two starting pitchers on the season, with all but 11.1 innings coming from the pair.  The ace of the staff would be sophomore Stephanie Ricketts (yes, her sister was a frosh ace for OU this year).  Ricketts is currently 29-8 with a 2.54 ERA.  In 226 innings, she has given up 204 hits and 108 runs (82 earned) with 153 K's and 85 BB's.  The opposition hit .233 against her.  She is backed up by freshman Kaia Parnaby.  Parnaby sits at 19-6 with a 3.15 ERA.  She has pitched 164.1 innings, giving up 161 hits, 84 runs (74 earned) with 185 K's and 45 BB's.  The opposition hit .250 against her on the season.  The two have combined to give up 48 HR's on the season as well.  I do expect Ricketts to get the ball to start this game, though she was lit up by Alabama in Game 1 and gave way to Parnaby on the other two starts of the weekend.  However, she did end up winning the other two games because of their comeback nature, including 1.1 innings of shutout ball to close Game 3 and let her team win it in the 7th.
Overall Thoughts:
I loved how Coach E came right out after the game on Sunday and took the blame for Mizzou going two and out last season.  Certainly, there were other factors (one was playing Alabama, another was a tiring Chelsea Thomas), but Coach E put it squarely on himself.  Mizzou certainly has the experience edge here in this environment over Hawaii, and at some point, you would have to believe Hawaii will begin to tire from their near MONTH-LONG road-trip to the mainland.  But their lineup is just so amazingly scary from top to bottom that it is impossible to count them out.
The main question here is, can Nottelmann get the drop-ball working against this Hawaii squad and cause them to keep it on the ground.  This is not a fast team, so two singles in an inning won't mean a run like it probably would for Mizzou.  On the other side, can the Mizzou bats continue their hitting from the last game of the Oregon series?  Both pitchers from Hawaii can be scored upon (Ricketts gives up too many walks and Parnaby's BA against is not tremendous).  Never a prediction from me here, but will the experience of Mizzou win out, or will be it the unmatched exuberance of Hawaii which carries them to victory in Game 1?