NOTE: Confused? See the quick glossary at the bottom.
Kansas at Missouri
Record
AP
Rank
2011
F/+ Rk
2011
S&P+ Rk
2011 Off.
F/+ Rk
2011 Def.
F/+ Rk
Pace
Rk
Kansas
2-9
NR
114
110
105
114
37
Missouri
6-5
NR
28
33
23
48
12
One of the two teams meeting at Arrowhead on Saturday afternoon has overcome injuries, a brutal schedule, tight losses, worse injuries and a surprising coaching arrest to emerge with bowl eligibility intact. The other has figured out a way to get worse after finishing 113th in the F/+ rankings in 2010. While an upset is never an impossibility in a rivalry game like this one -- especially if it is the last in the series for at least a while -- the numbers suggest that a Missouri loss to Middle Tennessee or New Mexico State would be less surprising than a Kansas win. Now Mizzou has to go out and back the numbers up.
In my Kansas preview for SBN this summer, I said the following:
Teams don't collapse out of nowhere like this and immediately rebound with much velocity. While Gill figures out what he has (and preferably begins to think about a new pair of coordinators with an actual underdog mentality), it's not hard to see Kansas improving a bit and at least showing occasional saltiness in the fall; but it's also not hard to see the Jayhawks bottoming out. Kansas fans should look for individual progress from some of the youngsters -- Jordan Webb at quarterback, James Sims, Deshaun Sands and Darrian Miller at running back, et cetera -- in the hopes of building for 2012-13, but 2011 is most likely not going to be too pleasant an experience in Lawrence, especially not with their most winnable conference game (Iowa State) coming on the road.
To say the least, Kansas hasn't rebounded. The offense showed signs of life, mostly in first halves, in September and early October, but the Jayhawks have no reliable receivers and no quarterback capable of making middling receivers look reliable. KU has an interesting ground game at times, but once the scripted plays have run out, so have the Jayhawks' chances.
Mizzou's season has resembled a bouncing ball; the good news, I guess, is that they have been pretty damn awesome in most even-numbered weeks, for whatever that's worth to you. The better news, though, is that even in the lesser weeks, they have been better than this weekend's opponent.
When Kansas Has The Ball…
Standard Downs
Kansas
Offense
Missouri
Defense
SD % Run
70.4%
53.7%
S&P+ Rk
99
39
Success Rt+ Rk
94
69
PPP+ Rk
102
30
Rushing S&P+ Rk
92
49
Passing S&P+ Rk
90
45
If Kansas has hope of pulling one of the biggest upsets in this series' history, it is because of what they are capable of on the offensive side of the ball. The offense hasn't always been very good, but it's certainly been better than the defense.
The Jayhawks have been reasonably decent at crafting solid gameplans. They rank 50th in Q1 Off. S&P+; of all the problems they may have had this year, they have still scored in the first quarter in eight of 11 games. They led Texas Tech (20-7) and stayed within shouting distance of Georgia Tech (7-14) and Oklahoma (7-10). They have trailed off significantly in recent weeks -- they scored 55 first-quarter points in the first six games but only six in the last five -- but there is still enough evidence to suggest that they may be able to string together a decent early drive or two. The key will obviously be to eventually lock things down.
Passing Downs
Kansas
Offense
Missouri
Defense
SD % Run
40.2%
37.4%
S&P+ Rk
42
9
Success Rt+ Rk
44
4
PPP+ Rk
39
18
Rushing S&P+ Rk
57
26
Passing S&P+ Rk
31
14
Kansas' approach is simple: run as much as you can get away with it. Even though Mizzou opponents pass quite a bit more than the national average against the Tigers on standard downs, KU has leaned on the run pretty heavily. They have become too predictable and ineffective, and there's always the chance that they attempt a few more early-down passes this time around. Regardless, they haven't been particularly good at either one, at least not for the entire game.
If there is a key player in this game, it could be backup running back Tony Pierson. He and a fellow freshman, receiver JaCorey Shepherd, are the only two players with game-turning explosiveness, but they have been too inconsistent to be used regularly. Pierson has averaged 6.1 yards per carry over his 60 carries (with a +1.4 Adj. POE), but he takes a backseat to James Sims (167 carries, 692 yards, -6.0 Adj. POE) and freshman Darrian Miller (136 carries, 559 yards, -8.3 Adj. POE). Shepherd, meanwhile, is the No. 5 target on a team in desperate need of big plays. It probably wouldn't be out of line to suggest they should be receiving more touches, but no matter how incompetent you assume a coaching staff may be, there is usually a reason two players this explosive aren't getting many opportunities.
Beyond these two wildcards, the primary weapons are Sims, Miller, quarterback Jordan Webb (1,824 yards, 65% completion rate, 13 TD, 10 INT), receivers D.J. Beshears (425 yards, 63% catch rate, 7.1 yards per target) and Kale Pick (324 yards, 76% catch rate, 7.7 yards per target) and a solid tight end in Tim Biere (322 yards, 71% catch rate, 8.5 yards per target). If the game plan and execution are good, these players could do a little bit of damage ... but probably not for an entire game. Webb is capable of creating some interesting plays when he goes off-script on passing downs, but again, you can allow a couple of interesting plays and still win comfortably.
The line is comparatively decent -- 71st in Adj. Line Yards, 97th in Adj. Sack Rate -- but not good enough to make up for a lack of explosiveness in the skill position ranks.
When Missouri Has The Ball…
For the first half of the season, the Kansas offense made enough plays to potentially steal some games if their defense could hold up its end of the bargain. It could not. Facing both a coaching and alignment change over the summer (Carl Torbush retired at the end of may to address prostate cancer, and new coordinator Vic Shealy made the switch from a 4-3 to an approximation of a 3-4), the Jayhawks' defense really never had a chance. Despite a couple of interesting playmakers, they just haven't had the depth, athleticism or talent to counter opposing offenses' strengths. They allowed 604 rushing yards to Georgia Tech, 494 passing yards to Oklahoma and 441 rushing yards to Texas; they have allowed at least 420 total yards in every game (including their win over McNeese State), at least 500 in six. (As a frame of reference, Mizzou has allowed 400+ yards six times, 500+ yards four times.)
Standard Downs
Missouri
Offense
Kansas
Defense
SD % Run
64.1%
62.4%
S&P+ Rk
11
95
Success Rt+ Rk
3
97
PPP+ Rk
22
91
Rushing S&P+ Rk
9
108
Passing S&P+ Rk
22
66
As with last week's game versus Texas Tech, the key for Missouri here will simply be execution. Avoid mistakes, and you will post crazy yardage. There are a few players you probably want to avoid, however. In his second year as a defensive player, BUCK end (the OLB/DE hybrid common in 3-4 schemes) Toben Opurum (33.0 tackles, 9.5 TFL/sacks, 1 PBU, 6 QB hurries) has been a solid playmaker, and linebackers Steven Johnson (85.0 tackles, 6.0 TFL, 1 INT, 2 FF, 1 FR, 2 PBU) and Darius Willis (62.5 tackles, 8.0 TFL/sacks) have had their moments. Strong safety Bradley McDougald (70.5 tackles, 4.0 TFL/sacks, 1 INT, 1 FF, 5 PBU) has been asked to make too many plays overall, but he has posted a decent stat line for a safety.
Passing Downs
Missouri
Offense
Kansas
Defense
SD % Run
40.5%
37.4%
S&P+ Rk
43
105
Success Rt+ Rk
82
106
PPP+ Rk
26
102
Rushing S&P+ Rk
53
42
Passing S&P+ Rk
41
116
The problem, of course, is everything else. For starters, the line is just awful. Terrible. They have ranked 98th in Adj. Line Yards and 113th in Adj. Sack Rate. A 3-4 line is not necessarily expected to make too many plays, but good lord: ends Keba Agostinho, Pat Lewandoski and Michael Reynolds have combined for five tackles for loss and one sack (for comparison's sake, Mizzou's Brayden Burnett has four TFLs in backup duty). Tackles Richard Johnson, Patrick Dorsey, Shane Smith and Randall Dent have combined for 33.0 tackles, period. (Dominique Hamilton, meanwhile, has made 37.0 all by himself.) They get shoved out of the way with little resistance, and even with some interesting players in the linebacking corps and secondary, there's just no way to play good defense with no line.
The Kansas defense is interesting in that it cannot stop the run on standard downs and cannot stop the pass on passing downs. One of the above players could capitalize if you make a mistake, but if you are crisp in your execution ... well, you're going to win. The Jayhawks were almost able to steal wins against Iowa State and Baylor primarily because of turnovers -- Iowa State committed three turnovers (worth 10.5 equivalent points as defined here), and Baylor committed four (worth 21.7). Hold onto the ball (not always a given), keep avoiding picks (James Franklin hasn't thrown an interception in the last four games and ~120 pass attempts), and you'll probably win. Kansas can't stop the run on standard downs and can't stop the pass on passing downs; they are yours for the taking.
Special Teams

Some iffy teams can stay in games with field position and special teams. Not Kansas. The Jayhawks rank 115th in Special Teams F/+ and 115th in my colleague Brian Fremeau's Field Position Advantage measure. Not only is their offense fading and their defense lacking in talent ... they are also dooming themselves before possessions even start. And if they do manage to get into field goal position, they probably miss the field goal: Alex Mueller and Ron Doherty have combined to make just five of 11 field goals. In all, it is difficult to find something positive here. Mueller and Doherty have combined for just four touchbacks (all by Doherty) on 49 kickoffs, and D.J. Beshears has managed just 7.3 yards per punt return and 21.4 yards per kick return. If there is a positive, it is Doherty at punter -- he has averaged 43.1 yards per punt; but his kicks are often returnable, and opponents are averaging 15.1 yards per return. That means that in their 'strength,' Kansas is still just 78th in Net Punting. Yikes. Mizzou has obviously had some issues at times in the special teams department, but even with issues they rank 63rd in Special Teams F/+.
The Verdict

I mean ... this being the last Border War for a while, one has to remain a bit paranoid. It has been a pretty difficult year for Mizzou Athletics, at least compared to other recent years, and there's always the chance of a twist-the-knife loss that would, in Kansas' (incorrect) eyes, even the all-time series. It would be infuriating, which alone makes it a possibility. Crazy things happen in rivalry games. That said ... man oh man, would it take a lot for Kansas to win this game. They are just not a good football team. Jordan Webb could make a couple of plays, and the Jayhawks could figure out how to ring up some early rushing yards. Plus, Mizzou could turn the ball over a couple of times, and this game could be close for a half. But the second half would still take place, and trends suggest that Mizzou should blow KU out of the water after halftime.
It will take a lot for Kansas to stay close for 60 minutes, and I don't expect them to. The official F/+ prediction is Mizzou by 27.0. That sounds about right to me. We'll say something in the neighborhood of 40-13. Go get the drum, boys.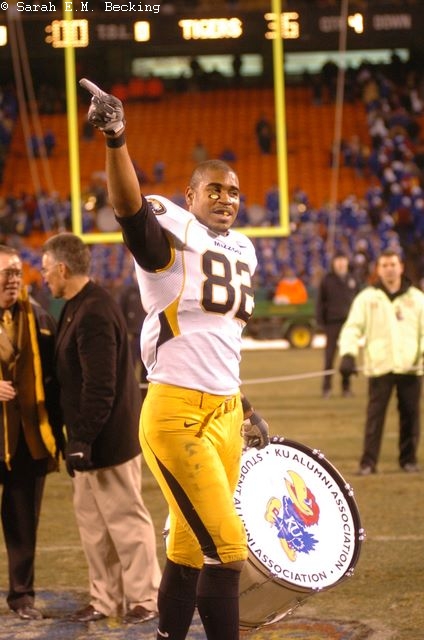 Image via Sarah Becking.
--------------------
A Quick Glossary
F/+ Rankings: The official rankings for the college portion of Football Outsiders. They combine my own S&P+ rankings (based on play-by-play data) with Brian Fremeau's drives-based FEI rankings.
Passing Downs: Second-and-7 or more, third-and-5 or more.

PPP: An explosiveness measure derived from determining the point value of every yard line (based on the expected number of points an offense could expect to score from that yard line) and, therefore, every play of a given game.

S&P+: Think of this as an OPS (the "On-Base Plus Slugging" baseball measure) for football. The 'S' stands for success rates, a common Football Outsiders efficiency measure that basically serves as on-base percentage. The 'P' stands for PPP+, an explosiveness measure that stands for EqPts Per Play. The "+" means it has been adjusted for the level of opponent, obviously a key to any good measure in college football. S&P+ is measured for all non-garbage time plays in a given college football game. Plays are counted within the following criteria: when the score is within 28 points in the first quarter, within 24 points in the second quarter, within 21 points in the third quarter, and within 16 points (i.e. two possession) in the fourth quarter. For more about this measure, visit the main S&P+ page at Football Outsiders.
Standard Downs: First downs, second-and-6 or less, third-and-4 or less.

Success Rate: A common Football Outsiders tool used to measure efficiency by determining whether every play of a given game was successful or not. The terms of success in college football: 50 percent of necessary yardage on first down, 70 percent on second down, and 100 percent on third and fourth down.