With the offseason having begun, it's time to once again give reverential treatment to past Mizzou basketball greats.  Voting is underway for the second induction class of The Rafters.  Based on your voting, we will induct five more players next week, one from each of the following tiers:
Tier 1: The Pre-Norm Era (pre-1967)
Tier II: Norm Era I (1968-84)
Tier III: Norm Era II (1984-94)
Tier IV: Norm Era III
Tier V: The 2000s
Today, we choose an inductee from the seven greatest (for different reasons) of the post-Norm era in Columbia.  We've got the interior beast, the sky walker, the European bull, the Kansas-killing Oregonian, the enigma, the pit bull and Mr. Big Shot. 

At 6'9" and at least 275 pounds, Arthur Johnson combined impressive size with surprising mobility and became one of the most productive players in Mizzou history. Blessed with soft hands and a deep arsenal of post moves, Johnson surprised on-lookers in his freshman year by becoming the most prolific shot blocker ever at Missouri. In fact, he holds the number one, two, three and six positions for single-season blocked shots in Tiger history. But Johnson could do far more than swat shots. In his first season, he made the Big 12 all-freshman team, and as a sophomore, Johnson was a key player in Missouri's late-season surge. He recorded 18 points and 14 rebounds in a win over 12th-ranked Oklahoma State that helped the Tigers sneak into the NCAA Tournament field, and later he posted 14 points and 14 boards in MU's Sweet Sixteen triumph over UCLA. As a junior, with Kareem Rush and Clarence Gilbert gone, Johnson became a full-fledged star, averaging 16.1 points and 9.6 rebounds per game, and capping the season with a 28-point, 18-rebound effort against Marquette in the NCAA Tournament. In his final year, the team struggled, but Johnson continued to shine, especially late the year as the Tigers tried to resurrect their season. He tallied 29 points and 13 rebounds in a crucial win over sixth-ranked Oklahoma State, and he later scored 37 points in his final home game, a heartbreaking two-point loss to Kansas. Johnson holds Missouri's all-time records for rebounds (1,083) and blocked shots (245), and he ranks fifth in points scored (1,759).
One of the great aerial acrobats in Missouri history, 6'5" Rickey Paulding came to Columbia from Detroit and made an immediate impression with his extreme athleticism. In his sophomore season, Paulding helped key Mizzou's run to the 2002 Elite Eight, earning a spot on the All-West Regional team after leading the Tigers with an 18.3 point average in their four NCAA Tournament games. The next season, after the departures of Kareem Rush and Clarence Gilbert, Paulding became Missouri's dominant offensive player, averaging 17.4 points on the year. He capped his junior season with a remarkable 36-point performance in an overtime loss to Marquette in the second round of the NCAA Tournament. In his senior year, Paulding averaged 15.1 points per game and wrapped up his career with 1,673 points, good for ninth place on the Tigers' all-time list.
Linas Kleiza

(2003-05)
His time in Columbia may have been brief, and Mizzou's performance may have been disappointing while he was here, but Linas Kleiza lived up to most of his five-star billing in two years.  Mixing a small forward's agility with a center's brute strength, Kleiza was one of the more unique recent Mizzou stars.  He was supposed to be the missing piece on the 2003-04 team that started the season ranked in the top five, and while the team underachieved, Kleiza averaged 11 PPG and 8 RPG in an injury-shortened season.  After the departure of Arthur Johnson, Travon Bryant and Rickey Paulding, Kleiza gave Mizzou's 2004-05 NIT team star power, averaging 16 PPG and 8 RPG.  Against 1st-place Oklahoma in the quarterfinals of the Big 12 Tournament, Kleiza was amazing.  He scored 33 points (he went a staggering 17-for-19 from the free throw line) and grabbing 7 boards in a near-upset.  He declared for the NBA draft after his sophomore year and was drafted in the first round.  Honestly, his resume is no worse than Keyon Dooling's, but his two-year stay was marred by team disappointment.  That shouldn't take away from the perceptions of his own quality of play.  He was a bull with finesse, and he was very fun to watch.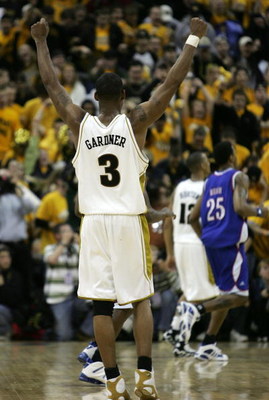 Score 40 points in an unbelievable overtime victory over Kansas and you make the list. In three seasons at Mizzou, Thomas Gardner, a guard from Portland, Oregon, displayed a flair for the dramatic. As a freshman, he sank a clutch three-pointer in overtime to help beat sixth-ranked Oklahoma State. As a sophomore, he christened Mizzou Arena with a 19-point, 12-rebound performance as the Tigers opened their new home with a win over Brown. Later that season, he sank two three pointers in overtime to give Missouri an upset victory over nationally ranked Oklahoma. And, of course, during his junior year, Gardner's clutch shooting helped the Tigers overcome a seven point deficit in the final minute to stun Kansas in a nationally televised game. In three seasons, Gardner accumulated 1,067 points, thirty-third on Missouri's all-time list.
From a turnover-prone, quirky, freshman bystander on one of Mizzou's worst teams in a long time, to the guy who posted two double-doubles in the 2009 NCAA Tournament (and had the key three-point play in the final minute against Marquette), Leo Lyons' career in black and gold was as unique as it was memorable. He seemingly matured on the spot during his senior season, and his postseason numbers actually outdid those of DeMarre Carroll. For his career, the former purveyor of Leo Lyons' Planet scored 1187 points, grabbed 566 rebounds, and improved from year-to-year in every regard. From eccentricities to clutch free throws, Lyons was memorable in every way a player can be.
Image via The Trib
Mike Anderson's first four-year recruit at Missouri, Tiller was the quintessential Anderson player. He played outstanding defense (2009 Big 12 Defensive Co-Player of the Year), scored key points (with an injured wrist, he scored 23 points in the 2009 Sweet Sixteen against Memphis), and exchanged skin for floor burns in every square inch of Norm Stewart Court. Tiller lacked natural offensive talent, but the effort level he showed in every second on the court was inspirational for teammates and fans, and off-putting for opponents. You weren't comfortable when Jesus Tyrannosaurus was on the court with you, and his growth from energy guy and role player to starter and difference-maker on teams that won four NCAA Tournament games in two seasons was both unlikely and fun as hell to watch.
How does a player who averaged 7.4 points per game in his Missouri career and only wore the black and gold for two years make the Rafters nominations list? By staking his claim as potentially the most clutch Mizzou player of all-time. In just over thirteen months, Taylor made four game-winning shots for Mizzou. His junior season, he followed an underwhelming non-conference performance by beating Texas with a driving layup on a Wednesday, then beating Kansas with a perfectly executed pump fake and pull-up jumper the next Monday. A year later, his killer 3-pointer buried Kansas State to start conference play, and his coast-to-coast drive against Iowa State in Ames clinched a second straight NCAA Tourney bid for the Tigers. A long-armed defender and one of the most calm, in-control guards Mizzou has had in a long time (he and Tiller earned the "Hustle and Flow" nickname for a reason), Taylor's journey from Staten Island, to Delaware computer labs, to Mizzou lore is one of the great stories in Mizzou history, and fans will be talking about his game-winners for a very long time.