Today, we reach the halfway point of the 2011 Wall voting. One inductee will be selected from each of the below tiers.  For each tier, you will be given a list of nominees, and in the form below, you will rank your top three selections.  Your No. 1 selection will receive five points, your No. 2 selection three points, and your No. 3 selection one point.  Whoever gets the most points gets on The Wall.
Tier III: Pinkel era (2000s)

Tier IV: Pre-Faurot, 1970s

Tier V: 1980s-1990s
Tier VI: Administrators/Coaches/Personalities
Today we reach the group of players most of us have seen in person, the players who brought and maintained a high level of both pride and success to the Missouri Football program.  Every player on this list was brought to Mizzou by Gary Pinkel, every player thrived under Gary Pinkel, and soon, every player will be in the NFL.
Not going to lie ... I really enjoyed writing this one.
All photos via Bill Carter unless otherwise noted.
For three years, Danario Alexander just offered small tastes of what he could do.  In 2006, he showed major breakaway speed against Nebraska and in the Sun Bowl (and, perhaps most of all, when he sprinted by Aqib Talib in forming an unnecessary convoy for Jared Perry during Perry's touchdown against Kansas).  In 2007, he looked great against Illinois, then broke his hand.  Then he looked great against Nebraska and All-World against Kansas ... then tore his ACL.  After multiple surgeries, he returned in 2008 and, while still running a bit gingerly, he proved himself a decent red zone threat.
Then 2009 happened.  Mizzou fans entered 2009 wondering if the Tigers had a No. 1 receiver on the roster ... and all Alexander did was put together the best season a Mizzou receiver has ever had.  A career mark of 113 catches, 1,781 yards and 14 touchdowns is pretty good ... and Danario did that in less than four months.  In the month of November alone, he had 49 catches for 820 yards and six touchdowns, better than Mizzou's second-leading receiver had for the entire season.  Watching him put together what should have been a Biletnikoff Award-winning season was one of the more gratifying experiences this Mizzou fan has ever experienced.  Despite the multitude of injuries, Danario ended his career with 191 catches, 2,778 yards and 22 touchdowns.  In his first NFL game following another series of injury issues, he caught a long touchdown pass from Sam Bradford.
Blaine Gabbert makes the candidates list as much because of what he represented as what he accomplished on the field.  Gabbert came to Mizzou because, quite simply, they were thriving and Nebraska was not.  An early commit to family friend Bill Callahan and Nebraska, Gabbert was destined to run Callahan's West Coast Offense.  He was the golden boy, the five-star stud from Parkway West, and he was prepared to leave his home state.  But then he didn't.  As Nebraska faltered and Mizzou surged, Gabbert reconsidered his commitment and eventually signed with Mizzou, bringing tackle Dan Hoch with him.  Without Chase Daniel and Missouri's 2007 success, there is no Blaine Gabbert.  And without Gabbert, there is perhaps no next level of success.
With Chase Daniel and Chase Patton graduating and Blaine Dalton getting kicked off the team, Gabbert was, for a little while, the only quarterback on Missouri's roster in 2009 who a) was brought to Mizzou on scholarship and b) wasn't an overwhelmed true freshman.  When he suffered a severely sprained ankle at the hands of Ndamukong Suh, he played through it, for better or worse.  He may have had the prototypical five-star arm, but in his two years, he showed a high level of toughness and the bluest of blue-collar work ethics.  He shunned stats for wins, and those wins came more frequently in 2010.  With nearly flawless performances against both Texas A&M and Oklahoma, Gabbert helped undefeated Missouri move to sixth in the BCS standings nearing the end of October.  The Tigers briefly faltered, then rebounded for their third ten-win season in four years.  Without Gabbert, Mizzou quite possibly falters back to a mid-decade (or worse) level.  With him, they continued their ascent.
Ziggy Hood
Perhaps even more than Sean Weatherspoon, Hood was the perfect example of the Missouri staff's propensity for uncovering diamonds in the rough.  He started out as a two-star, 230-pound defensive end for Amarillo Palo Duro High School, unnoticed by recruiting services.  He committed to Missouri and received a third star when film began to leak; four years and about 60 pounds later, Hood proved himself almost as valuable as anybody else from the sterling 2005 recruiting class that saved Gary Pinkel's program.
Hood proved that stats aren't everything when it comes to defensive tackles.  He never blew up the box score, but Missouri's defensive line performance improved virtually every play he was on the field.  And as much as Missouri missed offensive players like Daniel, Jeremy Maclin and Chase Coffman ... as much as they may have briefly struggled under a new defensive coordinator ... perhaps the most underrated loss from 2008 to 2009 was that of Mr. Hood.  Though they rebounded in 2010, Missouri's defense took a significant tumble in 2009, significantly missing their anchor in the middle.  That anchor now plays for the Pittsburgh Steelers; a first-round pick in 2009, Hood has improved incrementally in Pittsburgh, just like he did in Columbia.
William Moore

Image via The Trib
There are few more rewarding fan experiences than watching a guy put it all together.  When he does it at the most perfect time imaginable, it's even better.  From the first time he stepped onto the field, William Moore showed loads of potential and play-making ability.  Without his pick six, Chase Daniel's late-game heroics against Iowa State in 2005 don't matter.  Without another pick six, Mizzou's 2006 win in Lubbock gets a lot tighter.  But for every amazing play, there was a breakdown.  Even at the beginning of 2007, he was still trying to figure out how to harness what was rather incredible athletic ability.
But then Pig Brown went down.  And with Mizzou needing him to step up, all William Moore did was become the best safety in college football.  There he was, sacking big Josh Freeman with one arm.  There he was, sacking and picking off Cody Hawkins.  There he was, picking off Stephen McGee.  There he was, in the biggest game in Missouri history, picking off Todd Reesing at Arrowhead.  There he was, in the Cotton Bowl, stripping Felix Jones, then capping off the game with yet another pick six.  Moore fought through injuries in 2008 and did not succeed at quite the same level, but perfection never lasts.  In Mizzou's best season of the last 50 years, Moore was their best defensive player.  And now he's an Atlanta Falcon.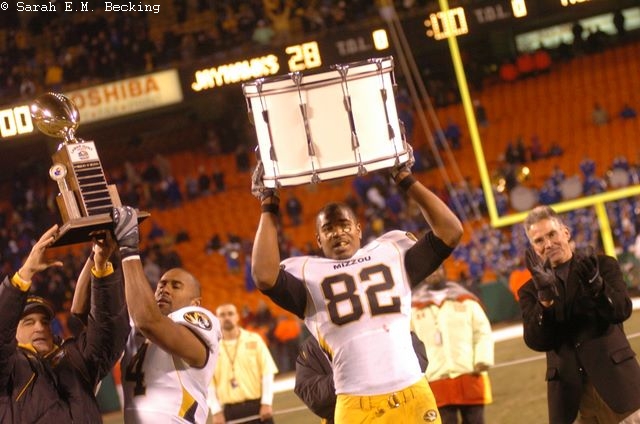 Image via Sarah Becking
Martin Rucker is a Husker legacy.  His brother, Mike, was an All-American in Lincoln, and most Nebraska fans assumed they'd end up with Mike's baby brother.  But 'T' decided to create his own legacy.

At Missouri, Rucker was a leader in every possible connotation of the word.  He led both on and off the field.  In 2007, if the team needed someone to make a catch, he made it.  If the team needed a big block, he made it.  If the team needed a runner to carry four defenders for a first down, he did it.  After hearing from the NFL draft committee that he needed to improve his toughness during his senior season, Rucker quite simply became one of the toughest runners in recent Missouri history.  He found it a personal offense when only one guy tried to tackle him.
Never mind that Martin Rucker was an All-American tight end, and never mind that he left Mizzou with over 2,100 career receiving yards and 18 TDs. No player has ever led by example more than he did in his four years in Columbia.  He overtook a strong incumbent tight end to start from Day One.  He yelled and screamed on the sidelines at the 2005 Independence Bowl and told anybody who would listen that Mizzou was going to come back and win (and they did).  He turned his biggest weakness into his biggest strength for his senior year.  He made the Missouri Tigers his team, and he was one of the biggest individual reasons why Mizzou won more games in 2007 than in any other year in their history.
Every March and August, fans of a college football team hear buzz about some new guy who is just terrorizing the scout team, a surefire all-star who is guaranteed to start from Day One and leave early for the pros.  Almost every single player who receives this unfair level of hype, fails to live up to it.  Almost every player is not Aldon Smith.
The hype train for Smith began over a year before he saw the field.  During fall practices for the 2008 season, beat writers and coaches could not stop raving about the potential Smith was showing; the only thing that could prevent him from playing as a true freshman was the NCAA clearinghouse, which took as long as possible to designate him as eligible and fully qualified.  They took long enough that, when he was eventually cleared, the staff decided it was too close to the season, and he had missed too much time, and they redshirted him.  Joe Ganz, Robert Griffin, Josh Freeman and Sam Bradford, quarterbacks who never had the pleasure of going against Mr. Smith because of the redshirt, should all write the clearinghouse a lovely thank you note.  Smith's career was a supernova blast of just 23 games, 29 tackles for loss, endless personality, and countless highlights.  And now he's off to the pros.
Sean Weatherspoon

Look up "Vocal Leader" in the dictionary, and you'll find a picture of Sean Weatherspoon, probably with his mouth open.  A three-year starter with enough personality for an entire linebacking corps, Sean Weatherspoon was fast, dominant, and incredibly likable.  After special teams and scrub duty on the 2006 team, 'Spoon stepped into a starting role in 2007 and became one of the faces of Mizzou's best defenses in 20 years.  His four seasons in a Mizzou uniform saw him rack up 396 tackles and 43.5 tackles for loss, plus a multitude of third-down stops, interceptions, and forced fumbles.
His punishing hits and the "SPOOOOOOOOOON" response they earned from the crowd will always be remembered. Under Gary Pinkel, Missouri has possessed an uncanny ability to develop not only stars, but good people with bright, enjoyable personalities, who represent Mizzou with total class off the field.  It is one thing to win with what seem like hired guns, guys who don't really let you get to know them and are just there to put together a good NFL Draft highlight film.  It's another to do so with guys who love their university and love giving their fans a chance to get to know them.  The culture Pinkel has created here is both wonderful and easy to take for granted, and SPOOOOOOOON did more to develop and refine that culture than any other Tiger.