Yesterday, we took a look at how Missouri's draft losses have impacted the Tigers' offense through the years. Now it's time to do the same for the defense.
2006
Points: no draft points lost
Rankings Change: from 68th to 38th in Def. S&P+
Mizzou's 2005 defense wasn't horrendous, but it needed some experience. In 2006, seven starters returned, including a ferocious Brian Smith. His hip injury versus Kansas State set Mizzou's D back quite a few notches.
2007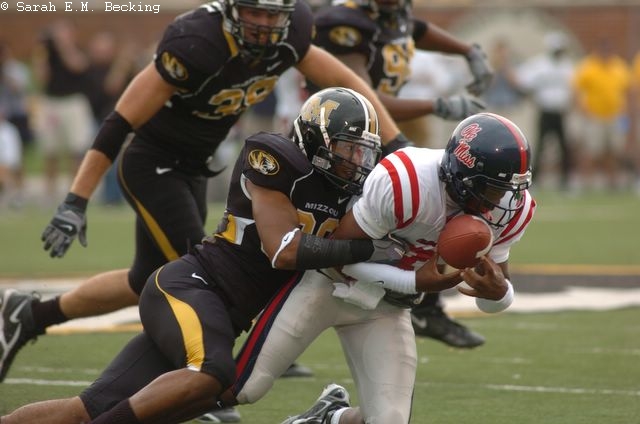 Photo via Sarah Becking
LB Brian Smith (Fourth Round)
Points: 7.5 points lost
Rankings Change: from 38th to 34th in Def. S&P+
In replacing only one draft pick, and one who had already missed half of the previous season no less, Mizzou was able to take another step forward in 2007 despite only five starters returning overall. The secondary was Mizzou's best in a while, thanks to huge progress from both Pig Brown and William Moore (and the underappreciated play of true freshman Carl Gettis), and Mizzou was very much able to account for Smith's departure.
2008
Points: no draft points lost
Rankings Change: from 42nd to 63rd in Def. F/+
Draft points only mean so much, huh? Mizzou lost nobody to the draft and returned eight starters, which was one of many reasons why we expected Mizzou to once again become a national title contender in 2008. Alas, it was not meant to be. The pass defense fell apart with William Moore getting hurt, Gettis falling into a sophomore slump, and a rotating cast of characters struggling in the other safety spot, and the run defense wasn't good enough to make up the difference despite quite a bit of NFL talent.
2009
Photo via Bill Carter
DT Ziggy Hood (1st)
S William Moore (2nd)
DE Stryker Sulak (6th)
Points: 25 points lost
Rankings Change: from 63rd to 71st in Def. F/+
With just Sean Weatherspoon anchoring the 2009 defense and only four returning starters, Mizzou's defense regressed a bit more in Dave Steckel's first year in charge, but perhaps not as much as some might have thought. That was to be expected.
2010
Photo via Bill Carter
LB Sean Weatherspoon (1st)
Points: 12 points lost
Rankings Change: from 71st to 14th in Def. F/+
It is impossible to overstate just how much deeper Mizzou's defense was in 2010. Despite losing Sean Weatherspoon and four other starters, the pieces came together beautifully for an experienced unit. That it was Steckel's second year in charge probably didn't hurt. Still, there is almost no correlation here between points lost and quality.
2011
Photo via Bill Carter
DE Aldon Smith (Top 10)
LB Andrew Gachkar (Seventh Round)
Points: 15.5 points lost
Rankings Change: from 14th to 49th in Def. F/+
Okay, so there's a little bit of correlation. Mizzou lost two draft picks (and three other starters) in 2011 and regressed, though that had as much to do with turnover in the secondary and, perhaps as or more important, a string of injuries.
2012
Points: no draft points lost
Rankings Change: ?
For the third time in this sample, Mizzou had zero defensive players drafted. The last two times this happened, Mizzou improved by 30 spots (in 2006) and regressed by 21 (in 2008). So not only are we dealing with a small sample size here, but we're dealing with a confusing one as well.
Mizzou must replace just four starters in 2012, none of whom were drafted. Still, the departures have thinned out Mizzou's experience at defensive tackle and taken away Mizzou's only truly proven safety. The way Steckel and company handle those losses will determine the Tigers' fate in 2012, whether Dominique Hamilton, Terrell Resonno and Kenji Jackson were drafted or not.
Mizzou's defense has surged in both directions in recent years (from 68th to 38th in 2006, from 42nd to 63rd in 2008, from 71st to 14th in 2010). The draft has had very little impact on any of that.