The summer is in its home stretch, and with football on the brain again, let's induct some Mizzou greats onto the 2012 Wall Of Excellence class!
Class of 2009: Paul Christman, Chase Coffman, Chase Daniel, Don Faurot, Justin Gage, Brad Smith, Kellen Winslow
Class of 2010: Dan Devine, Jeremy Maclin, Justin Smith, Bob Steuber, Roger Wehrli, James Wilder
Class of 2011: Phil Bradley, Harry Ice, Corby Jones, John Kadlec, Johnny Roland, Sean Weatherspoon
We're going to do things differently this time around. Instead of focusing on eras, we're going to look at position groupings. Thus far we've inducted six quarterbacks, three running backs, four receivers/tight ends, and only three players from other positions. Let's spread the love a bit.
We are selecting inductees from the following five groupings:
Group 2: The Forward Pass (receivers, tight ends, defensive backs)
Group 3: The Offensive Line
Group 4: Defensive Line And Linebackers
Group 5: Administrators
After the jump, we start the voting for Group 2. Good luck figuring out how to give away just three votes.
For three years, Danario Alexander just offered small tastes of what he could do. In 2006, he showed major breakaway speed against Nebraska and in the Sun Bowl (and, perhaps most of all, when he sprinted by Aqib Talib in forming an unnecessary convoy for Jared Perry during Perry's touchdown against Kansas). In 2007, he looked great against Illinois, then broke his hand. Then he looked great against Nebraska and All-World against Kansas ... then tore his ACL. After multiple surgeries, he returned in 2008 and, while still running a bit gingerly, he proved himself a decent red zone threat.
Then 2009 happened. Mizzou fans entered 2009 wondering if the Tigers had a No. 1 receiver on the roster ... and all Alexander did was put together the best season a Mizzou receiver has ever had. A career mark of 113 catches, 1,781 yards and 14 touchdowns is pretty good ... and Danario did that in under four months. In the month of November alone, he had 49 catches for 820 yards and six touchdowns, better than Mizzou's second-leading receiver had for the entire season. Watching him put together what should have been a Biletnikoff Award-winning season was one of the more gratifying experiences this Mizzou fan has ever experienced. Despite the multitude of injuries, Danario ended his career with 191 catches, 2,778 yards and 22 touchdowns. In his first NFL game, following another series of injury issues, he caught a long touchdown pass from Sam Bradford.
Harold Burnine (1950s)
He was to football in the mid-1950s what Norm Stewart was to basketball. They were both All-Americans, and while Mizzou wasn't great in his time (5-14-1 in 1954-55), he was.
Hall of Fame Bio: An all-America receiver for Coach Don Faurot in 1955, when he led the nation in receiving with 44 receptions for 594 yards. He led the conference in receiving in 1954 as well. The native of Richmond, Mo., was also all-Big Seven that year, and played in four all-star games - the Blue-Gray, North-South, Senior Bowl and College All-Star game. For his three-year MU career, Burnine caught 75 passes for 1,145 yards, figures that kept him in the Tiger top-ten until the recent passing accomplishments under Coach Bob Stull. He played professionally with the New York Giants and Philadelphia Eagles.
Mel Gray
An absolute burner, Gray was the perfect complement to the big, physical Mizzou style. The Tigers could rough you up on the inside, then Gray could burn you over the top.
Hall of Fame Bio: Came to Missouri from Santa Rosa, Calif., as MU's first "speed merchant," lettering in football and track from 1968-70. Was all-Big Eight in 1969, when he caught 25 passes for 705 yards and a school-record nine TDs. Held the school record for career receiving yardage - 1,491 -for 20 years, and still holds the MU career record for receiving TDs (14). He was chosen to MU's all-century team in 1990. Gray was drafted by the St. Louis Cardinals, and was an all-pro receiver during a career that lasted from 1971-82. In track, Gray was an all-American once indoors and twice outdoors. Was a Grand Slam winner in the 100-meter dash in '70, taking titles at the Texas, Kansas, and Drake Relays. He was a five time Big Eight Conference sprint champion, winning the indoor 60-yard dash (1970), and the 100 and 220-yard dashes outdoors in 1969 and '70. He is the co-holder of the MU records in all three races, with respective times of 6.0 seconds, 9.3 seconds and 20.4 seconds.
Henry Marshall (1970s)
A great, and somewhat forgotten, Tiger, Marshall put up 21st-century receiving yards in the mid-1970s, broke the Chiefs' all-time receiving records in the pros ... and yet, I always hear more people talking about Leo Lewis. Marshall was big, fast and fantastic.
Hall of Fame Bio: One of Mizzou's greatest receivers, Henry Marshall was an all-Big Eight and all-America choice in 1975, when he caught 44 passes for 945 yards and nine touchdowns. A native of Salina, Kan., he was a tight end when he lettered as a freshman in 1972, but moved to wideout whiled lettering in 1974 and '75. HE played in the Blue-Gray game, Hula Bowl and Coaches All-America Game following his senior year, then was drafted by the Kansas City Chiefs, for whom he played from 1976-87, and in the process, unseated Otis Taylor as Kansas City's all-time receiver. He held the MU records for receiving yards in a game (207) and season (945) for 15 years, before both were broken in 1990 by Linzy Collins. Marshall was a first-team choice on the Missouri All-Century Football Team, and lives in Kansas City.
Erik McMillan
A DE-turned-safety who wore #96 and seemingly scored on a pick six in every game. He was unique to say the least; not only was he Mizzou's best defensive player on some awful teams, but with his pick sixes, he may have been their best offensive player too.
Hall of Fame Bio: A Silver Spring, Md., native who came to Mizzou as a defensive end, but left as one of the top defensive backs in school history ... An honorable mention All-American and first-team All-Big Eight pick in 1987 who had five pass interceptions for 119 yards in returns ... Tied an NCAA season record by returning three of his interceptions for touchdowns that year ... Ended his Tiger career with 323 tackles, which ranks 7th on the school career list ... Is also ranked 6th on the MU career sacks list, with 12 ... Was voted to the MU All-Century Team in 1990 ... Closed his collegiate career by playing in the Blue-Gray Game, the East-West Shrine Game and the Senior Bowl ... Was drafted by the NFL's New York Jets, and went on to earn the NFL's Defensive Rookie of the Year Award in 1988 ... Was a two-time Pro Bowl pick (1988-89), and later played with the Philadelphia Eagles, Cleveland Browns, Kansas City Chiefs and Denver Broncos ... His father, Ernie McMillan, is a member of the Pro Football Hall of Fame ... Currently resides in Fayetteville, Ga., where he is a financial planner and is active in charity work.
William Moore
There are few more rewarding fan experiences than watching a guy put it all together. When he does it at the most perfect time imaginable, it's even better. From the first time he stepped onto the field, William Moore showed loads of potential and play-making ability. Without his pick six, Chase Daniel's late-game heroics against Iowa State in 2005 don't matter. Without another pick six, Mizzou's 2006 win in Lubbock gets a lot tighter. But for every amazing play, there was a breakdown. Even at the beginning of 2007, he was still trying to figure out how to harness what was rather incredible athletic ability.
But then Pig Brown went down. And with Mizzou needing him to step up, all William Moore did was become the best safety in college football. There he was, sacking big Josh Freeman of Kansas State with one arm. There he was, sacking and picking off Colorado's Cody Hawkins. There he was, picking off Texas A&M's Stephen McGee. There he was, in the biggest game in Missouri history, picking off Kansas' Todd Reesing at Arrowhead. There he was, in the Cotton Bowl, stripping Arkansas' Felix Jones, then capping off the game with yet another pick six. Moore fought through injuries in 2008 and did not succeed at quite the same level, but perfection never lasts. In Mizzou's best season of the last 50 years, Moore was its best defensive player. And now he's an Atlanta Falcon.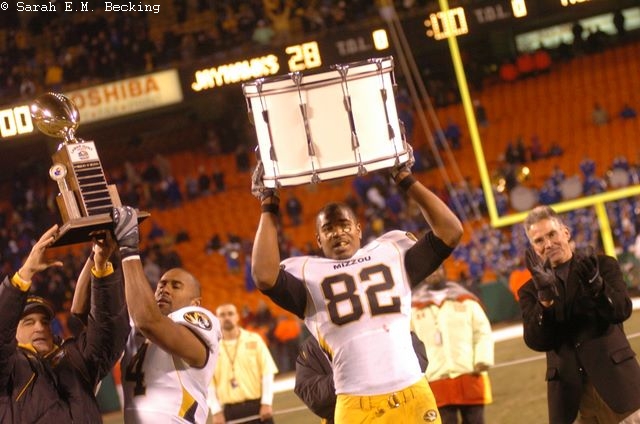 Image via Sarah Becking
Martin Rucker is a Husker legacy. His brother, Mike, was an All-American in Lincoln, and most Nebraska fans assumed they'd end up with Mike's baby brother. But 'T' decided to create his own legacy.

At Missouri, Rucker was a leader in every possible connotation of the word. He led both on and off the field. In 2007, if the team needed someone to make a catch, he made it. If the team needed a big block, he made it. If the team needed a runner to carry four defenders for a first down, he carried five. After hearing from the NFL draft committee that he needed to improve his toughness during his senior season, Rucker quite simply became one of the toughest runners in recent Missouri history. He found it a personal offense when only one guy tried to bring him down.
Never mind that Martin Rucker was an All-American tight end, and never mind that he left Mizzou with over 2,100 career receiving yards and 18 TDs. No player has ever led by example more than he did in his four years in Columbia. He overtook a strong incumbent tight end to start from Day One. He yelled and screamed on the sidelines at the 2005 Independence Bowl and told anybody who would listen that Mizzou was going to come back and win (and they did). He turned his biggest weakness into his biggest strength for his senior year. He made the Missouri Tigers his team, and he was one of the biggest individual reasons why Mizzou won more games in 2007 than in any other year in their history.