What's On
Penton suspended
Aarion Penton suspended "indefinitely" after misdemeanor marijuana citation - Rock M Nation
Sophomore cornerback Aarion Penton is suspended from the Missouri football team after a Thursday night marijuana citation
EJ Gaines
EJ Gaines is the real deal. #Rams #STLvsAZ https://t.co/n3FAXFtRuN

— Daniel Doelling (@Daniel_Doelling) November 9, 2014
Drew Lock and recruiting
Mizzou's future QB has plenty of hype : Dave Matter
"Drew Lock is an NFL prospect the day he steps on campus," Dilfer said. "Drew doesn't need to hear that from me. He doesn't need that extra pressure. But there's a handful of guys who when they go to school their freshman year I know for a fact (NFL general managers) are tracking them. There's a lot that has to happen, but he's one of those guys."
Trent Dilfer on Drew Lock: 'He's super cool' : Dave Matter
Q: What did you think of Drew during your time with him this summer?

A: He's one of my 10 favorite kids I've ever worked with. He's just a tremendous young man. He has that presence to him that's more important than his talent. He's a leader of men and he's going to have tremendous influence not just on the football field but in life. … He's a guy that has a really good chance to develop into a big-time pro prospect if developed properly at Mizzou.
Even as recruiting priorities change, MU wants to keep a foothold in Texas - David Morrison
"Missouri's brand in our state, especially amongst the out-of-state schools coming in, I think it's just as strong as ever," said Dodge, who sent quarterback Chase Daniel to Missouri in 2005. "If Gary Pinkel and his staff step into your school, they've set the tone in their latter years in the Big 12 and, obviously, the Southeastern Conference is going to continue to gain interest in players who are possibly looking to go outside the state or maybe didn't get the in-state offer they were looking for."
MU recruiting in Texas - David Morrison
Here's a rundown of Missouri's activity in Texas from 2002 through the 2015 class. The number of offers are according to Rivals.com's database.
Energized MU football coach Gary Pinkel has Tigers surging anew after 2012 lull | The Kansas City Star
Pinkel is fond of saying that nothing changes, or has changed, in the base or foundation of the program. It makes him sound obstinate or stubborn at times. There's a disconnect, though, between what he's saying and what that means.
Bowl Projections
Week 11 bowl projections for Missouri football - Columbia Missourian
ESPN's Brett McMurphy: Belk Bowl vs. Georgia Tech — Dec. 30 in Charlotte, North Carolina

ESPN's Mark Schlabach: Belk Bowl vs. Georgia Tech

CBSSports' Jerry Palm: Music City Bowl vs. Miami (FL) — Dec. 30 in Nashville, Tennessee

SBNation's Jason Kirk: Texas Bowl vs. Kansas State — Dec. 29 in Houston

Scout.com: Music City Bowl vs. Minnesota

Sporting News' Bill Bender: TaxSlayer Bowl vs. Minnesota — Jan. 2 in Jacksonville, Florida
Mizzou Hoops vs UMSL
Missouri 77, UMSL 54: Study Hall - Rock M Nation
Kim Anderson said after the game that he liked that his team struggled and had to work from behind. If this team had championship expectations, then there would be no positives whatsoever to draw from falling behind, 25-14, against UMSL. For a young, new, who-the-hell-knows-what-will-happen team, however, I'm inclined to agree with him. The Tigers were forced to figure out how to play with the proverbial blood in the mouth. They responded well.
Mizzou Hoops Wrap Up, Game -1: UMSL - Rock M Nation
There are going to be times, and quite possibly a lot of them, when this Mizzou teams looks great. There are also going to be times, and probably a lot of them, when this Mizzou teams looks pretty terrible. When the opponent is hitting open threes, they'll look even worse. It's important to keep in mind, as HHKB said during the podcast (if you haven't listened yet, check it out), this team is playing with house money this year. There aren't, or at least there shouldn't be any expectations for this season.
PowerMizzou.com - Slow start before easy win
"No turnovers," Shamburger said when asked what stood out about his performance. "I come over to the bench after the game ended and asked coach how many turnovers I ended up with. That's a big thing with me. I really don't care about if I miss shots, make shots. I want to get assists and no turnovers. I really don't like to turn the ball over. That really gets under my skin."
Mizzou men's basketball team thrashes UMSL after slow start - Columbia Missourian
"When Keith dove for that ball near the end of the first half," freshman Tramaine Isabell said, "I think that was the turning point in the game."
I've decided that "Shamburglar" is now a thing. You don't have to play along, but I made this in case you do:
Williams posts double-double in return vs. UMSL -Steve Walentik
His teammates got him the ball when they were playing from behind and struggling to score. He drew three fouls and made six straight free throws in the span of 48 seconds. Missouri, which trailed by as many as 11 points midway through the first half, leveled the score at 28 with 5:06 remaining. "We couldn't keep him off the line, and he goes 8 for 10 from the free-throw line," said Bob Sundvold, the former Norm Stewart assistant coach in his second season in charge at UMSL. "That was a real momentum-shifter. … On the offensive side, couldn't make a basket. We couldn't score, and then John's getting the free throws. That's huge."
Missouri basketball team is still learning - Columbia Missourian
Gill-Caesar put on a performance with a game high 19 points, three rebounds and an assist. Shamburger played an all-around complete game with 13 points, six assists, six rebounds, three steals and no turnovers. Clark contributed eight points and four assists.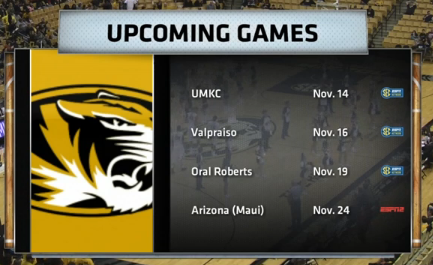 Clark could play a featured role in Tigers' offense - Steve Walentik
Wes Clark wasn't shy about looking for his shot in the Missouri basketball team's exhibition opener against William Jewell.
Misc
FROM THE WAYBACK MACHINE: John F. Kennedy in attendance as Missouri plays Navy in the 1961 Orange Bowl. pic.twitter.com/iU0p9zOgBH

— Mizzodcast Podcast (@Mizzodcast) November 8, 2014