What's On - Rock M Radio
Put it in your ears!
Scheduling 2015
Emailed forwarded by Mizzou from the Chiefs: Going to be a press conf. at Arrowhead tomorrow for a "major college football" announcement.

— Pete Scantlebury (@PeteScantlebury) November 13, 2014
Reading between the lines, tomorrow's announcement at 10:30 AM will be about a future game at Arrowhead between #Mizzou and some other team.

— Pete Scantlebury (@PeteScantlebury) November 13, 2014
Missouri has one opening on its schedule next year for Nov. 14. Seems kind of late to play a high-profile neutral-site nonconference game

— Dave Matter (@Dave_Matter) November 13, 2014
BYU coach Bronco Mendenhall talked earlier this fall about a possible 3-game series with Mizzou. Columbia, Provo and a game at Arrowhead

— Dave Matter (@Dave_Matter) November 13, 2014
Missouri & BYU both have open dates 10-31-15, same weekend Chiefs are playing Lions in London. MU hosts Miss St the following Thurs (11-5)

— Dave Matter (@Dave_Matter) November 13, 2014

Michael Sam

and Tigers in the League
Michael Sam Jr. doesn't talk to his father, who has been caricatured in the press as an anti-gay man who abandoned his family.
Mizzou @ Texas A&M
Must Reads
A&M's Sumlin lauds Mizzou defense : Dave Matter
• A&M counters with one of the country's best young pass rushers in freshman Myles Garrett, who's right behind Ray among SEC leaders with 11 sacks and 12.5 tackles for loss.

"He's been very disruptive," Pinkel said. "He's very very impressive for a young player. He's got a lot of ability. He's got great size. He reminds me of Aldon Smith, a first-round pick, a top-10 pick who played for us and now plays for the 49ers. That's a really huge compliment. Just a very good athlete who has great movement and presents a lot of problems. Other than that, it'll just be an easy chore. … Imagine what he's going to look like here in another year or two. He's a great young player and he certainly has everyone's attention on every play, which you have to have."
Shane Ray and Myles Garrett are the SEC sack leaders. Ray had 6 in non-con, 6 in 5 SEC games. 8 of Garrett's 11 have come in non-con games.

— Pete Scantlebury (@PeteScantlebury) November 12, 2014
Opposing view: A&M's freshman QB excels at game operation - Blake Toppmeyer
CHANGE OF PACE: Texas A&M led the SEC in points per game and yards per game in its first two seasons in the SEC under Sumlin. The Aggies still move at a quick pace and rank fourth in the SEC in scoring offense and total offense, but Sumlin said he's doing something this season he didn't do with quarterback Johnny Manziel at the controls. He's taking the tempo down a notch, at times.
Gary Pinkel on the SEC Teleconference: Week 12 - David Morrison
On if MU will miss coming to A&M after playing there 4 times in 5 years. No. Not at all. We've played our last couple there in the Big 12, then it seemed like we got in the SEC and we've had a few in a row here, too. It's a great place to play. It's a great, great environment. We're excited about playing in it. It's a rich tradition. I always look forward to it. They have great fans. It's a great college environment. I tell our players that, when you're playing in this league, you get a chance to play in some of the best venues ever. You've got to embrace it. What you always want to do is try and play your very, very best.
SEC Football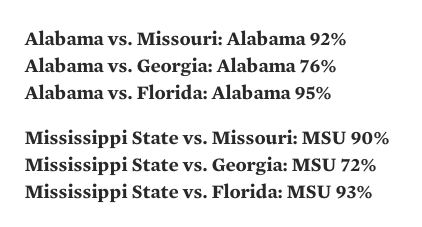 Updated SEC conference projections after 11 weeks - Football Study Hall
(And here's where I remind you that the F/+ ratings and win probabilities cull from the entire season, not just last week. Missouri is still given a 60% chance of beating A&M because A&M's near loss against ULM carries equal weight to the Aggies' win over Auburn. Adjust your own odds however you see fit.)
PowerMizzou.com - The SEC's Worst Nightmare
In my (poor) analogy, the Missouri Tigers are the Cleveland Indians. What they are in reality is the Southeastern Conference's potential worst nightmare.
Mizzou Hoops Signing Day
MUTIGERS.COM Mizzou Men's Basketball Signs Two to 2015 Class
"We are excited about the addition of Kevin and Cullen to our program," Anderson said. "Both come from outstanding high school and non-scholastic programs. Kevin has had the chance to play for Coach Jimmy Cain at Blue Springs South High School and L.J. Goolsby at KC Run GMC, while Cullen played for his father John at Pacific High School and Scott Schroepfer's St. Louis Gateway program.
Mizzou basketball teams sign recruits : Dave Matter
As expected, the men's team signed two in-state players: forward Kevin Puryear (Blue Springs South High School) and guard Cullen VanLeer (Pacific High School). Both verbally committed to the Tigers earlier this fall.
Puryear, VanLeer ink letters of intent - Steve Walentik
"Kevin is a versatile, combo forward who brings a great blue collar, tough mentality that fits the culture we are trying to create here at Mizzou," Anderson said in the statement. "He can shoot it from the perimeter or go inside and mix it up. He takes great pride in being a Missouri Tiger."
Talking about the Tigers
SEC Basketball Preview - Garnet And Black Attack
Johnathan Williams is one of the few constants on a Missouri team that replaced just about everybody from an underachieving squad last year.  Tyrone Johnson has the chance to be one of the surprises of the season, given he's a senior that's only played 2.5 conference games in his career in the SEC.  Jarell Martin helps a strong LSU front line, while Armani Moore may be one of the most underrated players in the league this season.
Welcome to the Show: Breakout Freshmen in the Former SEC East " Rush The Court
Missouri: Montaque Gill-Caesar. Gill-Caesar has already slid into a starting spot on the wing and his NCAA-ready offensive game should help him retain that position throughout his Tigers career. The 6'6″ Canadian is also a long and strong defender who should give head coach Kim Anderson a versatile weapon in his first year guiding Mizzou. Gill-Caesar's long-range shooting has been rusty this preseason, but a big performance against Missouri-Saint Louis showcased his ability to get to the rim and score efficiently (19 points, 6-of-7 FG on shots inside the three-point line).
Other Notable HoopLinks
Aggie Basketball signs the best recruiting class in program history - Good Bull Hunting
Today is the start of the early signing period for high school seniors to sign their National Letter of Intent, and some Aggie Hoops recruits jumped on board on Day 1.
Missouri women's basketball team lands three standout recruits | Tod Palmer
The Tigers signed Bruins guard Sophie Cunningham, who is the reigning Missouri Class 5 player of the year and Missouri Gatorade player of the year, along with Rock Bridge forward Cierra Porter and 6-foot-2 forward Hanna Schuchts from the Maclay School in Tallahassee, Fla.
Tremendous Recruiting Class
MUTIGERS.COM Mizzou Softball Signs Five for 2015
COLUMBIA, Mo. - Mizzou Softball head coach Ehren Earleywine announced today that five future student-athletes have signed National Letters of Intent to play for the program in 2015. The Tigers will welcome Danielle Baumgartner (Mexico, Mo.), Jolie Duffner (Jefferson City, Mo.), Regan Nash (Camden Point, Mo.), Rylee Pierce (Visalia, Calif.) and Kolby Romaine (Chino Hills, Calif.) to their roster next season.