What's On
Woof, there's a lot today so I've broken it up into separate posts, little later will be the SEC Media days stuff
Session I: 10 a.m.-1 p.m.
Georgia head coach Mark Richt
Georgia wide receiver 

Chris Conley

Georgia running back Todd Gurley
Georgia linebacker 

Ramik Wilson

Ole Miss head coach Hugh Freeze
Ole Miss defensive end 

C.J. Johnson

Ole Miss safety 

Cody Prewitt

Ole Miss quarterback 

Bo Wallace
Session II: 1-4 p.m.
Alabama head coach Nick Saban
Alabama safety

Landon Collins

Alabama wide receiver

Amari Cooper

Alabama wide receiver 

Christion Jones

Kentucky head coach Mark Stoops
Kentucky defensive end Bud Dupree
Kentucky offensive tackle

Jordan Swindle

Kentucky defensive end

Za'Darius Smith
2014 Mizzou Football Season Ticket Commercial - YouTube
Football
Mizzou's Mauk on Manziel: 'He's greatest to play college game' - Sports Update
It's easy to see why Mauk, like Manziel a dual threat in throwing and running, considers Manziel a role model (perhaps on and off the field).
Quarterback Maty Mauk has developed into new leader for Mizzou | The Kansas City Star
"I wasn't expecting to go in, so my helmet had no air in it," Mauk told Boehm. "I got hit and my helmet popped off. I had to pull it down or the play's dead and another quarterback would have to come in."
Mauk asked about offense changing post-DGB: "Nothing will change at all. ... There will be no drop-off at all."

— Dave Matter (@Dave_Matter) July 16, 2014
SEC Media Days: Mauk looks the part – The Maneater
"I keep looking down and feel like I'm missing a tie," Missouri's sophomore quarterback said of his neckwear choice as he charmed the media.
SEC MEDIA DAYS: Mauk wouldn't mind being next Manziel - Columbia Daily Tribune | Columbia Missouri: Behind The Stripes
"His leadership is very non‑threatening," Pinkel said. "He's got a great work ethic. He's a winner. Players know it. He's a remarkable competitor. We're very fortunate to have a young player like him. That's why he did so well last year when we threw him in there as a freshman.
Missouri Tigers quarterback Maty Mauk loses 8-9 pounds from viral infection - ESPN
Missouri quarterback Maty Mauk will enter fall camp a little lighter than expected.
This story was notable for two reasons. One, on publication, this was the image they had in the story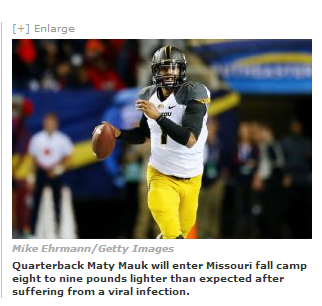 And two, Maty Mauk's immediate rebuttal:
I'm not sick FYI

— Maty Mauk © (@MIZ_MAUK7_ZOU) July 16, 2014
Missouri QB Maty Mauk compares self to Johnny Manziel - NFL.com
"I feel like I have the ability to do similar things, and that's what people are expecting of me back in Columbia (Mo.)," Mauk said Wednesday at SEC Media Days.
.@MIZ_MAUK7_ZOU: "I'm not Maty Football. I'm Maty Mauk. I'll make my own name."

— Mihir Bhagat (@MihirBhagat) July 16, 2014
Mauk asked about comparisons to Manziel. "I'm not Maty Football. I'm Maty Mauk."

— Dave Matter (@Dave_Matter) July 16, 2014
New offensive line coach A.J. Ricker's background a plus for Tigers | The Kansas City Star
Speaking to reporters Wednesday at SEC Media Days, junior center Evan Boehm said he's thrilled with the hire of Ricker, who was an All-Big 12 center as a senior at Missouri.
Mizzou Throwback: 2003 O-Line Dinner - YouTube
Current Mizzou Offensive Line Coach A.J. Ricker organizes the weekly o-line dinners back in 2003 when he was a Senior
Mizzou was an SEC leader -- not an outlier -- all along - CBSSports.com
"What we have in front of us is tangible evidence of football players in the Southeastern Conference respecting a man for his ability as a person and as a football player," Slive told CBSSports.com. "We can't ask for more than that from young people."
Basketball
Lakers Player Report: Jordan Clarkson
Defensively, Clarkson remains a work in progress. Averaging 3.8 rebounds a game in '13-'14, his size and presence allowed him to grab the occasional board in college despite little effort. However, a lapse attitude towards guarding your man will not be acceptable at the highest level of professional basketball; his mindset towards defence needs to change.
Clarkson making statement at summer league : Lakers Blog: Orange County Register
"The thing about Jordan Clarkson is he's always in the right place at the right time," Lakers summer league coach Mark Madsen said. "You saw that on the tip in with .5 seconds left. He was there, he tipped it in. It was a soft, soft-touch tip-in and that got us the win."
One on One: Tramaine Isabell Summer Interview - YouTube
Recruiting Update
Mizzou coach @rfulford now watching @ctj_curt, Karim Ezziddine and @ThonMaker14 at @ny2lasportsSummer Jam.

— Brian Austin (@btaustin) July 17, 2014
July is recruiting season for Anderson - Columbia Daily Tribune | Columbia Missouri: MU Basketball
Fuller said Anderson has brought a greater level of organization to the process identifying prospects to target than existed under Haith, calling for visuals and making lists. As coaches mapped out the month of July and made travel plans, they gathered and prioritized their list of potential targets, so they could figure out where they needed to have a presence in the stands.




Fuller hasn't had to assume as much of the recruiting workload as in the past two or three years because fellow assistants Brad Loos and Fulford, though he's only been at his post a few weeks, have been more involved. Loos, who followed Anderson from Central Missouri, has taken the lead recruiting in-state prospects, while the Tigers are hoping to take advantage of Fulford's contacts and connections with some of the nation's top-ranked players, many of whom he was recruiting at Huntington Prep.
Recruiting Notebook: Thomas Bryant sets visits - CBSSports.com
North Carolina and West Virginia are in pursuit of the No. 22-ranked player in the 247Sports Composite, but Bryant has four official visits set right now: Syracuse, Ohio State, Kansas and Missouri.
Michael "Baby Durant" Porter Meeting the Hype in July | ZagsBlog.com
The 2017 Columbia (MO) small forward, though, has one glaring problem: Very few players his age can match him.
Now's probably a cool time to remind everyone that the "Baby Durant" referenced above - Michael Porter from Columbia, MO - is son of Michael Porter on the Mizzou Women's Basketball team
MUTIGERS.COM Michael Porter Bio - Official Athletic Site Official Athletic Site - Women's Basketball
After three seasons serving as the program's Director of Operations, Michael Porter was promoted to Assistant Coach by head coach Robin Pingeton following the 2012-13 season. Now entering his second season as an assistant, Porter is valued for his fresh perspective and his philosophy that the game of basketball can be used to teach life truths that lead to success both on the court and in life--a philosophy that builds upon the foundation that Coach Pingeton laid in her first years.
Memphis Tigers hire Keelon Lawson as assistant coach - ESPN
Memphis coach Josh Pastner hired high school coach Keelon Lawson -- who is also the father of three elite recruits -- as an assistant on his staff Wednesday.
This guy is so incredibly wrong...
If I ruled college hoops this is how I'd change rules - ESPN
My rules, right? Well, let's end all the chatter about a 35-second shot clock and let's make this thing eternal. The 35 second clock will remain ... forever. I get the arguments for less time. Speed kills. But there's no evidence that a shorter shot clock will create better basketball. And I think it would also minimize some of the offensive diversity we have in the sport. You can't run with Kentucky. But perhaps you can slow the game down and wear the Wildcats out in a low-possession matchup that chomps on every second that the shot clock allows. If the goal is to win the game, we shouldn't place any limits on teams by decreasing the shot clock.
Olympic Mizzou
MUTIGERS.COM Jason Carreras Joins Mizzou Soccer Staff as Volunteer Assistant Coach - Official Athletic Site Official Athletic Site - Women's Soccer
MU Olympic sports VIT countdown: No. 7 Sam Tierney - Columbia Daily Tribune | Columbia Missouri: Tiger Tidings
2013-14 review: Tierney earned two first-team and two honorable mention All-American honors at the 2014 NCAA Championships. His best finish was a fifth-place result in the 100-yard breaststroke in 52.07 seconds. He also finished eighth in the 200 breaststroke, and he swam a leg of MU's ninth-place 200 individual medley relay and 12th-place 400 medley relay.
MUTIGERS.COM Tigers Summer Update: Clark Prepares For Final Season At Mizzou - Official Athletic Site Official Athletic Site - Women's Tennis
In the first edition of the Mizzou tennis "Summer Update", we sat down with senior Alex Clark. Entering the 2014-15 season, Clark is set to be the lone senior on the Tigers roster. Last year, Clark played at the No. 4, 5 and 6 singles slot throughout the season, while also competing in doubles play with Cassidy Spearman, Madison Rhyner and Tracy Dong.
Misc
Statistically Speaking: Homefield Advantage and Overtime
According to a study, located here, homefield advantage dissipates over time. No, this doesn't mean that the Boston Red Sox and Chicago Cubs should move out of their 100 year old stadiums if they want to win more home games. It means that homefield advantage is strongest earlier in games. In other words, the home team benefits the most from homefield advantage (increased adrenaline, benefit of calls, increased nervousness for their opponent, disruptive crowd noise, and a host of other dynamics that may or may not be contributing factors) early in games and as time elapses, the homefield advantage lessens.
Exclusive "Weird Al" Yankovic Music Video: FOIL (Parody of "Royals" by Lorde) - YouTube