By now you've probably seen that Mizzou has released it's Depth Chart for South Dakota State and undoubtedly you've read Bill C's post summarizing what can discern from it.
I've never been happy with how teams publish depth charts.
They end up just being long lists.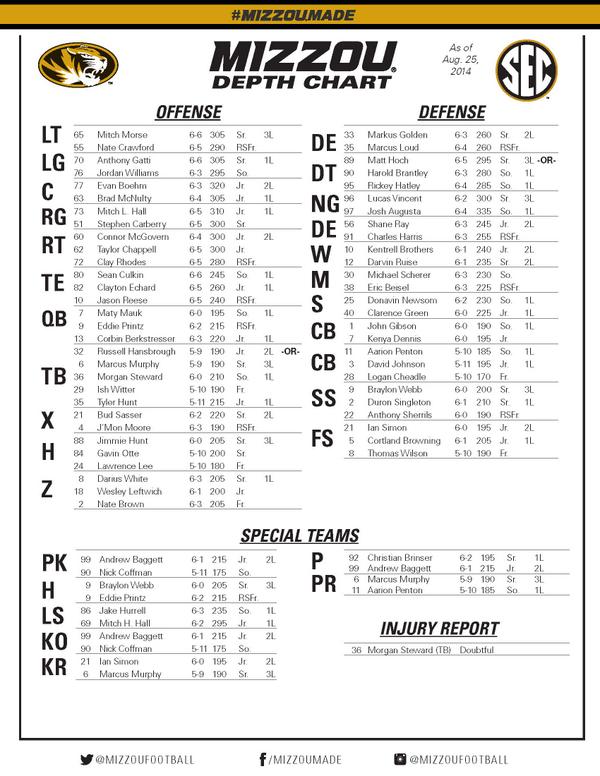 Wherein I offer thoughts and predictions about the depth chart for Saturday's game.
Offense
QB

Maty Mauk

(6'0, 195, So.)

Eddie Printz

(6'2, 215, RSFr.)

Corbin Berkstresser

(6'3, 220, Jr.)
My Thoughts: There was some talk about Eddie Printz really challenging Maty Mauk "when the hype died down", but first he had to get past Corbin Berkstresser and it seems like that's now a reality. I think we may see Eddie Printz Saturday in mop-up duty and he's going to quickly earn the fandom common to 2nd string quarterbacks.
RB

Russell Hansbrough (5'9, 190, Jr.)
-OR-

Marcus Murphy

(5'9, 190, Sr.)
Morgan Steward (6'0, 210, So. -- DOUBTFUL)
Ish Witter (5'10, 190, Fr.)

Tyler Hunt

(5'11, 215, Jr.)
Pinkel sounds like Morgan Steward's hip injury could be more long-term than initially feared. Said medical staff will do more tests

— Dave Matter (@Dave_Matter) August 26, 2014
My Thoughts: I hope Morgan Steward can return quickly because he seemed to compliment Russell Hansbrough and Marcus Murphy so very well with his size/speed combination. I think we'll see a 3-4 passes go Murphy's way before Henson returns him to the backfield in his normal role. I also predict a solid game for Mansbrough - two touchdowns.
WR-X

Bud Sasser

(6'2, 220, Sr.)

J'Mon Moore

(6'3, 190, RSFr.)
My Thoughts: I like Bud Sasser, I like him more when he catches the ball. Catch the ball Bud! J'Mon Moore's first target will be on a bubble screen.
WR-H

Jimmie Hunt (6'0, 205, Sr.)
Gavin Otte (5'10, 200, Sr.)

Lawrence Lee

(5'10, 180, Fr.)
Pinkel: Jimmie Hunt looked good in practice this weekend. Recovering from hamstring injury. Says he could be 100 %

— Dave Matter (@Dave_Matter) August 25, 2014
My Thoughts: And to think, I almost had my Jimmies rustled. I expect big things out of Jimmie Hunt Saturday. At least one long TD
WR-Z

Darius White

(6'3, 205, Sr.)

Wesley Leftwich

(6'1, 200, Jr.)

Nate Brown

(6'3, 205, Fr.)
My Thoughts: Darius, you made a promise. Over/under on number of targets Nate Brown sees: 3?
TE

Sean Culkin (6'6, 245, So.)
Clayton Echard (6'5, 260, Jr.)
Jason Reese (6'5, 240, RSFr.)
Ray reveals that Culkin is "the team Thor." Culkin counters by saying Ray was a short, pudgy child. #WhyYouGottaBeSoRude

— David Morrison (@DavidCMorrison) August 26, 2014
My Thoughts: I know people think you're handsome Culkin, but those flowing golden locks would look pretty sweet in the endzone. I think Culkin will be the only TE who sees significant targets this week.
LT

Mitch Morse (6'6, 305, Sr.)
Nate Crawford (6'5, 290, RSFr.)
My Thoughts: I feel confident in saying that Mitch Morse will be as good or better than Justin Britt was last year. Nate Crawford, formerly a defensive tackle, is now a left tackle. That must be confusing for Mrs. BGTD.
LG

Anthony Gatti (6'6, 305, Sr.)

Jordan Williams

(6'3, 295, So.)
My Thoughts: My most concerning position of depth on the offensive line. Stay healthy Young Gatti.
C

Evan Boehm (6'3, 320, Jr.)
Brad McNulty (6'4, 305, Jr.)
My Thoughts: I'm sorry to hear about the tragic passing of #BeardsandMullets, Evan, but I'll be even sadder if our passing game is tragic. I don't know, some how this is your responsibility too.
RG

Mitch Hall (6'5, 310, Jr.)
Stephen Carberry (6'5, 300, Sr.)
My Thoughts: Prove the doubters wrong Mitch, (the doubters being Arky fans)
RT

Connor McGovern (6'4, 300, Jr.)
Taylor Chappell (6'5, 300, Jr.)
Clay Rhodes (6'5, 290, RSFr.)
My Thoughts: If you aren't calling him "McGovernator" you're doing it wrong. Clayton Rhodes makes an appearance here notable because he's the only Freshman recruited to this position to make the depth chart. Stay healthy and open huge running lanes (this goes to the entire offensive line)
Defense
DE

Markus Golden (6'3, 260, Sr.)
Marcus Loud (6'4, 260, RSFr.)
My Thoughts: Score a touchdown and point to your mamma, Markus, then stare the ref down.
DT

Matt Hoch (6'5, 295, Sr.)
-OR-
Harold Brantley (6'3, 280, So.)
Rickey Hatley (6'4, 285, So.)
My Thoughts: I'm curious to see if Brantley sees any time at the Defensive End position since the other "OR" starter Marcus Murphy will be lining up in the slot some. I know Pinkel said its because Hoch is still recovering from a pec injury, but I'm still curious.
NG

Lucas Vincent (6'2, 300, Sr.)
Josh Augusta (6'4, 335, So.)
My Thoughts: Super Saiyan and Big Bear - these boys are HUUUUGE, I'm actually giddy about watching Augusta blow tiny people up on Saturday.
DE

Shane Ray (6'3, 245, Jr.)

Charles Harris

(6'3, 255, RSFr.)
My Thoughts: Something I'll be looking for - might we see Shane Ray line up in in a two-point stance and rushing the QB out of a Jack position? I think it's possible though maybe unlikely against SDSU.
WLB

Kentrell Brothers

(6'1, 240, Jr.)

Darvin Ruise

(6'1, 235, Sr.)
My Thoughts: Oh Brothers Where Art Thou Ruise? Kentrell Brothers will lead the team in tackles against SDSU.
MLB

Michael Scherer (6'3, 230, So.)
Eric Beisel (6'3, 225, RSFr.)
My Thoughts: I see Michael Scherer and I think, "The next Will Ebner" (but stay healthier!) Michael Scherer will play a lot in coverage but be responsible for the game's biggest (legal) hit.
SLB

Donavin Newsom (6'2, 230, So.)
Clarence Green (6'0, 225, Jr.)
My Thoughts: Genuinely wondering how much playing time either of these two get. I think Stec will start Mizzou off in a base 4-3-4 defense and try and stick with it for as much of the game as possible just so they can get some playing time.
CB

John Gibson

(6'0, 190, So.)

Kenya Dennis

(6'0, 195, Jr.)
CB

Aarion Penton

(5'10, 185, So.)

David Johnson

(5'11, 195, Jr.)
Logan Cheadle (5'10, 170, Fr.)
My Thoughts: I'm looking for one of these two to get an interception and continue "The Streak"
SS

Braylon Webb

(6'0, 200, Sr.)

Duron Singleton

(6'1, 210, Sr.)

Anthony Sherrils

(6'0, 190, RSFr.)
FS

Ian Simon

(6'0, 195, Jr.)

Cortland Browning

(6'1, 205, Jr.)
Thomas Wilson (5'10, 190, Fr.)
My Thoughts: I have a separate post for this exact subject coming at noon.
Special Teams
K
Andrew Baggett (6'1, 215, Jr.)
Nick Coffman (5'11, 175, So.)
P
Christian Brinser (6'2, 195, Sr.)
Andrew Baggett (6'1, 215, Jr.)
KR
Ian Simon (6'0, 195, Jr.)
Marcus Murphy (5'9, 190, Sr.)
PR
Marcus Murphy (5'9, 190, Sr.)
Aarion Penton (5'10, 185, So.)
My Thoughts: Yeah, let's just nail our kicks and make everyone forget about last year, okay?
Do you have any questions, comments, corrections? Would you like to see a different formation?
Check back here after the game when we'll update this post with player stats, perhaps some highlights.