Offense
1.
Russell Hansbrough

and

Marcus Murphy

: Good

Hansbrough and Murphy combined for 34 intended touches (carries plus targets), 197 yards (mostly from Hansbrough) and a touchdown, and Murphy pitched in two kick returns for 129 yards and a touchdown and almost broke off a big punt return. (Well, technically he did break it off, but with help from a block in the back.) Oh, and Hansbrough did this: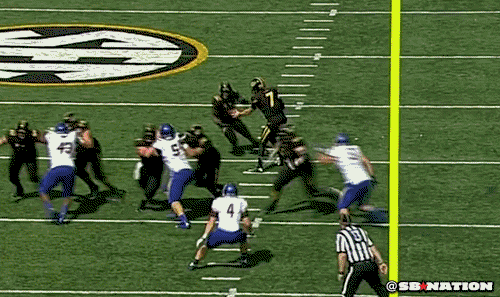 There's plenty to be concerned about regarding the Missouri offense -- the receiving corps was inconsistent, the line didn't hold up against the blitz as well as you'd like to see, Maty Mauk wasn't very impressive outside of the pocket, etc. -- but these two were as good as advertised, and they'll be difference-makers in 2014.
Jasen Vinlove / USA Today Sports


2. All Darius White does is catch touchdowns
Remember how "He only catches touchdowns" was intended to be used as a slight toward Cris Carter in the NFL? Watching Darius White, you get an impression of the meaning behind the slight. He has four touchdowns (all on intermediate to long routes) in 15 career catches ... but he has 15 career catches in 3+ years. White was undoubtedly a key in Missouri's win yesterday, he ran two beautiful routes and caught two lovely, long touchdowns (one for 44 yards, one for 39) in the first quarter, which allowed Mizzou to build some space for itself and create some margin for error (which it used). He was all but invisible the rest of the game. Mauk targeted him once in the third quarter, and that was it.
White runs the longer routes with speed, power, and confidence. Anything with "seam" or "go" in it is meant for the former blue-chipper. But this team needs steady options in the receiving corps as much as it needs an all-or-nothing guy. Jimmie Hunt and Murphy caught six passes in nine targets for 51 yards out of the slot yesterday (not awful, but certainly not great), and Bud Sasser was a complete non-factor until a lovely late touchdown that salted the game away. And players not named White, Hunt, Murphy, or Sasser caught three passes for seven yards.
Yesterday brought confirmation of a lot of our suspicions. On offense, that means that Hansbrough and Murphy are excellent, and the receiving corps could be a weakness.
Defense
3. I was really impressed with
Shane Ray

on run defense

On a couple of different occasions, Shane Ray shook off his blocker and lunged into the interior of the line to make a run stop. That was exciting to see. We all know the potential Ray and Markus Golden have as pass rushers, and they showed it yesterday with 2.5 sacks and a break-up. But there was reason to worry about their potential in run support; Michael Sam and Kony Ealy were far more proven quantities in that regard last year.

But Ray was able to fight off blockers pretty well, and Golden was all over the field; he led the team with 7.5 tackles (five solo, five assists). The two combined for 2.0 non-sack tackles for loss, which was a very good sign. And after Zach Zenner's strange "Broken play? PSYCH!" 75-yard touchdown on his first carry of the game, he gained only 28 yards in 16 carries. SDSU found some success in the passing game for a little while, which we'll get to in a second, but Mizzou shut down the Jackrabbits' run game ... and the Jackrabbits' run game isn't bad.
Jasen Vinlove / USA Today Sports


4. The corners will be hit-and-miss
Yesterday brought confirmation of a lot of our defensive assumptions, too. There's reason to believe Mizzou's run defense will be quite good, and there's reason to believe Mizzou's pass defense will have its shaky moments. Mizzou held starting quarterback Austin Sumner to seven yards and a pick in four pass attempts, but when Sumner got hurt, backup Zach Lujan came in, and with a bigger arm and different tendencies (which Mizzou couldn't prepare for, since Sumner is a 3+ year starter at this point), he was able to do some damage.
The struggles probably weren't as bad as they felt at the time. Outside of the first two drives of the second half, Lujan completed 14 of 19 passes for just 115 yards with three sacks and an average of just 4.7 yards per pass attempt. Twenty-four passes not intended for Jake Wieneke gained just 139 yards (5.8 per target). For most of the game, Mizzou was able to generate pressure, force Lujan to throw short, etc. Plus, after the third-quarter blip, Mizzou shut things down again.
But in his first eight passes of the second half, Lujan completed seven for 124 yards. Jason Schneider caught two passes for 37 yards to set up a Zenner touchdown, then Wieneke caught two for 53 to put SDSU in scoring position again before Aarion Penton picked off an iffy pass in the end zone.
Again, Mizzou shut things down from there. In the Jackrabbits' last four drives, they gained 87 yards in 23 plays. But the blip was what we would optimistically call a teaching opportunity and what we would pessimistically call a warning sign.
5. Special Teams
It was nice of
Andrew Baggett

to get a couple of misses out of the way early

Thanks to Murphy's kick return, special teams were a wash in this game. And against a good SDSU special teams unit, that's just fine. Christian Brinser had one shaky punt and three bombs, SDSU's decent return game was non-existent, Murphy scored a touchdown, etc. Plus, hey, Baggett did make a 44-yard field goal late in the fourth quarter, after almost everybody on the east side of the stadium (the sunny, miserable side) had left. But the 34-yarder he missed late in the first quarter certainly brought back the wrong kind of flashbacks.

Baggett still had five touchbacks in six kickoffs, and his 55-yard miss was certainly not a black mark. But when you're worried a bit about somebody heading into the season, and he goes 1-for-3 in his first game, that at the very least doesn't allay your fears.

***

Again, the Tigers won by exactly the amount the F/+ projections said they would, and considering the F/+ projections say Mizzou's a top-25 team, there's really no reason to adjust expectations just yet. As Gary Pinkel always says after wins, winning is hard and should always be celebrated. But as with basically every other first-game-of-the-season in Pinkel's Mizzou career, the Tigers proved that they are a work in progress. The strengths were obvious, but so were the weaknesses. How well they adjusted for and diminish these weaknesses in the coming weeks will tell us whether the Tigers are an East contender or whether they'll have to scrap to make a bowl game.