What's On
This is the part where I'd embed highlights from ESPN... if only they figured out how to TURN OFF AUTOPLAY
Instead I'll post this Markus Golden post-game interview with the Mizzou Network where he sounds very passionate about fixing the intensity level.
Pro-Tigers
Kendial Lawrence Easing Eskimos Pain | Mopey Mondays In Edmonton
Kendial Lawrence. The name meant nothing to the average Edmonton Eskimos fan the day the team signed the 23-year-old free agent, three days after veteran running back Hugh Charles was let go. It wasn't until Lawrence filled in for the injured Fred Stamps at slotback and hauled in a 35-yard touchdown pass for his first CFL touchdown against the Montreal Alouettes that we began to pay attention.
Three former #Mizzou players signed with NFL practice squads: Marcus Lucas (Panthers), Michael Egnew (Lions) and Henry Josey (Jaguars).

— Tod Palmer (@todpalmer) September 1, 2014
Football
MUTIGERS.COM Game Notes: Mizzou vs. South Dakota State - Official Athletic Site Official Athletic Site - Football
Marcus Murphy returned a kickoff 100 yards for touchdown in the third quarter. Murphy's scamper was the longest kick return by a Tiger since Joe Stewart ran one back for 100 yards against Oklahoma State in 1976. Murphy now has five return touchdowns in his career, including three punt return TDs and two kick return TDs.
MUTIGERS.COM Post-Game Quotes: Mizzou vs. South Dakota State - Official Athletic Site Official Athletic Site - Football
Gary Pinkel:

On the play of Maty Mauk: "I think he was right on the line out there with some protection issues that he had. Like I said, there's a lot of things to look at as a quarterback when he's throwing and we'll go back and analyze that. If anything, I told the quarterback and the entire team first of all great win, secondly we have to feel the urgency if we want to do the things that we want to do, we have to feel the urgency to get better. That's what we've got to do."

Maty Mauk:

On being on the road for the first time this season next week: "I'm really excited. I'm ready to get back to Ohio and play a game. I know we're ready. We're going to have a great week of practice and we will not be taking anybody lightly and we'll be ready to play. I'm pretty sure my whole hometown has bought tickets. I'm excited to get back and play for them, but at the same time, I know what I have to do and I will come out ready to go."

Lucas Vincent:

On South Dakota State's first touchdown: "I think that caught us off guard, we thought he dropped it. We were going after the ball and we didn't execute our assignments that play."

Darius White:

On his first touchdown of the year, a 44-yard score: "I saw them go Cover 2 and open wide up straight down the middle, it was money."
Dave Matter | Emptying the Notebook: Bigger tests come next : Sports
* The Jackrabbits neutralized MU's pass rush with a heavy dose of three-step drops for backup quarterback Zach Lugan. The best counterpunch for that strategy, MU cornerback Aarion Penton said, is physical press coverage on the outside. The Tigers mixed up their coverages at times, but Lugan had success on the outside against Penton and later David Johnson.

Did SDSU expose a weakness in the secondary? Can more pressure from the line and linebackers conceal those problems on the outside?

After a sideline chat with cornerbacks coach Cornell Ford, Penton said he knew to look for Lugan to try more back-shoulder fades along the sideline. He responded with an interception in the end zone on an overthrown pass. Problem solved? The Tigers will know over the next few weeks. Toledo's offense features former Alabama quarterback Phillip Ely, who threw for 337 yards and four touchdowns in Saturday's win over New Hampshire.
Tod Palmer | Game report: No. 24 Missouri 38, South Dakota State 18 | The Kansas City Star
Key stat: Midway through the first half, senior strong safety Duron Singleton picked off a tipped Austin Sumner pass and returned it 19 yards to set up Missouri's third touchdown. The interception also extended the Tigers' streak of consecutive games with a turnover to 45, the longest in the nation.
David Morrison | GAME REWIND: Missouri 38, South Dakota State 18 - Columbia Daily Tribune | Columbia Missouri: Behind The Stripes
Rates not Indicative: The Tigers averaged 6.55 yards per play, which is just about what they averaged last year (6.59). But the offense didn't look nearly as crisp as it did last year for large portions of the game. The run game, yes. Missouri routinely ripped off large chunks on the ground and nearly matched its rate from last year (5.51 per carry versus 5.66).

Through the air, the 8.5 yards per attempt were better than last season (7.8), but they came in spurts. Remove Mauk's three touchdown passes and he finishes 10 of 18 for 66 yards, or 3.67 per attempt. Now, I know you can't just remove touchdown passes -- doesn't work that way -- but this is just to illustrate that the Mauk pass offense looks much like it did last year. Intermittent spurts of brilliance, troubling stretches of inaction.
David Morrison | Missouri holds off South Dakota State, 38-18 - Columbia Daily Tribune | Columbia Missouri: Behind The Stripes
The visiting FCS Jackrabbits made a game of it, pulling within a score at the beginning of the third quarter, but No. 24 Missouri scored the final 17 points of a 38-18 win in the season opener at Memorial Stadium on Saturday.
David Morrison | Tigers' defense gets takeaways, stops at important points of 38-18 win - Columbia Daily Tribune | Columbia Missouri: MU Football
Lujan started slow, completing 4 of 6 passes for 21 yards before the half. He came out firing after the break, connecting on 5 of 6 passes for 71 yards as the Jackrabbits gouged the Tigers down the field to cut the lead to 21-18 with 10:28 left in the third quarter. Most of the damage came against Penton, who was repeatedly left on an island against 6-foot-5 Jason Schneider and 6-4 Jake Wieneke. Lujan finished 21 of 28 for 239 yards, with six passes for 107 yards going to Wieneke.
David Morrison | Tight ends could be in for a receiving renaissance in MU's offense - Columbia Daily Tribune | Columbia Missouri: MU Football
As Culkin enters his redshirt sophomore season, his team has shown some signs of reverting to form. Culkin received the fifth-most targets among all receivers working with the first-team offense over three fall scrimmages. He and backups Clayton Echard and Jason Reese lined up in the slot more frequently than Missouri's tight ends did last year and served more as fourth receivers than sixth blockers.
Sean Culkin played 49 of 60 snaps, 26 lined out wide, 23 attached to the line. That's one off no. of times TEs lined out wide all of 2013.

— David Morrison (@DavidCMorrison) August 31, 2014
And Eric Waters' game high for snaps last year was 40 in a 76-play game, or 52.6%. Culkin played 81.7% yesterday. #AllTightEndsAllTheTime

— David Morrison (@DavidCMorrison) August 31, 2014
True freshman snap counts: Lawrence Lee 10; Ish Witter and Thomas Wilson 4; Nate Brown and Logan Cheadle 3. Kenya Dennis also played 38.

— David Morrison (@DavidCMorrison) August 31, 2014
Pete Scantlebury | PowerMizzou.com
5. Missouri's offense really struggled on third downs for much of the game.

They went 2-for-7 in the first half and 1-for-4 in the final two quarters.

Here's the breakdown of the 11 third-downs, in order.

-- 3rd-and-7: Pass to Hunt; incomplete

-- 3rd-and-1: Hansbrough run, gain of 6

-- 3rd-and-3: Pass to Murphy, incomplete

-- 3rd-and-4: Murphy run for 3; Murphy run for 8 on 4th down

-- 3rd-and-16: Screen pass to Hansbrough for a loss of 3

-- 3rd-and-2: Incomplete pass

-- 3rd-and-1: Murphy rush for 5

-- 3rd-and-3: Incomplete pass to Darius White

-- 3rd-and-3: Hansbrough rush for 2; Hansbrough rush for 3 on 4th down

-- 3rd-and-9: Completed pass to Murphy, but he was ineligibile (pass does not count toward stats)

-- 3rd-and-7: 29-yard TD pass to Bud Sasser 6.
Blake Toppmeyer | Hansbrough carries on and on - Columbia Daily Tribune | Columbia Missouri: MU Football
Hansbrough took a handoff in the shotgun formation for a play that was designed to go up the middle. As soon as Hansbrough got the ball, SDSU defensive end J.R. Plote was waiting for him. Hansbrough juked left past Plote before spinning out of the arms of linebacker Dallas Brown. Now at the 17-yard line, Hansbrough bounced the run to the left sideline and outran a would-be tackler to the end zone.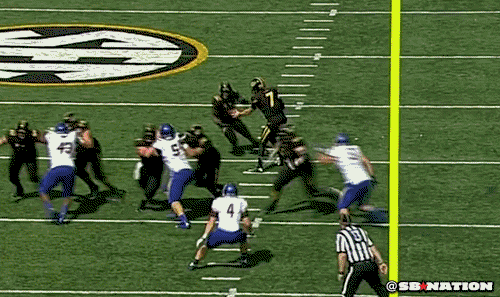 Steve Walentik | Touchdown return sparks Tigers to season-opening victory - Columbia Daily Tribune | Columbia Missouri: Sports
"We needed the lift," Pinkel said. "Our offense was on the field five plays, I believe, in the third quarter. I don't know that that ever happened." Murphy was aiming to turn the momentum as he trotted back toward the goal line with 10:28 remaining in the third quarter and even predicted his dash to the end zone. "If you watch film, you can see us. We're talking," wide receiver Darius White said. "He told me, 'Hey Money, man, I'm finna return this.' "
Tigers stifle Zenner, Jackrabbits – The Maneater
"I really did not even know I had 20 carries today, I thought I only had about 15," Hansbrough said. "I never even got 20 carries in high school, the last time I had 20 carries in a game was probably back in pee wee ball."
Joe Strauss | Mizzou escapes in the slow lane : Sports
Barring a catastrophic loss, a season's early games rarely define a team, good or bad. The Tigers rolled tomato can Murray State by 44 last August then were booed off Faurot Field at halftime of their 15-point slog over Toledo. A team that fell one win shy of playing for the national championship was so impressive early it was considered a coin flip at Indiana in its third game.

Saturday wasn't about art. Pinkel noted last week a team often learns more about itself from its opener than all its scrimmages combined. Having witnessed his team get stymied on six consecutive series before reclaiming breathing room, Pinkel offered generalities over specific critiques, reminding an audience that included university chancellor R. Bowen Loftin, "You don't sit around and mope about winning. You don't do that."
Recruiting
Tod Palmer | Future Tigers Fridays: Q&A with Blue Valley's A.J. Harris | The Kansas City Star
Q: What made Missouri appealing for you?

Harris: "The biggest factor for me in choosing Missouri was that every single time I went down there, I really felt at home and I really felt welcome. It was a real family-oriented environment. Every single time I walked up there, coach (Gary) Pinkel walks up and gives me a hug. It's stuff like that that really makes you feel at home and welcome. Then, I really loved the coaching staff. I was sad to see (former Tigers offensive line) coach (Bruce) Walker leave, but I'm really excited about (new offensive line) coach (A.J.) Ricker, because I've met him before. He recruited me at Illinois, so I know him pretty well now. It was all of that, but definitely the biggest factor was the family-oriented kind of style they have going on there. All the coaching staff and all the players really seem like they enjoy it there. They're all really happy, so that was my biggest deciding factor."
Basketball
Steve Walentik | Shamburger, Isabell cleared to play for Tigers - Columbia Daily Tribune | Columbia Missouri: MU Basketball
The NCAA has cleared guards Keith Shamburger and Tramaine Isabell to play this season with the Missouri basketball team, a source confirmed yesterday.
Jayson Tatum Planning to Cut List, Take Visits | ZagsBlog.com
"I think I have 18 scholarship offers, I'm going to cut it down to eight or nine." Tatum, out of St. Louis Chaminade, listed Duke, St. Louis, Kentucky, Kansas, Missouri, Florida, Michigan State, Ohio State, UConn, North Carolina and Wake Forest among those recruiting him. Tatum said he's hoping to take some visits this fall. "I'm looking to get to some Midnight Madnesses," he said.
MU women's basketball schedule released - Columbia Daily Tribune | Columbia Missouri: Tiger Tidings
The Missouri women's basketball team will play 16 home games during the 2014-15 season and two in Hawaii. The Tigers released their schedule Friday, and on it was a pair of games at the Wahine Classic in Honolulu. There, Missouri will face UNLV on Nov. 21 and California on Nov. 23, which is the Sunday before Thanksgiving.
College Football
The SEC Is Still in Schematic Denial, Praying That The Hurry-Up, No-Huddle Spread Will Go Away - Barking Carnival
The SEC is the best conference in college football. But the best coached? That's amusing.
How Heisman-Finalist Quarterbacks Have Changed Over The Years
It's the season for wildly premature Heisman speculation, and considering quarterbacks have won all but two Heismans since 2000 (Mark Ingram and Reggie Bush being the exceptions), a few quarterbacks and their gaudy stat lines will be in the running this year. But just how far have the goal posts moved on Heisman hopefuls in the last few decades?
THE SIMPLEST WAY TO MAKE FOOTBALL BETTER - Every Day Should Be Saturday
College football teams should be granted 30 punts per year and ration them accordingly.

— Ryan Nanni (@celebrityhottub) August 28, 2014
Olympic Mizzou
Saturday Sports: Mizzou's Meister ready to see what a young team can do |
Darren visits with senior and long-time starting libero Sarah Meister about the upcoming season and this weekend's North Texas Invitational tournament, and another run at an NCAA championship. Tigers will take on Mississippi Valley State, Northwestern State and North Texas. They will be at home next weekend, hosting the Tiger Invitational. Length: 7:20
An inside look at the MU volleyball team's 2014 schedule - Columbia Daily Tribune | Columbia Missouri: Tiger Tidings
The Missouri volleyball team opened its season Friday with a 25-7, 25-11, 25-17 win over Mississippi Valley State at the North Texas Tournament in Denton, Texas.