Kicking off the action will be the North Carolina vs South Carolina game where we'll get to see how much the Ol Ball Coach has invested in this season and we'll get to see the incredibly talented Pharoh Cooper (he of the phenomenal twitter handle @KingTutt_chdown). How difficult Mizzou's matchup with the Gamecocks will be decided by how effectively the influx of defensive linemen bolster that porous defense.
I'll probably check in on Jim Harbaugh's first game as a Michigan Man and his khaki pants but I think Utah's defense will prove too much for the Wolverines. From there I'll switch over to peep on Gary Patterson's fantastic 4-2-5 defense as they take on Mizzou's bowl opponent Minnesota before I pretend to go to sleep.
If you're more of a visual person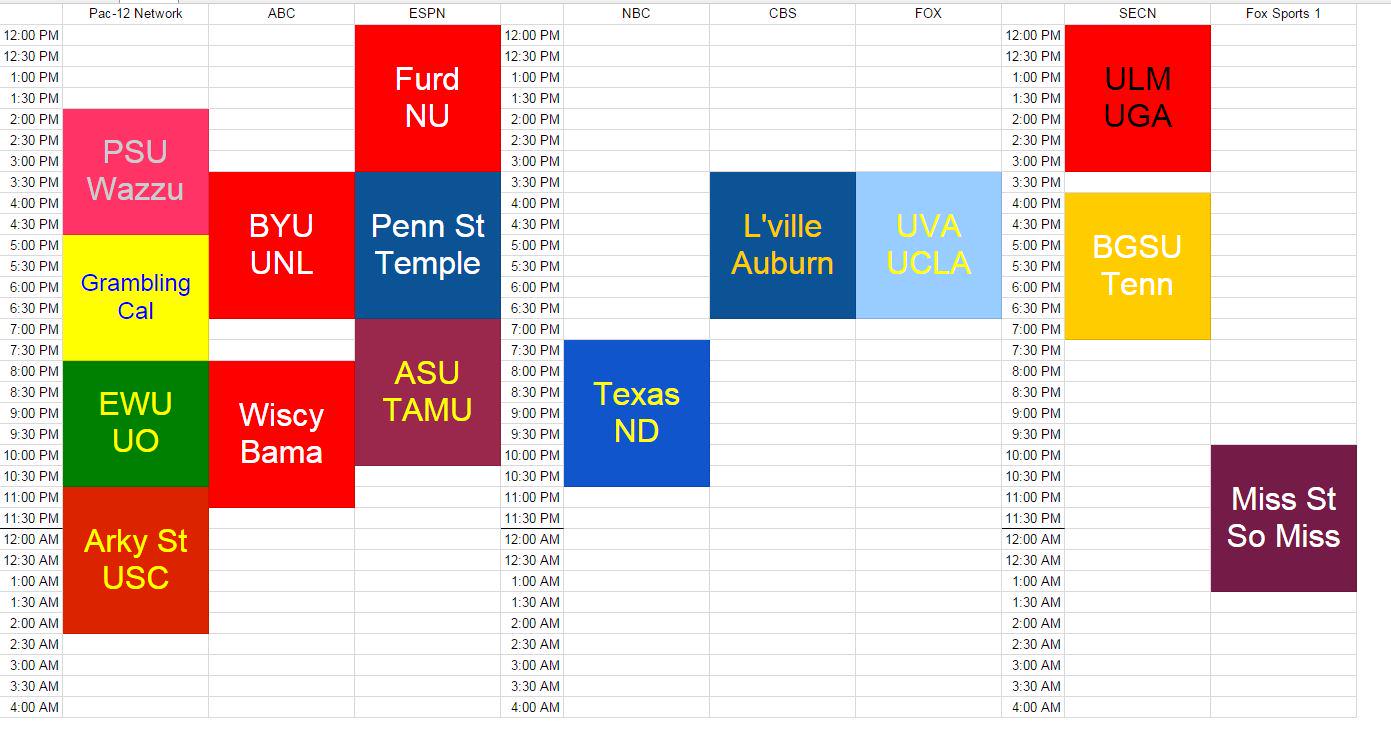 (via reddit)
Wake Up It's College Football Saturday!
Some part of me will be curious if South Dakota State will have any difficulty taking down Kansas but I'll probably skip the morning slate of games while visiting a few tailgates ahead of the SEMO game.
Peak Football!
Obviously the premiere game of the afternoon schedule is the SEMO at Mizzou game at 3:00 pm CDT but before I tune in for that barnburner I'll probably watch actually barners when Auburn meets Louisville at 2:30 on CBS (streaming free!). I've decided to adopt Auburn as my SEC West team because I'm a big fan of the innovative things they do on offense and I'm intrigued about how Will Muschamp handles Bobby Petrino's motorcycle gang.
Another option is the BYU vs Nebraska game because a BYU victory would set up a transitive victory for Mizzou later in the season and because Taysom Hill is a freakishly athletic quarterback that reminds me a bit of Brad Smith.
| | | |
| --- | --- | --- |
| Auburn vs. Louisville (Atlanta) | 2:30 pm | CBS / CBS Video |
| BYU at Nebraska | 2:30 pm | ABC / espn3 |
| Florida Atlantic at Tulsa | 2:30 pm | CBSSN |
| Morgan State at Air Force | 2:30 pm | RSRM / RSNW / RSSW+ |
| Penn State at Temple | 2:30 pm | ESPN / WatchESPN |
| Sam Houston State at Texas Tech | 2:30 pm | FSN Affiliates / FS Go Video |
| UTEP at Arkansas | 2:30 pm | ESPNU / WatchESPN |
| Virginia at UCLA | 2:30 pm | FOX / FS Go Video |
| Wagner at Rice | 2:30 pm | SNY / CSCA / ASN (affiliates TBA) / CST (cable) |
| Bowling Green at Tennessee (Nashville) | 3:00 pm | SEC Network / WatchESPN |
| Southeast Missouri at Missouri | 3:00 pm | SEC Network Alternate / WatchESPN |
| Southern Illinois at Indiana | 3:00 pm | ESPN News / WatchESPN |
| Grambling at California | 4:00 pm | PAC-12 Network / PAC-12 Video |
The Late Slate!
The evening shift has Alabama and Wisconsin facing off in Jerry World but there's also a sneak peak at Mizzou's next opponent when Arkansas State goes to the Coliseum to take on USC and because I'm a masochist I'll stay up to watch some of it.
By the way, no matter who loses the Texas/Notre Dame game, everyone wins.
| | | |
| --- | --- | --- |
| Akron at Oklahoma | 6:00 pm | FSN PPV (updated 09/02) |
| Alabama A&M at Cincinnati | 6:00 pm | FSCN / FSOH / espn3 |
| Arizona State vs. Texas A&M (Houston) | 6:00 pm | ESPN / WatchESPN / espn3 Skycam |
| Central Washington at CSU Pueblo | 6:00 pm | ALT2 |
| Louisiana Lafayette at Kentucky | 6:00 pm | ESPNU / WatchESPN |
| Georgia Southern at West Virginia | 6:30 pm | FSN Affiliates / FS Go Video |
| McNeese State at LSU | 6:30 pm | SEC Network Alternate / WatchESPN |
| New Mexico State at Florida | 6:30 pm | SEC Network / WatchESPN |
| Texas at Notre Dame | 6:30 pm | NBC / NBC Video |
| UNLV at Northern Illinois | 6:30 pm | CBSSN |
| Alabama vs. Wisconsin (Dallas) | 7:00 pm | ABC / espn3 |
| Eastern Washington at Oregon | 7:00 pm | PAC-12 Network / PAC-12 Video / SWX (cable) |
| Texas State at Florida State | 7:00 pm | ESPN News / WatchESPN |
| Cal Poly at Montana | 8:00 pm | ALT / (Cowles / KSBY) (cable) / (ABC / FOX) MT / Video |
| Prairie View at Texas Southern | 8:00 pm | RSSW+ |
| Mississippi State at Southern Miss | 9:00 pm | FS1 / FS Go Video |
| Arkansas State at USC | 9:30 pm | PAC-12 Network / PAC-12 Video |