Mizzou went into halftime up 17-3 over SEMO on the strength of two 1st quarter touchdown passes from Maty Mauk, a 27 yard bomb to J'Mon Moore and a 23 yard pass to Nate Brown. An early 20 yard run by Russell Hansbrough looked promising for the rushing game but his right ankle was rolled up on the tackle as he went out of bounds and he after attempting another series he was declared out for the rest of the game. Evan Boehm also went down for a series, finished the second half but was replaced by Alec Abeln in the second half. Both Hansbrough and Boehm were seen wearing walking boots at half time.
J'Mon Moore
Maty Mauk to J'Mon Moore TOUCHDOWN! pic.twitter.com/Eb3hx8Q5W6

— Rock M Nation (@rockmnation) September 5, 2015
Nate Brown
TOUCHDOWN for Dowtown Nate Brown! 23 yards! pic.twitter.com/enduM4Qqki

— Rock M Nation (@rockmnation) September 5, 2015
Drew Lock got the first series in the second quarter and promptly went 4-5 for 51 yards leading the offense down the field but after an incompletion and a sack the drive stalled and Andrew Baggett hit a 39 yard field goal. SEMO responded with a 76 yard drive of their own only to settle for a 35 yard field goal. Maty Mauk came back into the game and Mizzou's defense had two more 3 and outs before half time. The last time Mizzou had two QBs with 50 yards each in the 1st half was 2013 vs Ole Miss, James Franklin had 89 and Maty Mauk had 83 (h/t to Tom Orf).
Oh and there was this ejection after a late hit on Maty Mauk. I don't know what targeting is but this seems obvious.
All eight true freshman listed on Mizzou's initial depth chart saw the field in the first half.
Kentrell Brothers had 12 tackles in the first half. The Mizzou single game tackle record is 26, held by Taft Sales back in 1982 against Oklahoma State. He ended the game with a career high 16 tackles, 8 solo, with 1.5 TFLs.
We also saw Barry Odom's signature aggressiveness on defense when Kenya Dennis came on a corner blitz and sacked Tay Bender for 10 yards.
While other teams struggled with their FCS competition, Mizzou was able to overcome some offensive doldrums and didn't allow a single point in the second half.
Looking ahead to Arkansas State, Mizzou needs to clean up running the ball. Russell Hansbrough's absence can't be an excuse. At one point, Mizzou started three drives from its 40 yard line and only got 7 points, that's where having the consistency of a powerful running attack helps. Ish Witter ended up with 13 carries for 33 yards, Russell Hansbrough had 2 for 23 before leaving the game, then Tyler Hunt and Morgan Steward had 5 carries for 20 and 14 respectively. Not exactly a strength for the team.
Part of that is on the offensive line, Alec Abeln started at left guard but Taylor Chappell saw series in the 2nd quarter but neither seemed to provide enough up the middle. Abeln started the second half at center while Evan Boehm sat out with a ankle injury.
Mizzou came out of halftime and marched down the field on a 10 play, 76 yard drive but a dropped touchdown pass by Nate Brown and an illegal touching call against Sean Culkin forced them to settle for a 23 yard Andrew Baggett field goal.
Bu then Kentrell Brothers blocked a punt, which Aarion Penton recovered and returned for a touchdown.
Kentrell Brothers blocks the punt and Aarion Penton recovers it and takes it for a touch down! pic.twitter.com/d8Udd4DBfD

— Rock M Nation (@rockmnation) September 5, 2015
(The last time that happened was October 24th, 2009 against Texas.)
After 3 quarters, this is what Maty Mauk's passing chart looked like: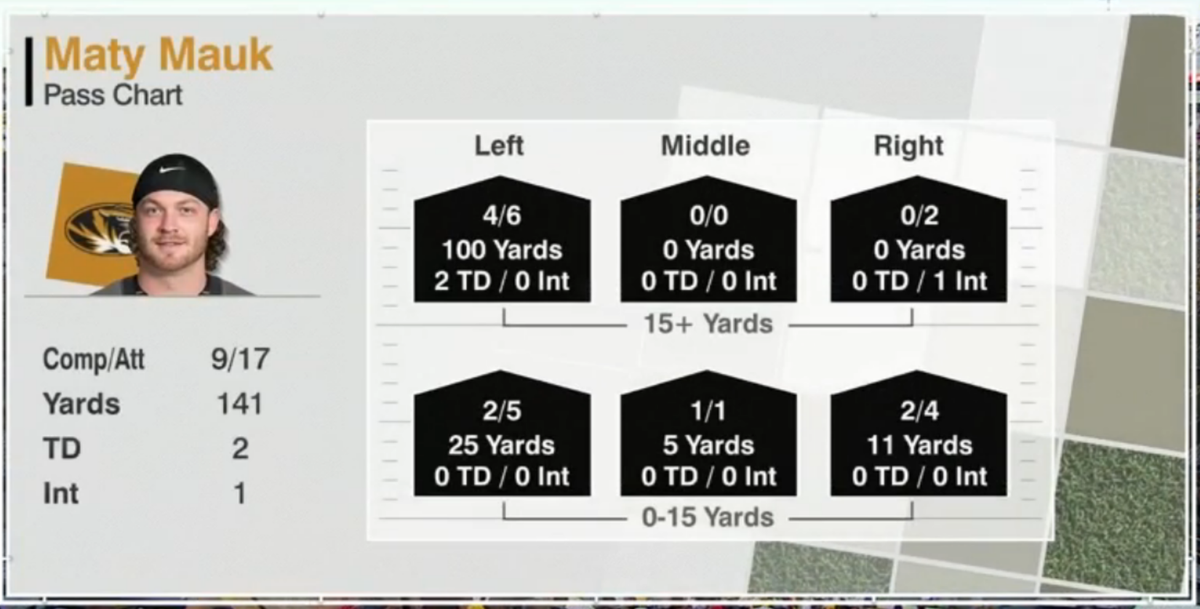 Mizzou stalled out again in SEMO territory after Maty Mauk couldn't find Nate Brown on 4th down but the next possession Drew Lock came in and found Tyler Hunt wide open for a 78 yard touchdown pass that put Mizzou up 34 - 3 with just 5 minutes left in the 4th quarter. It was all over but the sweating.
An announced 64,670. MU drew 60,589 for the opener last year.
Offensive Box Score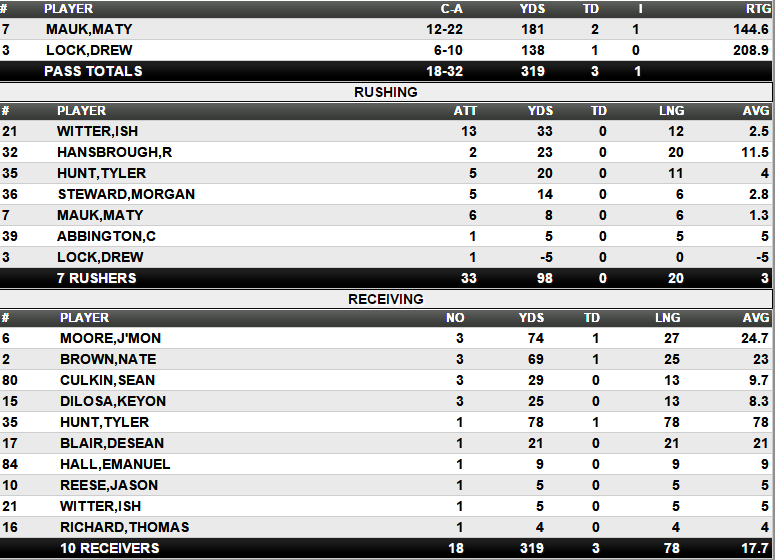 Go Tigers.