There will be many ways to watch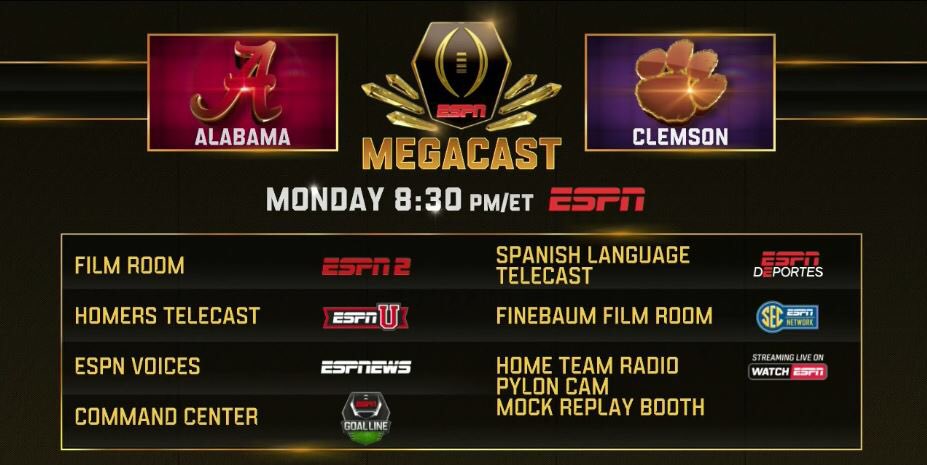 There are a lot of good things to read before
Appreciating Dabo Swinney, the coach who'll make you believe you can beat Alabama - Spencer Hall
Swinney won't talk about how he's turned his limitations into strengths. Never having worked as a coordinator, he delegates heavily to talented assistants. Sometimes those are name-brand hires like former Oklahoma coordinator Brent Venables. But there are also people like Chad Morris, the current head coach at SMU, whom Swinney pulled into the staff after one year at Tulsa.
The last time Alabama played Clemson, it changed the course of both programs - Bill Connelly
Alabama led 23-3 at halftime, and Clemson's only touchdown in a 34-10 defeat came from a Spiller kickoff return. Davis and Spiller combined for 20 rushing yards, while Glen Coffee and freshman Mark Ingram, a late addition to Alabama's class, combined to rush 34 times for 186 yards. John Parker Wilson completed 22 of 30 passes. This was a rout.
Here's the last time Alabama and Clemson met
2015 College Football National Championship: Scouting Alabama's Defense - Shakin The Southland
The Saban defenses of old relied strictly on two gapping linemen. This meant that they were rarely much in the way of speedy pass rushers because they could not relentlessly attack one gap; they had to maintain control over two. To an extent this remains true. A-Shawn Robinson and Jarran Reed are two of the most stout rush defenders in the nation. It will be a tall task to block either, much less both, and their backups are no slouches. The pair have also combined for just four and a half sacks. They are aligned where 4-3 defensive tackles would be. What Saban has changed is he freed up one of his defensive linemen to play as more of a one gapping 4-3 end. The "hybrid front" has been written about to death, but the results have been dramatic. Defensive end Jonathan Allen has a dozen sacks. At a slim 283 pounds Allen also weighs in a full thirty pounds lighter than either Robinson or Reed. Saban defenses formerly lacked speed rushers up front like that.
Alabama's Lane Kiffin: Master Copycat | Smart Football
But Alabama's win over Michigan State in the Cotton Bowl was one of Kiffin's best games, as he first loosened up Michigan State's excellent defense with short passes, packaged plays and screens, before surgically dismantling it (while Alabama's defense completely suffocated MSU's offense). And several of the key plays for Alabama were ones Kiffin had borrowed from film study.
CFP Championship Game odds
Via Bovada
(Alabama vs. Clemson) – Winning Margin       

Alabama by 1-6 pts                   16/5     

Alabama by 7-12 pts                 15/4     

Alabama by 13-18 pts                10/4     

Alabama by 19-24 pts                8/1       

Alabama by 25-30 pts                14/1     

Alabama by 31-36 pts                20/1     

Alabama by 37-42 pts                35/1     

Alabama by 43 or more pts        40/1     

Clemson by 1-6 pts                   19/4     

Clemson by 7-12 pts                 9/1       

Clemson by 13-18 pts                18/1     

Clemson by 19-24 pts                35/1     

Clemson by 25-30 pts                55/1     

Clemson by 31-36 pts                80/1     

Clemson by 37-42 pts                100/1   

Clemson by 43 or more pts        125/1

Total Team Points – Alabama

Over                           29½

Under                          29½

Total Team Points – Clemson

Over                           23

Under                          23

(Alabama vs. Clemson) - Team to score first in the game

Alabama                       -170     (10/17) 

Clemson                       +130     (13/10)

(Alabama vs. Clemson) - The first score of the game will be

Touchdown                   -225     (4/9)

Field Goal                     +160     (8/5)     

or Safety                      +4000   (40/1)

(Alabama vs. Clemson) - The first score of the game will be - Exact Outcome

Alabama - Touchdown               1/1       

Alabama - Field Goal                 7/2       

Alabama – Safety                      50/1     

Clemson - Touchdown               2/1       

Clemson- Field Goal                  15/4     

Clemson – Safety                      50/1

(Alabama vs. Clemson) - Will there be a score in the first 6 minutes of the game?

Yes                  -130      (10/13) 

No                    EVEN   (1/1)

(Alabama vs. Clemson) - Will either team score 3 unanswered times in the game?

Yes                  -300     (1/3)

No                    +200     (2/1)

(Alabama vs. Clemson) – Team to score last in the game

Alabama           -140     (5/7)

Clemson           EVEN   (1/1)

(Alabama vs. Clemson) - Will a special teams or defensive TD be scored?

Yes                  +140     (7/5)

No                    -180     (5/9)

(Alabama vs. Clemson) - The longest touchdown score in the game will be

Over/Under                     50½

(Alabama vs. Clemson) - The first turnover of the game will be

Fumble                                     5/4

Interception                               4/7       

No Turnovers in the game          7/1

(Alabama vs. Clemson) - Team to have the most first downs in the game        

Alabama           -2½                 

Clemson           +2½