While true freshman quarterback Drew Lock's stole much of the attention in his first start, it was the usual suspects making plays for the key plays for Mizzou in the 24-10 win over South Carolina. That's right, #DLineZou. Bill highlighted that on Sunday:
...but the line's performance was vital. South Carolina simply couldn't get any sort of push between the tackles. Josh Augusta was a boulder, and Rickey Hatley had his name called a few times. Josh Moore made a nice play near the line, A.J. Logan responded well to more snaps, and ends Charles Harris and Walter Brady were strong in pursuit.
That's the defensive line currently ranked #1 in the nation in Havoc Rate according to Bill's advanced stats. Barry Odom is the hot new thing with his exotic schemes and aggressive blitzing but it's Craig Kuligowski's group that Mizzou has been able to count on year after year.
Defensive Line
Let's start with South Carolina threatening to tie the game in the first quarter. A huge gain by Pharoh Cooper put the Gamecocks in the redzone and Mizzou's defense was faced with a tough task.
On first down, South Carolina tried to get tricky and moved Pharoh Cooper into the wildcat so he could lob a fade into the right corner of the endzone. It was this close to being a score but thanks to the jump off the line and pressure from Rickey Hatley, Cooper didn't have enough time, and Anthony Sherrils was able to cover just well enough on the back end to prevent the touchdown.
(use the slider bar to see the before/after of the play below)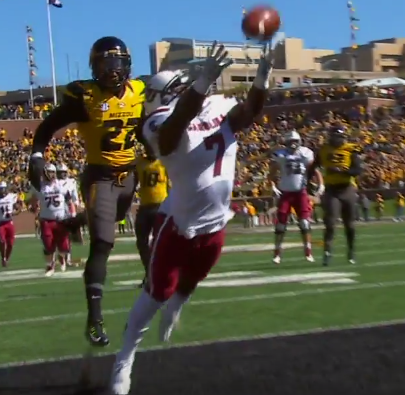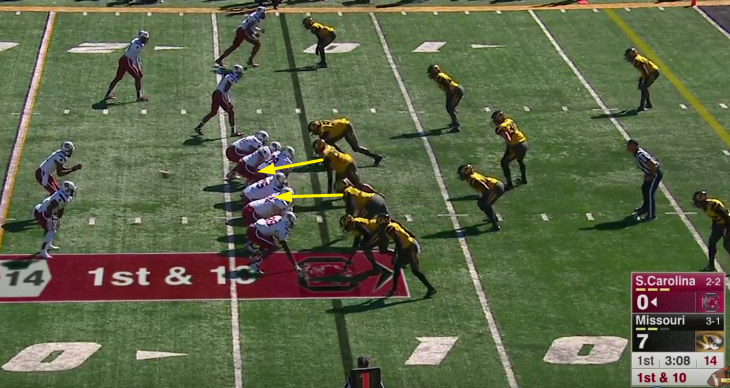 The next play, Lorenzo Nunez returns as QB and South Carolina runs the play that the announcers essentially drew out on the broadcast. The slot receiver runs a pick on the outermost corner to free up the inside slant to the XWR. Nunez looks right to hold the safety help, but the whole time he's going left. Luckily pressure from Charles Harris panics Nunez into scrambling because this would have been a walk-in touchdown.
(use the slider bar to see the before/after of the play below)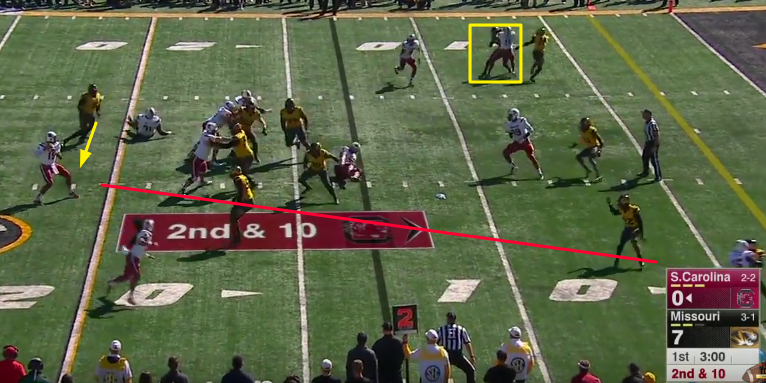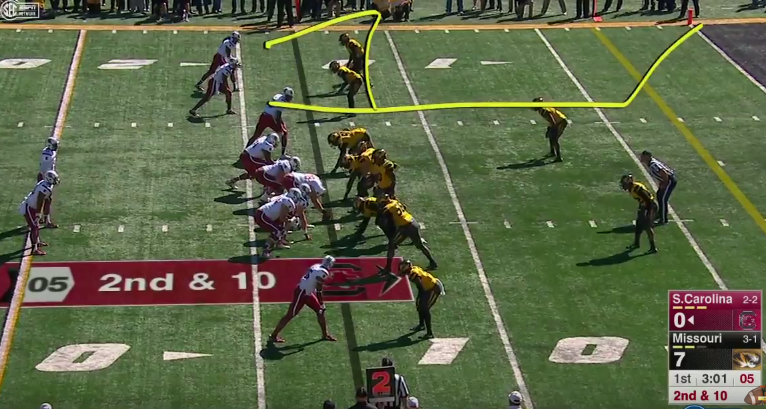 Charles Harris' spin move is probably one of the most dangerous weapons on Mizzou's defense right now. I've seen him use it several times so far this season but few as effectively as on this key 3rd down where his pressure disrupted the play and drove South Carolina's Lorenzo Nunez into Walter Brady and Kentrell Brothers' waiting arms, forcing a field goal.
Since we already know plenty about Charles Harris I wanted to highlight some great plays made by one of the older members of Mizzou's defensive line, that's right junior juggernaut Josh Augusta. David Morrison pointed out that Augusta played a season-high 42 snaps (65.6%), consistent with the number of snaps he'd seen the past two weeks. In my rewatch of the game I only really noticed one instance where fatigue caught up to the 330 lb nose tackle, but when he was making plays like the one below, I could hardly blame him.
Here's Josh Augusta FIRING off the line and absorbing two blockers and damn near penetrating into the backfield. His presence forces the RB to dance 5 yards behind the LOS and cut back to the right, into the linebackers who filled the run lanes. When you think about Josh Augusta's tremendous potential, this is an example of it.
Early in the second quarter, South Carolina was driving and had run three consecutive screens to Pharoh Cooper on the short side of the field for 5+ yards a pop. The next play they tried to hand it off inside and Josh Augusta burst into the backfield and ate the running back's soul tackled the running back for a three yard loss.
Later, in the third quarter, Josh Augusta tried his hand rushing the passer, lining up as a 5-technique LDE on a three man defensive line. Charles Harris' penetration negated the potential for a handoff to the running back, and Josh Augusta's mammoth body nearly chased down Nunez and forced a throwaway pass. Giggity.
Terry Beckner Jr is probably the most well known freshman lineman at Mizzou right now but his game was cut short but a controversial targeting penalty right before South Carolina's fluke touchdown. There are two other freshman lineman getting reps though and I saw a few plays I wanted to point out. The first comes from freshman DT Josh Moore who's tenacity on this play really impressed me. He stood up the RG, read RB cutting in the backfield, shed the block and looped around to assist on the tackle. That's fantastic hustle I'm sure Craig Kuligowski is praising during film study.
The second freshman is DE Nate Howard, a guy I've touted as having an incredible first step off the line. The first vine below shows him exploding at the snap, reading the handoff and then pursing the QB before Donavin Newsom and Kentrell Brothers combine for the sack.
This second play is a combination of Nate Howard's explosive first step and Terry Beckner's great strength at the point of attack. Howard takes on two blockers for long enough that the TE is late getting to the second level to block Kenya Dennis (he still gets the block but that's more on Dennis). Meanwhile, Beckner knocks the center so far back it causes the RB to have to dance in the backfield again, allowing Rickey Hatley and others to make the tackle for no gain.
We learned after the game that Mizzou had bigger plans on defense going into last Tuesday but those plans were scrapped because of a bad day of practice and apparently Barry Odom felt his defense could hold South Carolina in check playing mostly vanilla.
MU's basic defensive game plan works in stymieing Gamecocks - Blake Toppmeyer
"We threw out a lot of stuff in the game plan, and we kind of played them straight up, and it worked," middle linebacker Michael Scherer said.

"We came out with a pretty big game plan on Monday," Scherer said. … "We came with a lot of different blitzes, a lot of different packages." But Scherer said MU's defense laid a stinker in Tuesday's practice. Scherer and defensive coordinator Barry Odom had a conversation after practice, and the more complex game plan was scrapped.
This turned out to be true, as South Carolina was only able to score one touchdown (again a very fluky one) and threw three interceptions (and damn near five). A part of me wonders if the decision to scrap was because Odom didn't want to show certain things on tape ahead of a Florida, Georgia back to back. We'll see this weekend and to that end I wanted to highlight some of the things I noticed Mizzou doing poorly that will could be exploited by Florida.
Linebackers
I want to begin by saying that I don't hate Michael Scherer. I consider him a rich man's Andrew Wilson. That being said, Andrew Wilson's struggles in pass coverage mirror Michael Scherer's. A lot of that is offensive scheming to make the linebackers always wrong. So when the highlights below make Scherer (and others) look bad remember it's not as simple as the end result.
To that end, I want to start with what Mizzou's defense should look like making a third down stop. The defensive line is supposed to rush hard up the field on third and long. The aim is moving the QB off his spot with a scramble down the middle into the waiting arms of the linebackers who've filled the rush lanes. Below we see that as Nunez takes off so fast I almost think it's by design but is met by Michael Scherer who sidesteps the RB's attempt to block and makes a sound tackle for minimal gain.
Here's a similar scenario where South Carolina is sitting on 3rd and 9 and Nunez damn near scrambles for a first down. The ends rush because they want to force the action, hopefully force a mistake, but Nunez sees the NT stunt leaving a huge hole plus his RB out in front to throw an extra chip block on Kentrell Brothers, meanwhile Kenya Dennis is caught in no man's land because the QB could still decide to lob the ball over his head to the XWR, so he's late attempting to tackle.
Okay here's where we start to see shades of what happened vs Kentucky. South Carolina is looking to make the linebackers choose wrong with the play action left and the TE goes out, fakes a block on Michael Scherer before finding the hole and emphatically clapping for the ball to convert the first down. Scherer's blown read here is looking into the backfield too much and getting caught out of position as Donavin Newsom had outside contain. Nunez drifts right dragging Brothers up then lobs it over his head for an easy catch.
Like I said, it's going to sound like I'm picking on players but here's a case where Scherer bites on the fake inside handoff, exposing the seam route up the middle for another first down. Donavin Newsom is caught in no-man's land again, forced to decide between the TE and the outside WR screen. Only an Anthony Sherrils tackle saves this from being a touchdown.
Split second decision making is incredibly tough in football and these breakdowns never give players enough credit for what they do right. Here's an example where the fake inside handoff causes Michael Scherer to hesitate just a second too long and thus be caught out of position for the TE seam for a first down. Perhaps a better jam by Newsom would have helped and perhaps that's the solution against Florida who will seek to exploit the TE matchup problem a lot, but that has its drawbacks as it delays the pass rush. I fully expect Odom to be working on this very problem while watching film of the past two weeks.