On day three of the 2016 NFL Draft, we were finally able to see the landing spots for a trio of talented Tigers. Evan Boehm, the veteran center, was drafted by the Arizona Cardinals with the 30th pick of the fourth round. Connor McGovern, the sturdy offensive guard, was drafted by the Denver Broncos with the fifth pick of the fifth round. Kentrell Brothers, the hard-hitting outside linebacker, was drafted by the Minnesota Vikings with the 23rd pick of the fifth round.
This is Missouri's fewest amount of players drafted since 2013, and the first time since 2008 that a Tiger was not drafted in the first three rounds. That said, the Cardinals, Broncos, and Vikings drafted a group of players with an immense amount of potential and a willingness to compete at the highest possible level.
Following the draft, three more former Tigers agreed to undrafted free agent deals with teams: Cornerback Kenya Dennis and kicker Andrew Baggett signed with the Cleveland Browns, while running back Russell Hansbrough signed with the Tampa Bay Buccaneers. All three former Tigers have chances to make NFL rosters, and it's all dependent on roster depth, team needs, and camp performance.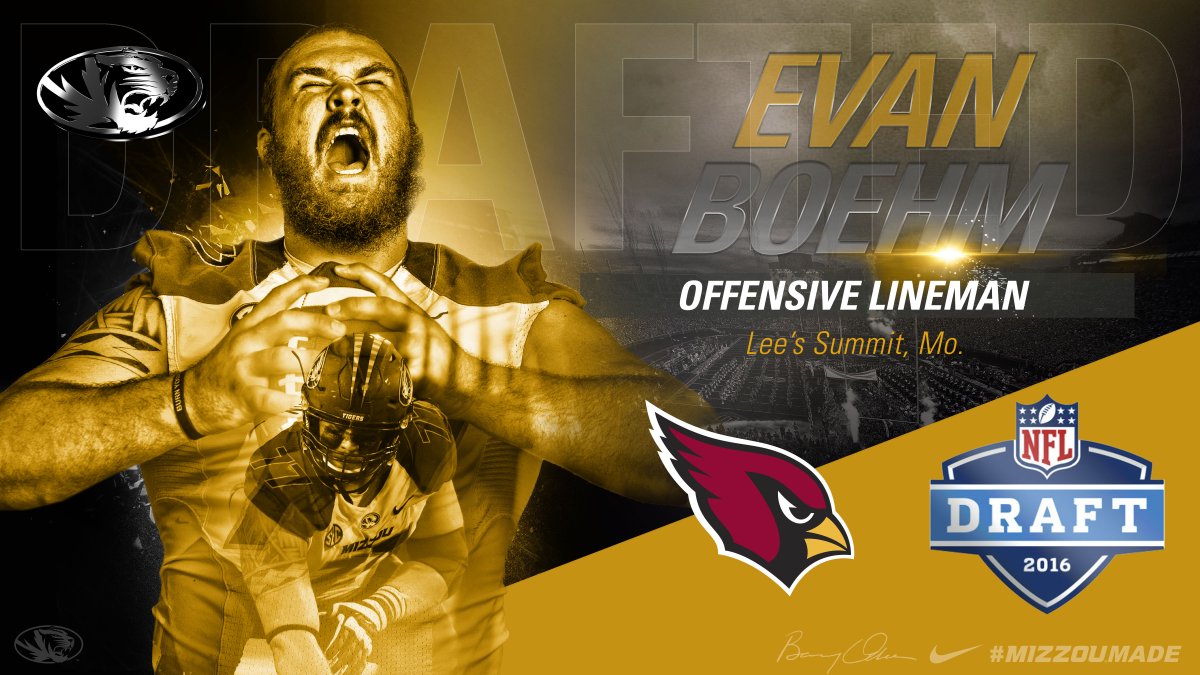 Evan Boehm - Arizona Cardinals
Rd 4 (128), the #AZCardinals select C Evan Boehm (6-2, 309) from Mizzou.https://t.co/poyGvvf3Cp #CardsDraft pic.twitter.com/iDDsrxBLUg

— Arizona Cardinals (@AZCardinals) April 30, 2016
Good Morning everyone!! Man what a day what a night so blessed and honored to be an @AZCardinals #BirdGang

— Evan Boehm 7⃣7⃣ (@BIGboehmTHEORY) May 1, 2016
"With the 128th pick in the 2016 NFL Draft, the Arizona Cardinals select Evan Boehm, center, Missouri." Watch Boehm's selection here.
The Arizona Cardinals were the first team to take a player from Missouri by drafting center Evan Boehm with the 128th pick overall. Boehm will join linebacker Markus Golden in Glendale and become the 13th Tiger to be drafted by the Cardinals.
The presumptive starter at center for the Cardinals is five-year veteran out of Penn State, A.Q. Shipley. As the Cardinals look to bolster up the offensive line, Boehm brings two important features: youth and versatility. The average age of the Cardinals' offensive line is 28, and while that is not incredibly old, the Cardinals invested in Boehm as insurance for the future. Boehm will be in a great position to compete for a starting role in Arizona against Shipley and experienced but undrafted backups John Wetzel and Edwan Coughman. Versatility is important for Boehm, as the Cardinals look thin right now at left guard and right guard. Boehm's mobility and prior experience at left guard could prove beneficial.
While this pick may not be considered a 'steal,' the Arizona Cardinals picked up a solid player in Boehm. He's tough and reliable, an improvement in addressing quick defensive linemen. In the near future, look for Boehm to be a solid back-up at center or potential starter at left or right guard. In the long run, the Cardinals have a dependable offensive lineman who should be able to start within the next three years, especially after a few years of going up against the likes of Michael Bennett, Cliff Avril, DeForest Buckner, and Aaron Donald in the defensively powerful NFC West.
Other Opinions:
SB Nation: "He made 52 starts in his college career. He is not considered a great athlete, but comes from a program with a history of producing NFL talent. He is the only player in team history to play in every game for four years as a starter, beginning as a true freshman. As with many other of the Cardinals' draft picks since Steve Keim became general manager, Boehm was a team captain."
ESPN: 'The Cardinals needed a center and they got it. Boehm will come in and compete with A.Q. Shipley to start, not an easy task in Bruce Arians' complex offensive scheme.'
Bleacher Report: "Boehm may fit best as a backup center-guard, though pure strength and tenacity could make him a decent interior starter."
Sports Illustrated: "Missouri center Evan Boehm could start right away if Arizona can work around his lack of athleticism."
Pro Football Focus: "Boehm struggled in pass protection as his -7.9 grade ranked 57th among 63 qualifiers in the class."

Connor McGovern - Denver Broncos
Gotta love that @twitter name …

Welcome to #BroncosCountry, @McGovenator60! pic.twitter.com/9d61siSLeT

— Denver Broncos (@Broncos) April 30, 2016
Can't say how excited and blessed I am to be a @Broncos. The grind starts and I am ready to start playing some football.

— Connor McGovern (@McGovenator60) April 30, 2016
"With the 144th pick in the 2016 NFL Draft, the world champion Denver Broncos select, the big man, guard, Connor McGovern, out of Missouri." Watch McGovern's selection here.
Offensive guard Connor McGovern was drafted by the Super Bowl champion Denver Broncos with the 144th pick overall. He will be reunited with linebacker Shane Ray in Denver and has become just the second Tiger drafted by the Broncos.
After their Super Bowl 50 victory, off-season turnover leaves a team that hardly resembles Denver's defense-powered run. General manager John Elway and the Broncos addressed their most pressing of needs first, as they called Memphis quarterback Paxton Lynch's number in the first round. In the fifth round, the Broncos filled another huge need as they took McGovern to strengthen the offensive line.
In 2015, the Denver offensive line gave up 39 sacks, the 13th highest in the league. Denver brought in Russell Okung to play left tackle on an interesting deal and Ty Sambrailo recovering from left shoulder surgery. The interior of Denver's line is pretty set with Max Garcia at left guard and Matt Paradis at center; the Broncos brought Donald Stephenson over from the Chiefs to play right tackle.
That leaves right guard, McGovern's natural position in college, slightly open with fifth rounder Robert Myers currently holding the position. There's a fair amount of competition but after Max Garcia, McGovern is the highest drafted interior lineman on the Bronco's roster. That should mean good things for him if he's a quick study and remains healthy.
McGovern's situation is reminiscent of Mitch Morse's last year. Former Missouri offensive lineman Mitch Morse was drafted by the Kansas City Chiefs last year as a way to improve depth and to secure future success along the line, and he ended up starting for the Chiefs and experiencing a great deal of success. McGovern would seem to be drafted for the same reasons, but don't be surprised if by mid-season you see McGovern lining up next to Russell Okung, Max Garcia, Matt Paradis, and Donald Stephenson.
As Rob Goldberg of Bleacher Report states in his roster prediction for the Broncos, "He was one of the strongest players in the draft and should be able to handle the physical transition to the NFL."
The biggest problems rookies face in transitioning from college football to the NFL is speed and power. McGovern is already one of the strongest offensive linemen in the draft. And speed? Four years in the SEC will prepare you for a fast and physical game of football in the league (another reason why the SEC had the most draft picks out of any conference and has done so for the past ten years). Short term outlook is great, considering McGovern is a fifth-round selection..
Other Opinions:
SB Nation: "A solid scheme fit, a tough guy, a strong guy, and will provide depth behind guards Ty Sambrailo and Max Garcia. He is making the transition from tackle to guard, but he's a mean dude. One of the better run blockers in this class. I wouldn't be shocked if he pushes for playing time early on."
ESPN: 'He has positional versatility, something the Broncos require, given they usually have just seven offensive linemen in uniform on game day.'
Bleacher Report: "McGovern is strong, experienced and just athletic enough to deserve a long look and could force his way into a starting job. He's a weird fit for the Broncos, but there is a ton to like."
Sports Illustrated: "Simmons, Booker and McGovern are the types of picks that can help keep a team on top."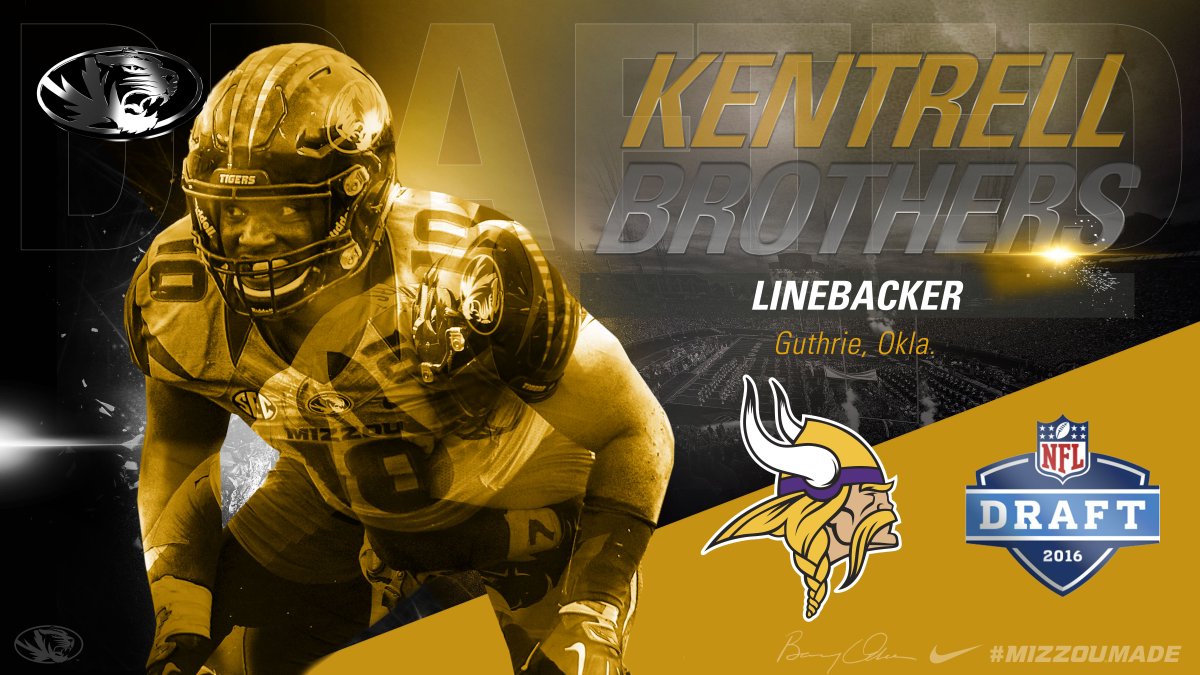 Kentrell Brothers - Minnesota Vikings
The #Vikings have selected @Kentrell_Mizzou with the 160th overall pick. pic.twitter.com/0KHcr3pprt

— Minnesota Vikings (@Vikings) April 30, 2016
The ☎️ calls that changes lives. #VikingsDrafthttps://t.co/Szb9Ve9iUD

— Minnesota Vikings (@Vikings) May 1, 2016
Thank you to the Wilf family, Mr. Spielman, Coach Zimmer & the @Vikings organization for this opportunity!! Blessed to be with the #Vikings!

— Kentrell Brothers (@Kentrell_Mizzou) April 30, 2016
"With the 160th pick in the 2016 NFL Draft, the Minnesota Vikings select, Kentrell Brothers, a linebacker. Missouri." Watch Brothers' selection here.
The Minnesota Vikings drafted outside linebacker Kentrell Brothers with the 160th pick overall. Brothers is the first Tiger to drafted by the Vikings since defensive tackle C.J. Mosley in 2005 and is the sixth Tiger to be drafted by the Vikings.
Minnesota has a solid linebacking corps with starters Anthony Barr (2014 first round selection out of UCLA), Eric Kendricks (2015 second round selection out of UCLA), and Chad Greenway (2006 first round selection out of Iowa). Behind those starters, however, are a few question marks. The Vikings have eight linebackers (not including Brothers), with three seventh round selections from the 2012, 2014, and 2015 draft along with two undrafted linebackers from the 2012 class.
This does not mean that Brothers is automatically above this group, but this will be an open competition. Another reason the Vikings looked to Brothers is because of his ability to stop the run. The Vikings were mediocre at best against the run, giving up an average of 109.3 yards per game last season. As we know, Brothers was excellent against the run in college, and his instincts will be put to the test in Minnesota.
Looking at the depth chart, it seems like it might be a while until Brothers will be starting, at least until Greenway retires. Brothers is so versatile that he could contribute early as a situational player. Don't be surprised if you see head coach Mike Zimmer and defensive coordinator George Edwards sticking Brothers in on a third down to stuff a run or pressure the quarterback. Brothers could also have an immediate impact on special teams and secure a roster spot that way. Learning from Barr, Kendricks, and Greenway should most improve the tremendous set of skills Brothers already possesses.
Other Opinions:
SB Nation: "Brothers figures to be more of an inside linebacker in the Vikings' 4-3 scheme, which could eventually push Eric Kendricks to the outside. He's been a very effective run-stuffer at Missouri, and while he isn't the fastest player on the field, having turned in a 4.89-second 40-yard dash at his Pro Day, he's a very solid tackler. At this point, he projects to more of a two-down type of player in the National Football League."
ESPN: 'His struggles could come if he winds up in passing situations, and because he doesn't project as a three-down linebacker, he wasn't going to have a terribly high ceiling in the draft. But he's seen as an intelligent player and willing tackler, and for a team that has struggled to stop the run consistently, he could eventually find a role in the defense.'
Bleacher Report: "Brothers' instincts are top notch and he pursues well, reacting quickly and taking smart angles... He's a great pick in this spot."
Pro Football Focus: "Brothers posted a +25.2 grade against the run that ranked second in the class and his 15.8 run stop percentage finished first."
Undrafted free agents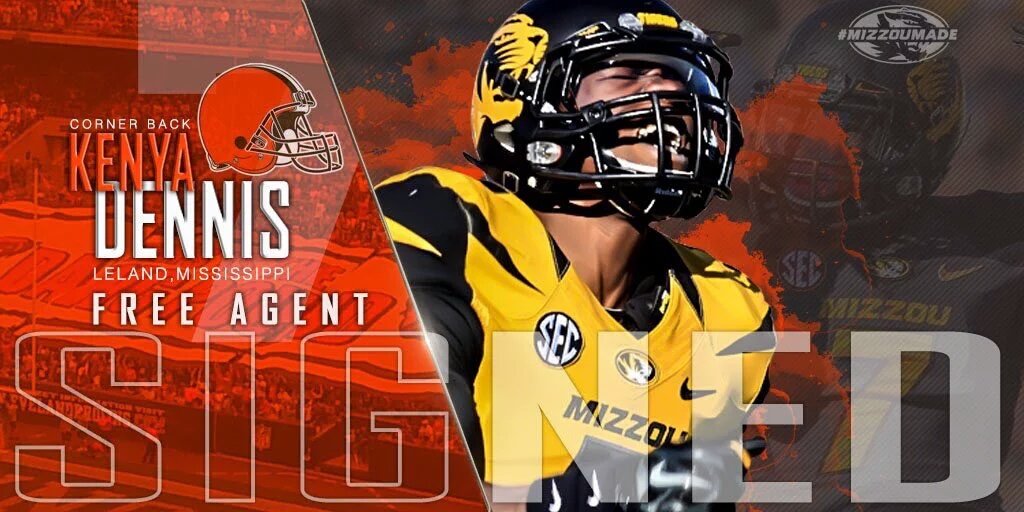 Kenya Dennis - Cleveland Browns
Congrats Kenya Dennis, Mizzou Captain and CB on signing with the Browns, next great Mizzou NFL DB #MizzouMade pic.twitter.com/BClvCQMdtk

— Mike Lackey (@coachlackey) May 1, 2016
My dreams can win oscars. Thank God for a new chapter. This one for Herman & Helen. #DogPound… https://t.co/WRwQ4utccC

— Kenya Dennis#⃣7⃣ (@KD7_E) May 1, 2016
The Cleveland Browns have signed cornerback Kenya Dennis to a $1.62 million deal over three years. The last player from Missouri to be a member of the Cleveland Browns was wide receiver L'Damian Washington, a member of the practice squad in 2014.
The Browns need help in the secondary. Currently on the roster are starting cornerbacks Joe Haden, a first round pick out of Florida in 2010, and Tramon Williams, an undrafted player out of Louisiana Tech in 2006. Behind them are various other unproven options, from first-round selections to sixth-round selections. The six current cornerbacks on the roster combined for one interception last year. It's not hard to understand why the Browns are looking for help.
The Browns did pick up ULM's Trey Caldwell in the fifth round. That was surprising, as Dennis ranked far higher than Caldwell in CBS Sports' total draft rankings. The Browns also signed a UDFA deal with Miami cornerback Tracy Howard. Dennis' physicality will be beneficial to him in the future. The Browns' six current cornerbacks have combined for 8.5 total sacks in their careers. Dennis can fly around and hit the quarterback when necessary, and this will turn some heads with the coaching staff in Cleveland.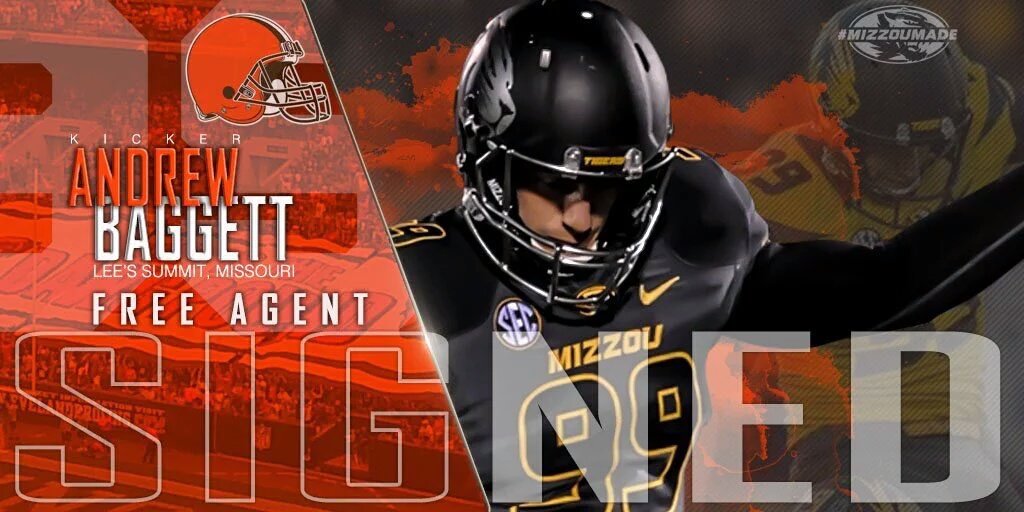 Andrew Baggett - Cleveland Browns
Congrats Andrew Baggett Mizzou Great Kicker signing to the Browns adding more great kicking to AFC North #MizzouMade pic.twitter.com/dauvecx2yc

— Mike Lackey (@coachlackey) May 1, 2016
The Browns also signed kicker Andrew Baggett to a $1.62 million deal over three years.
The Browns are in need of special teams contribution, as they only have one punter, one kicker, and one long snapper on their roster. The current kicker on their team is Travis Coons, and the Browns also signed former Maryland kicker and 2014 Lou Groza Award winner Brad Craddock. Baggett has a chance to secure a spot on the roster, but that all depends on his success in training camp. Worst case scenario for Baggett is that he moves around the NFL or even a does a stint in the CFL to prove himself.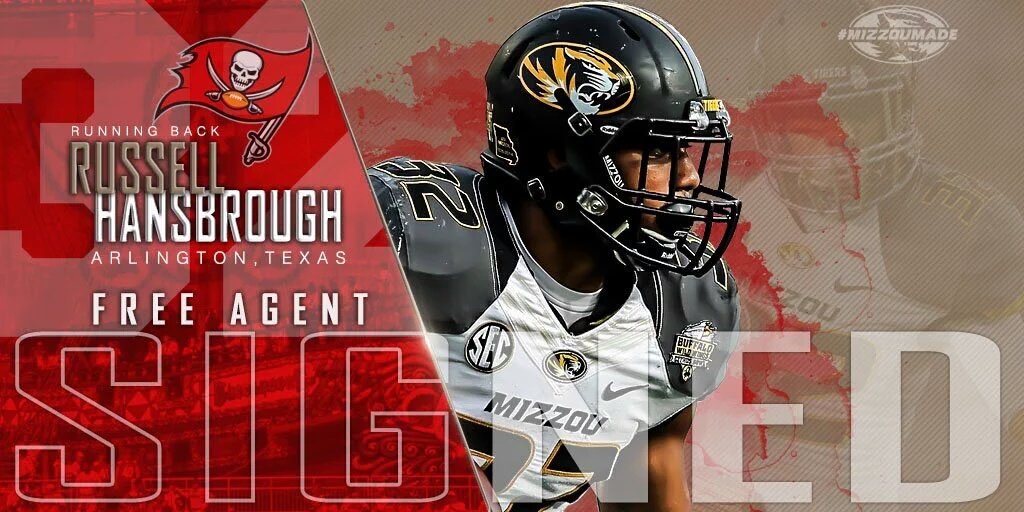 Russell Hansbrough - Tampa Bay Buccaneers
Congrats to Mizzou RB Russell Hansbrough joining fellow Mizzou great and UDFA @Jachalp3 with the Bucs #MizzouMade pic.twitter.com/V5ltrOMvRE

— Mike Lackey (@coachlackey) May 1, 2016
May 1, 2016
The Tampa Bay Buccaneers signed running back Russell Hansbrough. Hansbrough will join defensive end Jacquies Smith in Tampa as he looks to find a role in Tampa Bay's powerful run game.
It will be tough for Hansbrough to find a permanent role in Tampa. Tampa Bay has two solid running attacks behind Doug Martin and Charles Sims. Hansbrough is the only running back that was drafted or signed this year by the Buccaneers. Besides Martin and Sims, Tampa Bay has two more running backs on its roster in Mike James, a sixth round selection out of Miami in 2013, and Storm Johnson, a seventh round selection out of UCF in 2014. A solid camp for Hansbrough could give him an opportunity demonstrate he's healthy enough, even if he doesn't catch on with the Bucs.
Check back for updates regarding former Tigers on the move and follow @RockMNation for more updates.